<<
|
^^
|
>>
Chapter 5: We Can Build It
Previously, our boss battle had been rudely interrupted before it began!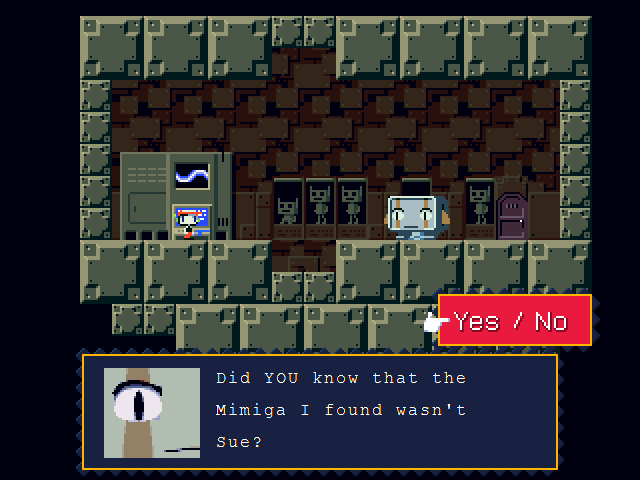 [>Yes No]

That's right!
She WASN'T!!
The Doctor had a HUGE fit.
Smacked Misery around pretty hard.

Poor girl, don't you think?

But after all, we can't defy our master.
So goeth the rule.
Anyway, I'm here to break you apart.
Doctor's orders, of course.
Ya ready?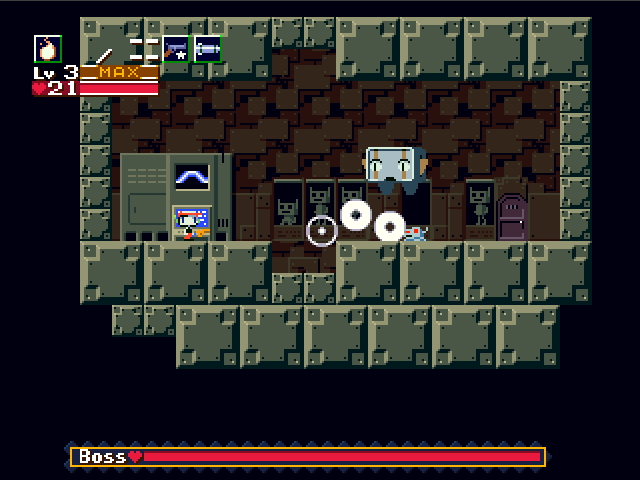 BOSS BATTLE
BALROG ROUND II
Balrog's picked up some tricks since we saw him last! He can shoot energy orbs from his mouth...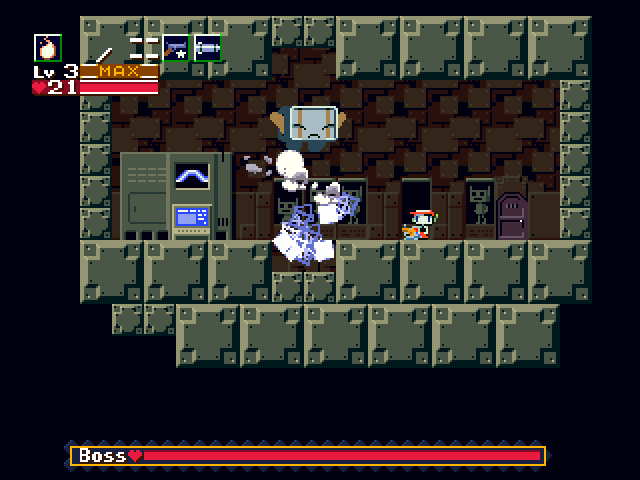 ...and he can fly briefly by flapping his arms really fast!
When he lands, projectiles fly out in all directions, so best to keep my distance.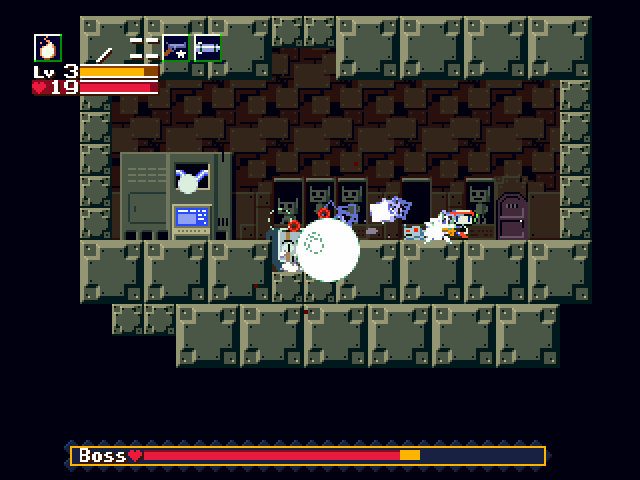 This is where the fireball really shines - damage rate is higher than the Polar Star, and missiles are too slow to catch a quick target like Balrog.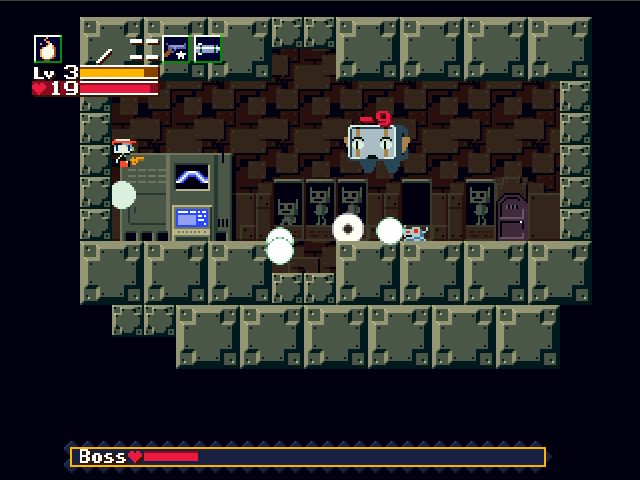 When he gets low on HP, Balrog goes nuts, foregoing the orb breath and flying to just jump around like crazy. Just a little more!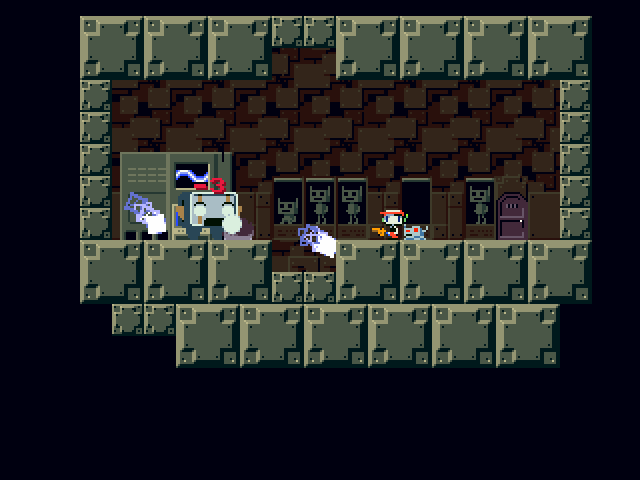 And defeated with minimal damage!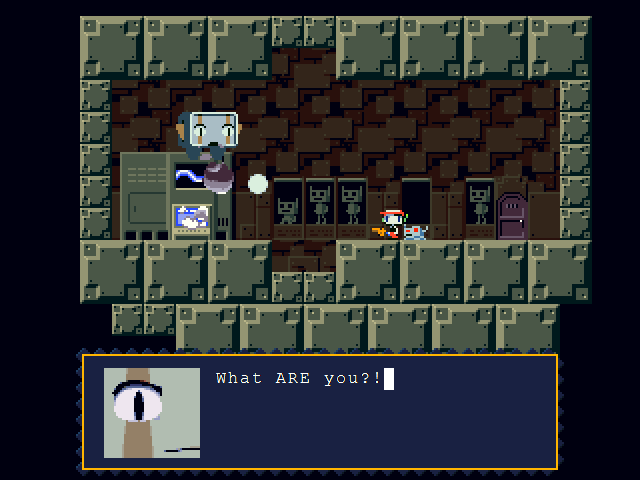 And Balrog absconds once again.
So how about that MALCO?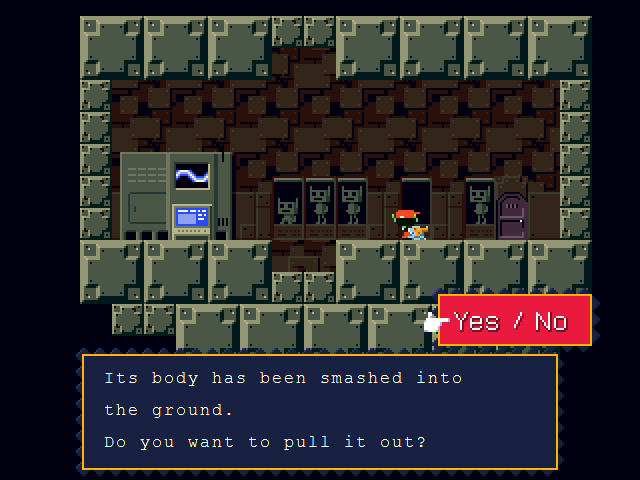 [>Yes No]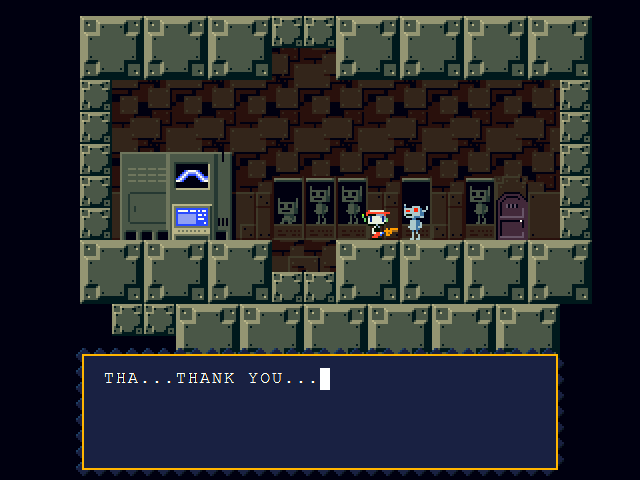 YOU'RE A NICE PERSON.
AND SO STRONG!

THANKS FOR SAVING ME!
I'D LIKE TO PAY YOU BACK SOMEHOW,
BUT ALL I KNOW HOW TO DO IS MAKE EXPLOSIVES...

HMMM?
THE DOOR'S RUSTED AND YOU CAN'T GET IT OPEN?
WHAT?!
A HUMAN IS TRAPPED INSIDE?!
YOU TRULY ARE A GOOD PERSON!

UNDERSTOOD!
I'LL MAKE A WONDERFUL BOMB FOR YOU!
WE'LL BLOW THAT DOOR TO SMITHEREENS!

I'LL NEED YOU TO COLLECT BOMB-MAKING MATERIALS.
CHARCOAL,
JELLYFISH JUICE,
AND
GUM BASE.
I'LL MAKE YOUR BOMB AS SOON AS YOU BRING ME ALL THE MATERIALS!
Fetch quest time!
Who doesn't like a good fetch quest.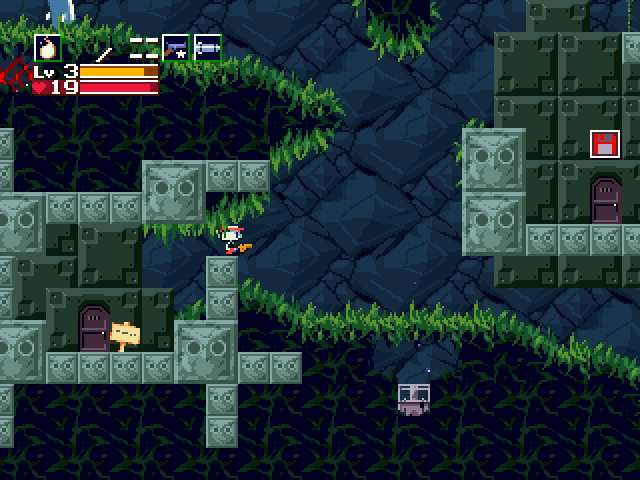 It's visually subtle in screenshots, but the fans have been turned on! That metal box in the ground is blowing air up like crazy.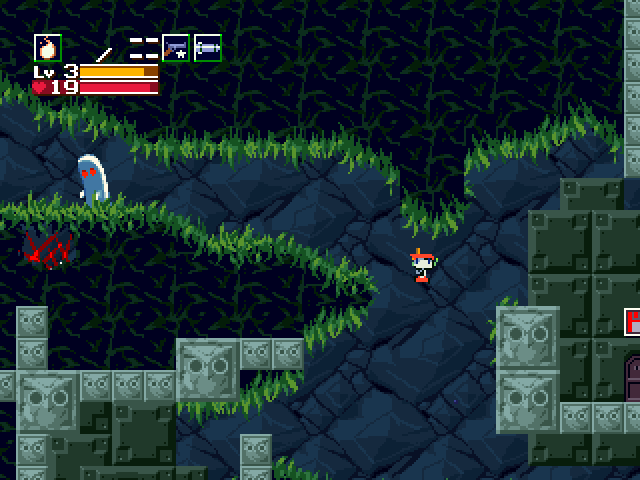 I can get enough air off of them to head back!
Which is good, because I need more jellyfish juice.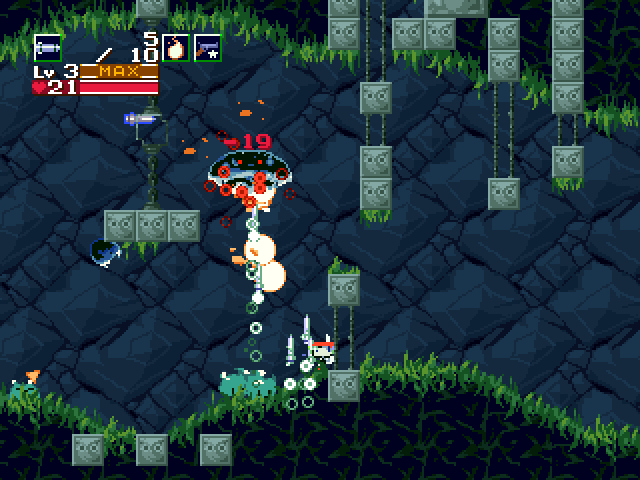 Got the Jellyfish Juice!
But not going back yet!
No, we must pay Santa a visit.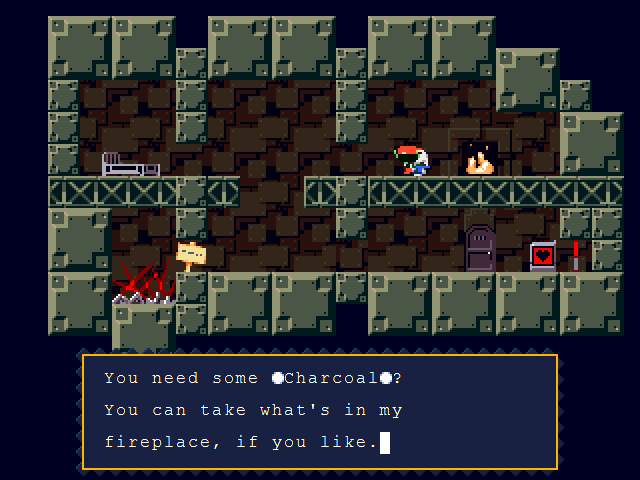 It's not just Chaco's place - jellyfish juice can put out ANY fireplace.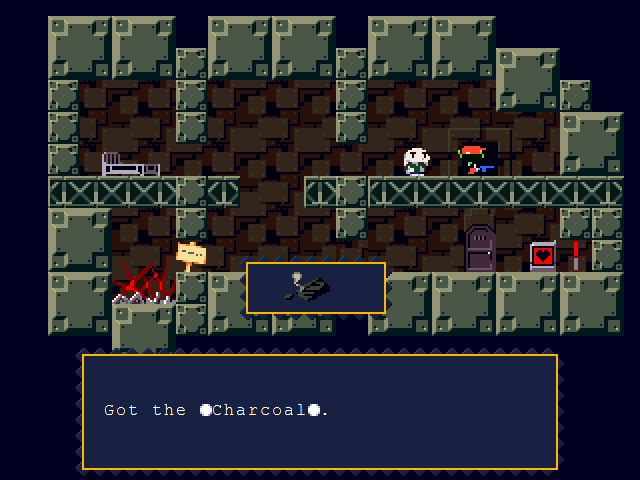 One down!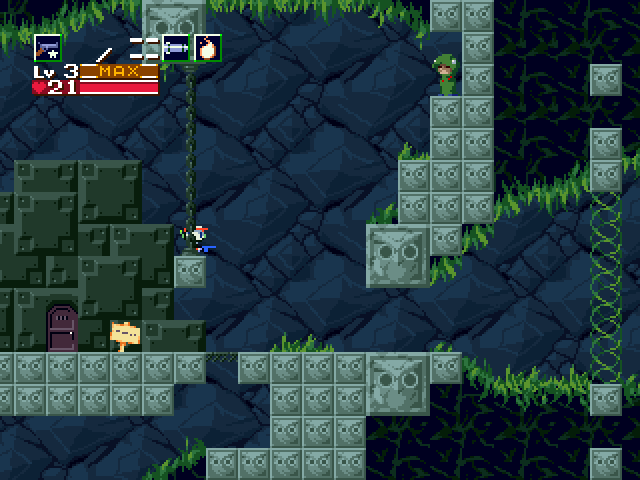 But before we head back, there seems to be someone lurking around here!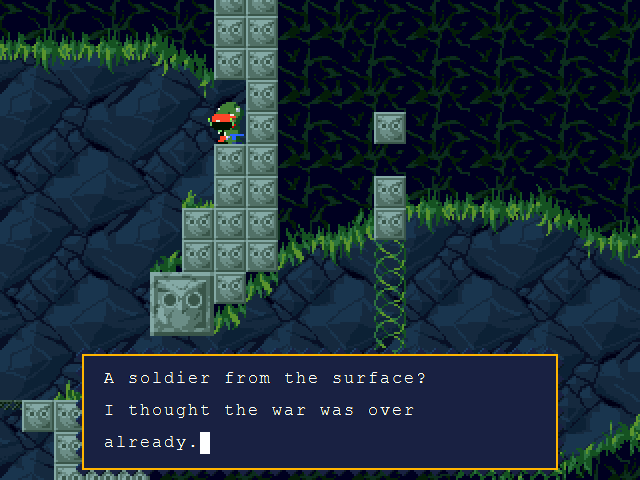 If you're going on ahead, watch out for those Power Critters.
When they land on you, it hurts.
Useful, Cthulhu!
ONWARDS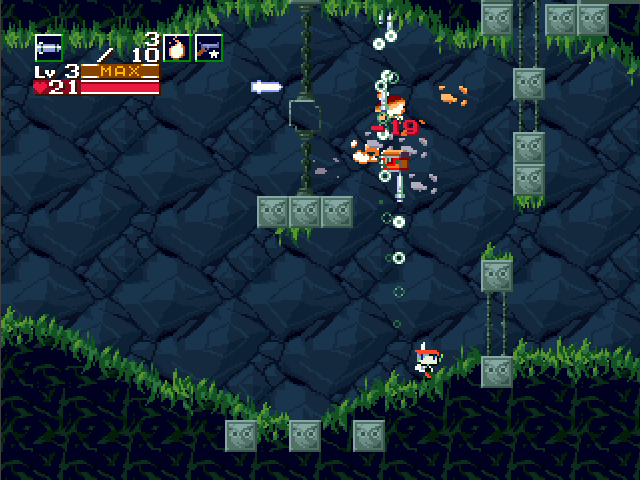 Two down!
Now we just need a gum base...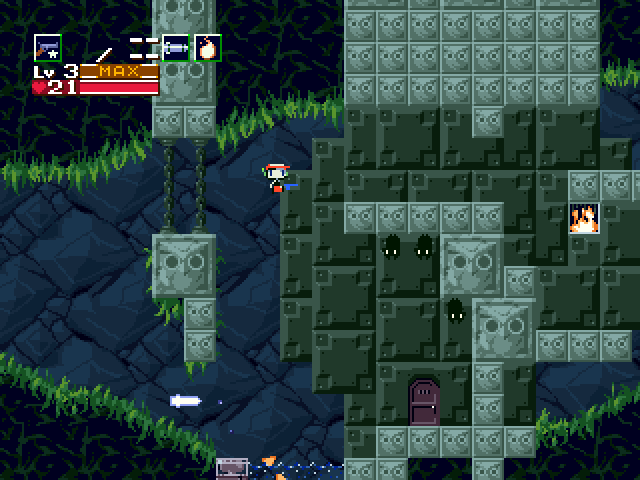 Thanks to the fans, I can get past here withotu using my Jellyfish Juice!
This time, we take the high road!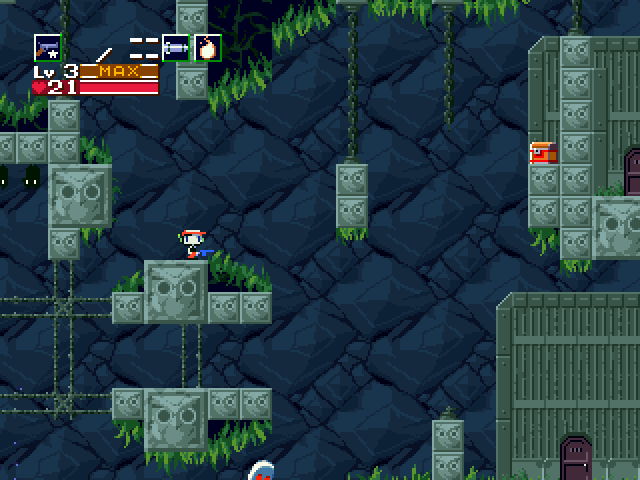 BECAUSE TREASURE.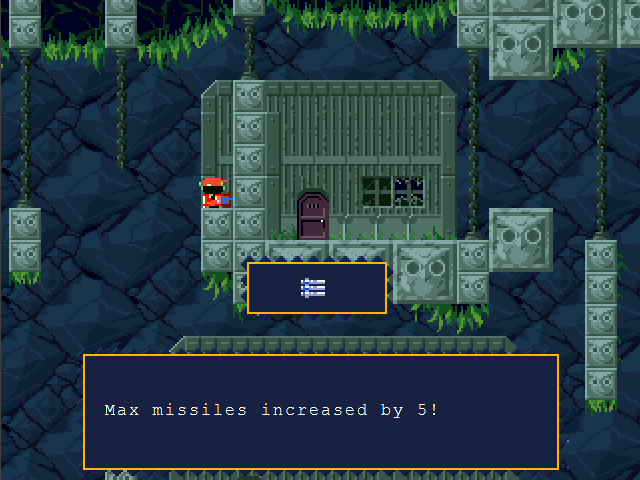 Bonanza!
Max missiles is now 15.
Unfortunately, that wall is one tile too high to clear with a jump, so we must now go around.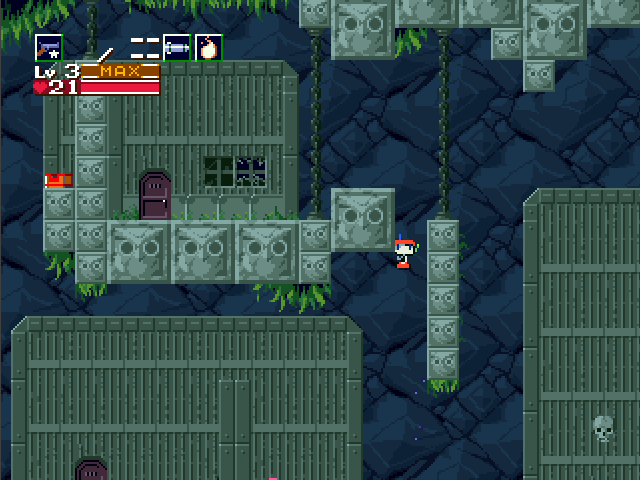 WHOOOOOOSH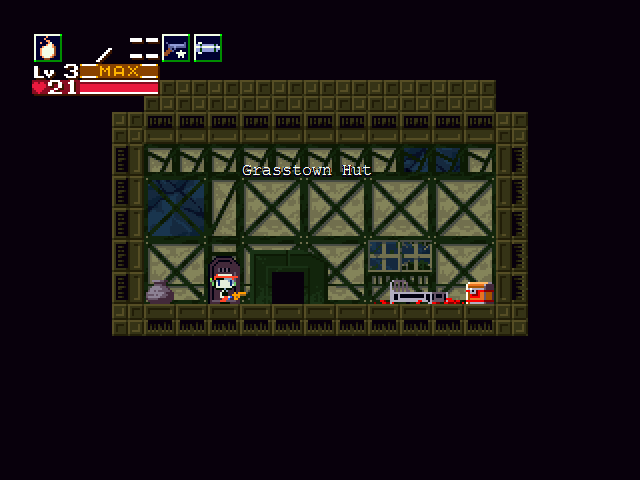 A hut!
Those appear to be red flower petals scattered around the bed...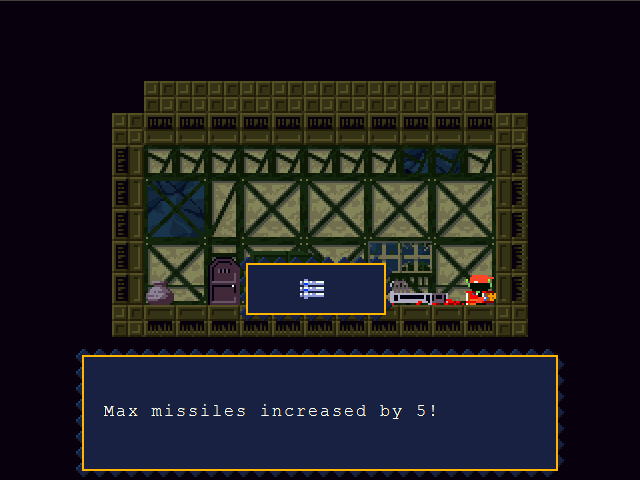 Oh good, more missi
WHOA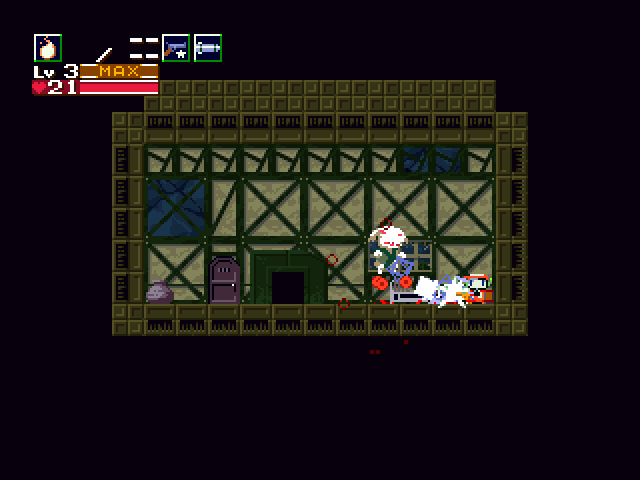 OH MY GOD KILL IT I HAVE TO KILL IT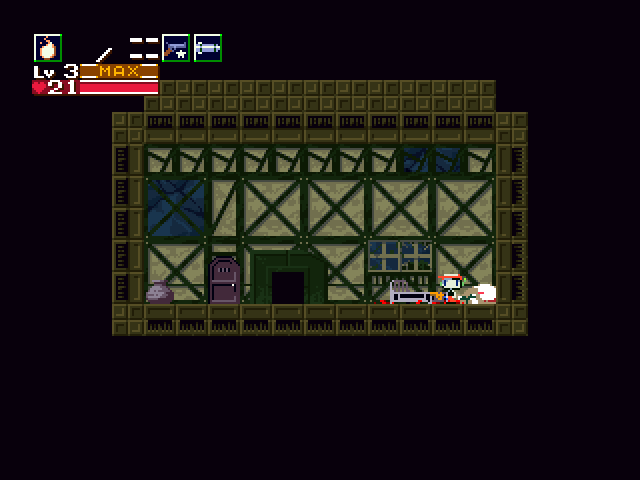 No explanation!
Max missiles is now 20. Time to go talk to the hole in the wall!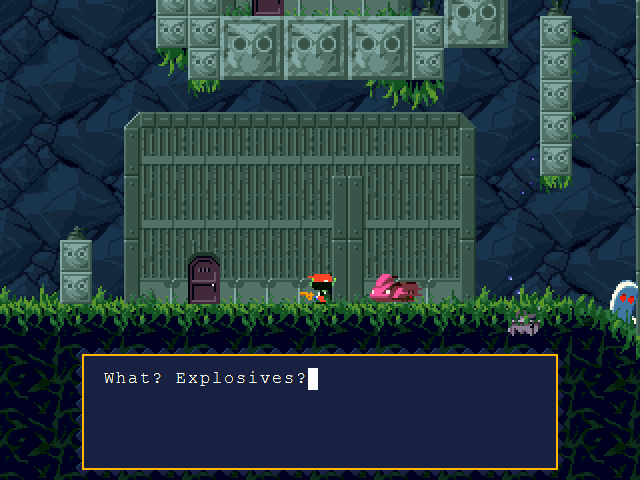 Yeah, that could work...
So you're collecting the materials?

.....
Wait, did you say gum base?
Hold on a sec.

It was hanging on the wall.
It says "Gum" on it.
There's got to be some connection.
I'm depending on you, young man!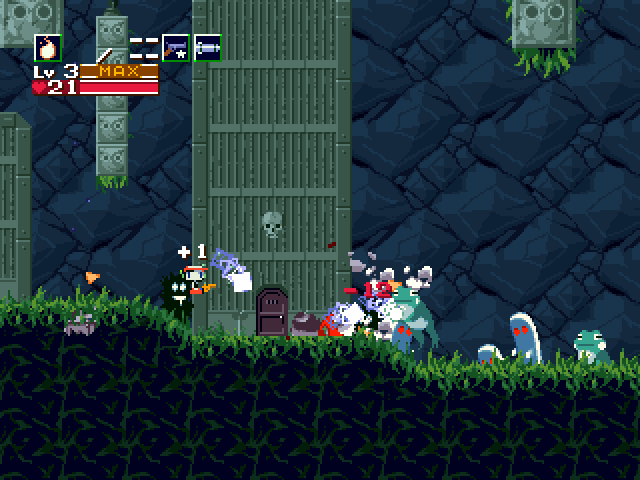 Another mysterious building!
This one has a warning above the door.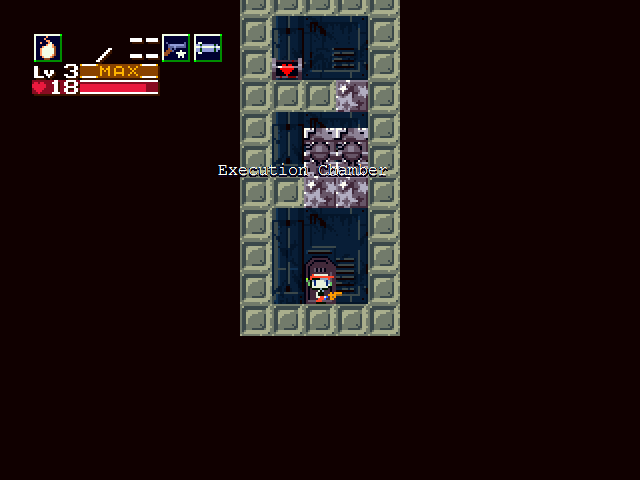 Puzzle time!
Those rectangular things are called Presses, and fall down as soon as I destroy the block below them. If I get caught under one, 127 damage - instant death.
However, they can also be used as platforms.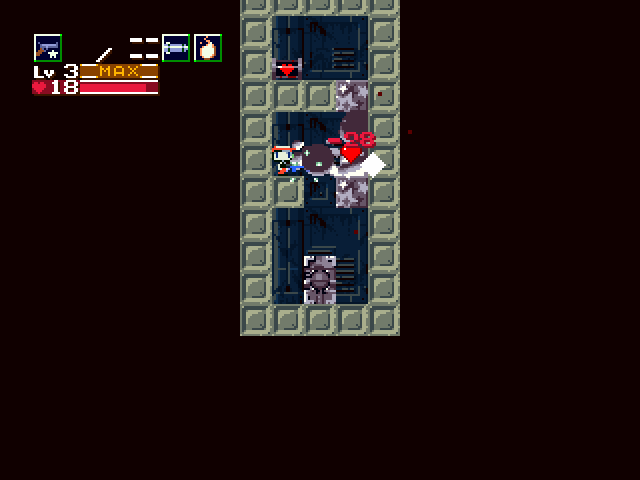 So if I do THIS...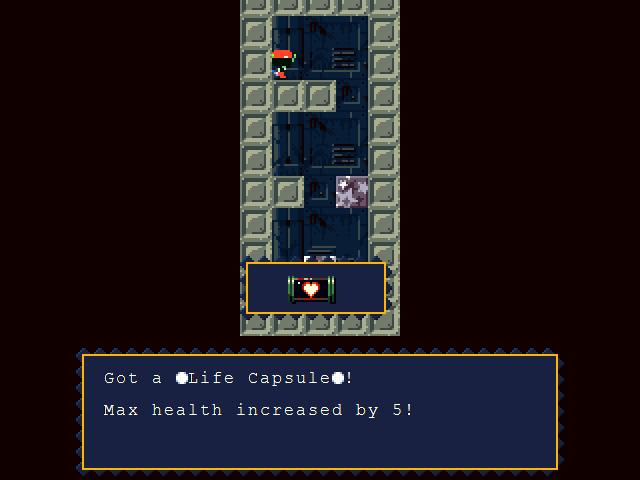 Max HP: 26!
Let's get going, we're almost there.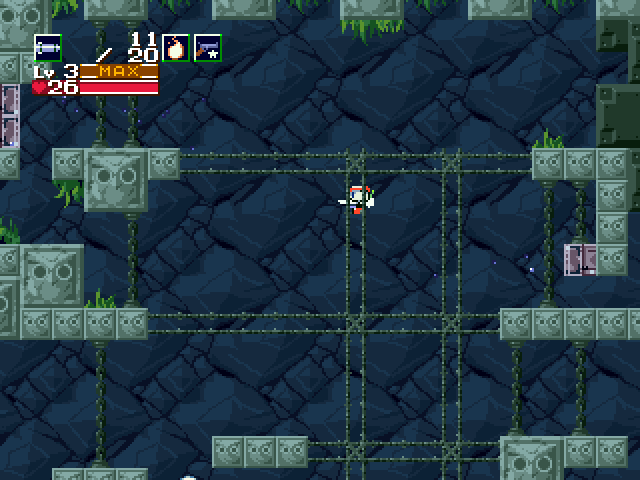 WHOOOOOOOOOOSH
Into a room that will most certainly contain no boss fights!
That was easy!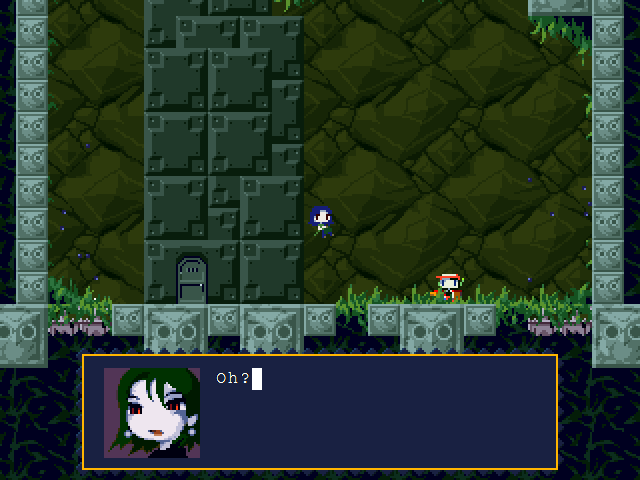 We meet again.
Do you remember me?

Indeed, in the Mimiga village...
I hadn't noticed before, but...

Aren't you a soldier from the surface?
I wasn't aware there were any left.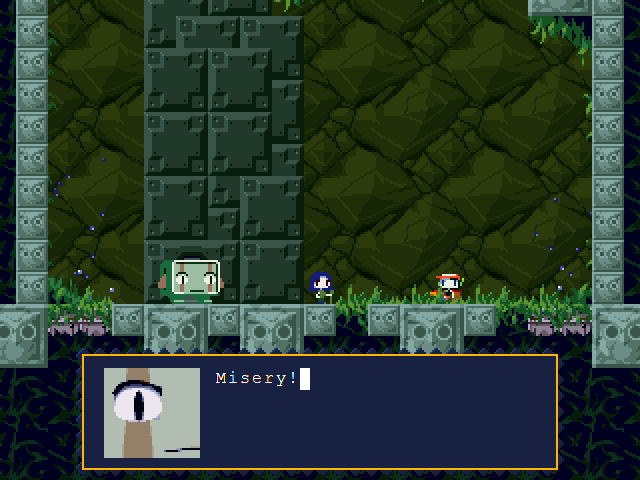 Watch out, that one's a fighter!
Stronger than a Mimiga, even!

You don't say.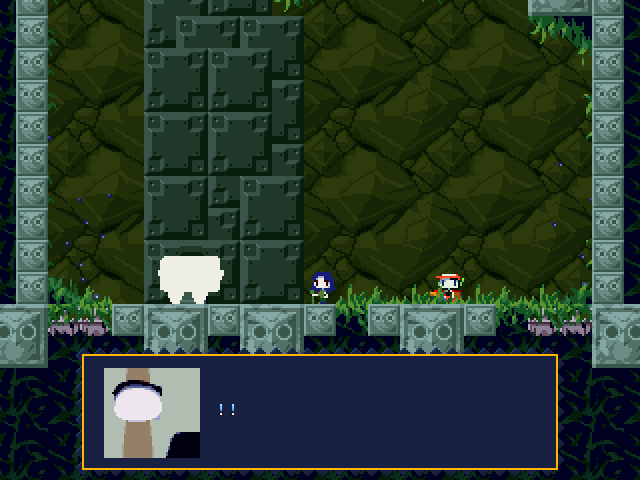 Soldiers are YOUR duty.
Come back when this one's in pieces.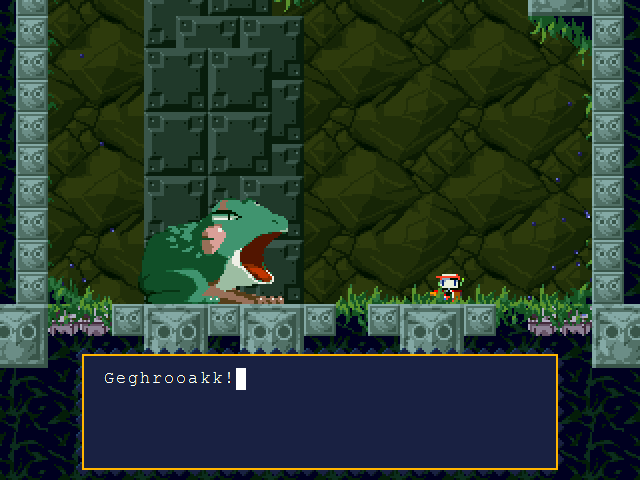 [ BGM - Eyes of Flame ]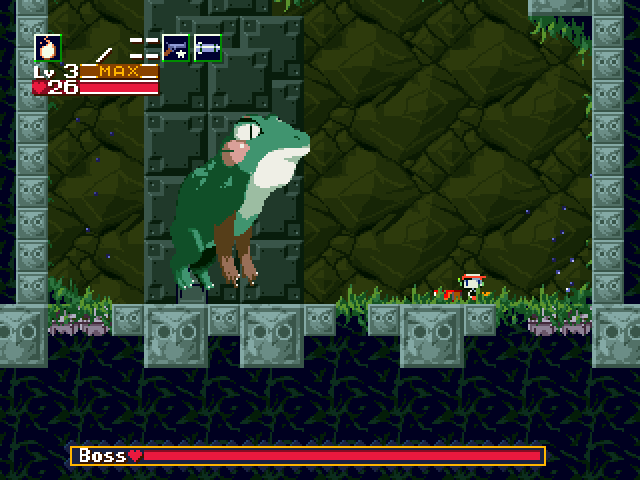 BOSS BATTLE
BALFROG
Balfrog is arguably the first REAL boss battle in the game. His primary strategy is simple: Jump towards you menacingly!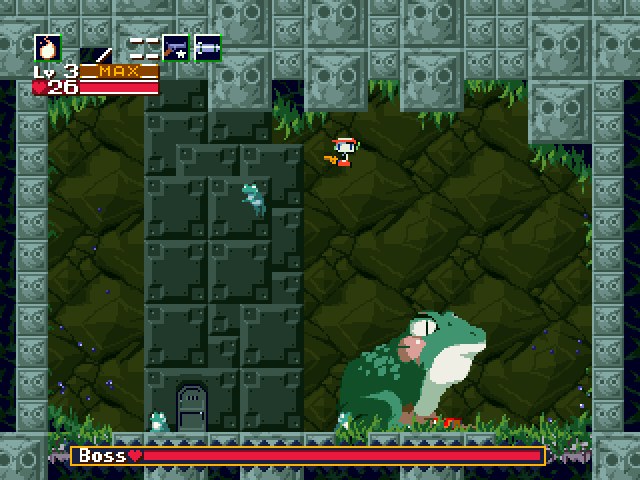 You have to use the fan banks at the sides of the battlefield to get over his huge body. Also, every time he lands, a small frog falls from the ceiling!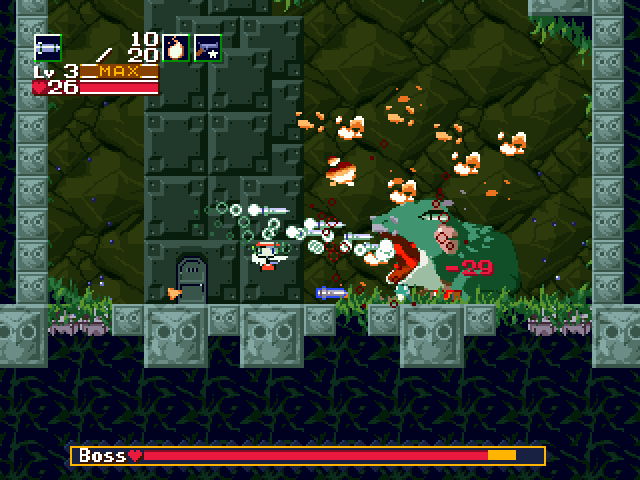 The only time he's vulnerable to harm is when he opens his mouth to spew red shots!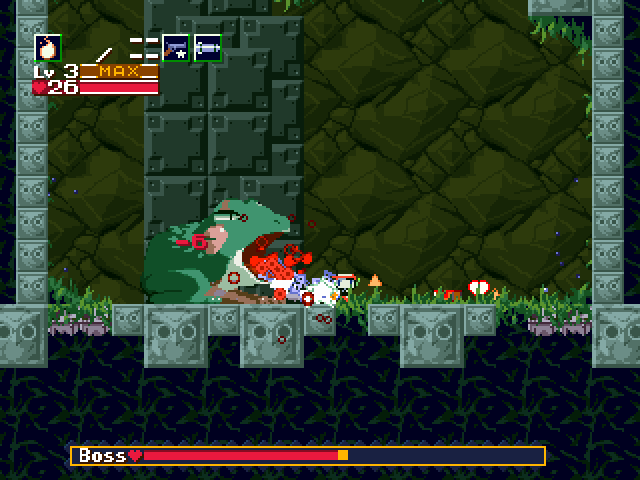 The highest-efficiency way to hurt him is to stand nice and close and spam fireballs - a truth in many upcoming boss fights.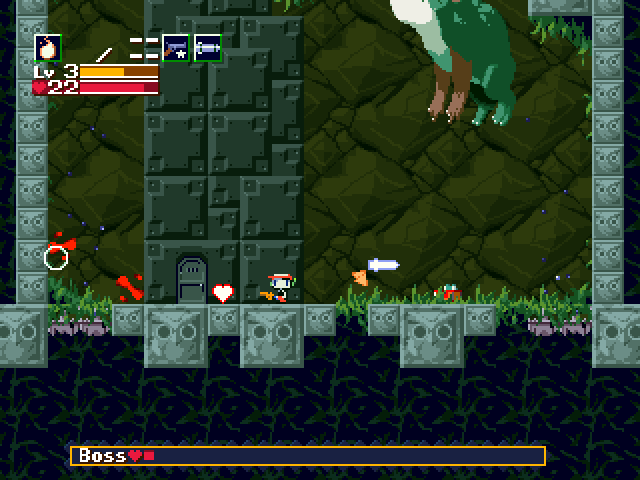 Uh.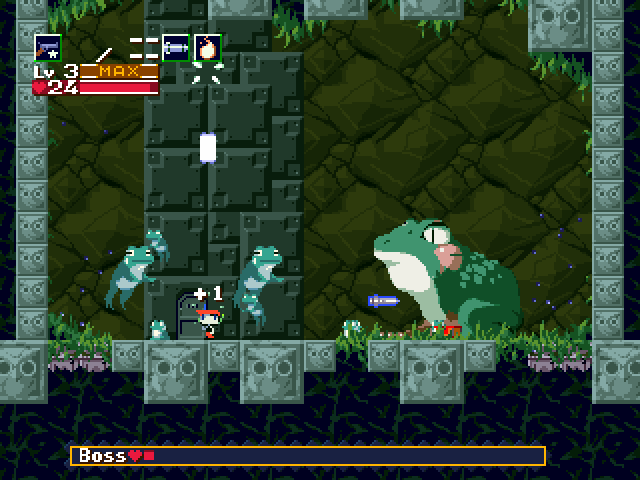 Super jump drops a hail of frogs of various sizes!
Just gotta wait until he opens his mouth one more time...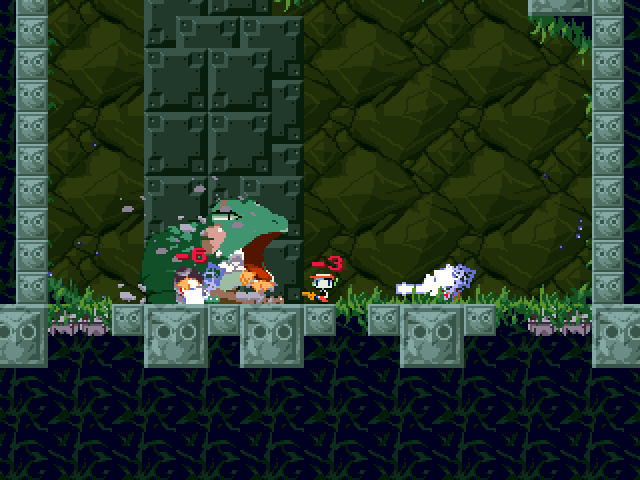 Bam!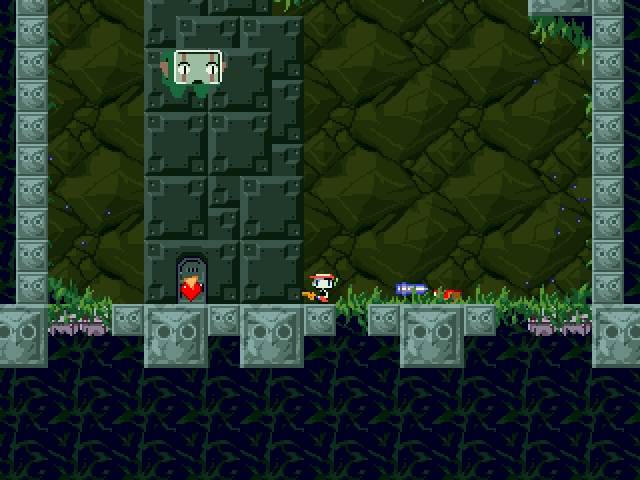 Balrog retreats once more.
All materials collected, let's get back!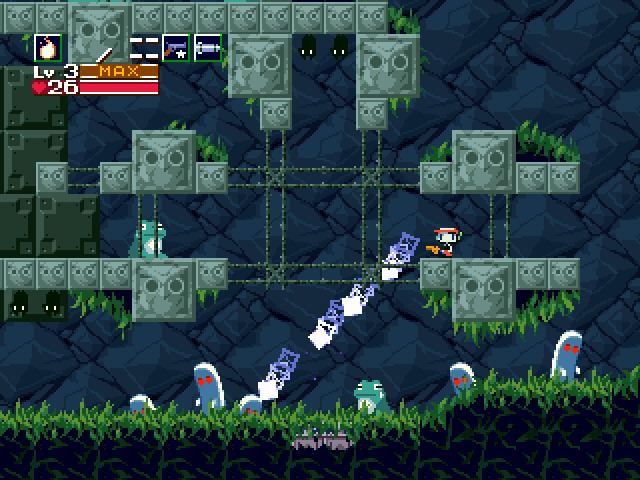 Smart usage of weapon properties!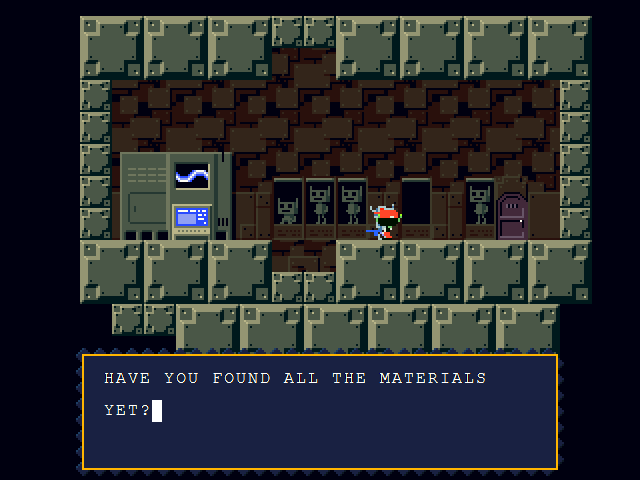 OOH! THE
CHARCOAL
!
OOH! THE
JELLYFISH JUICE
!
OOH! EVEN THE
GUM BASE
!

THEN LET US BEGIN!
---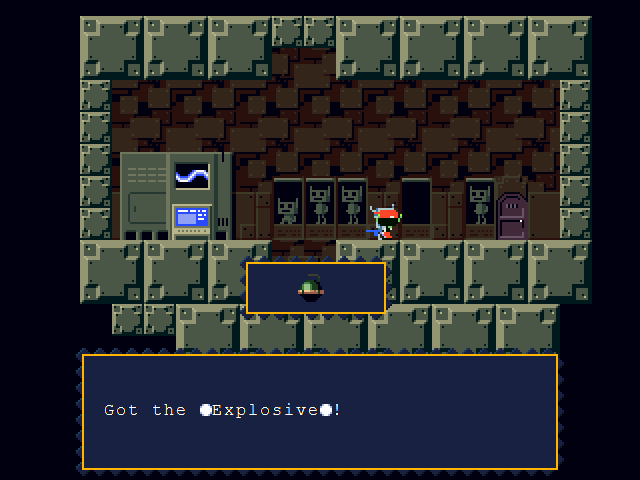 GO ON!
BLOW THAT DOOR UP!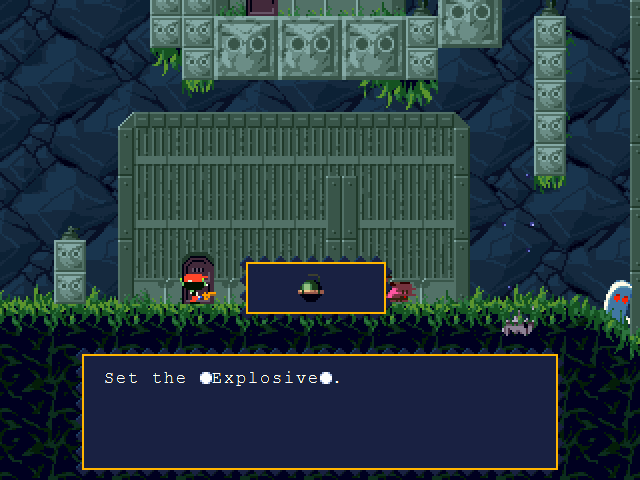 EVERYONE STAND BACK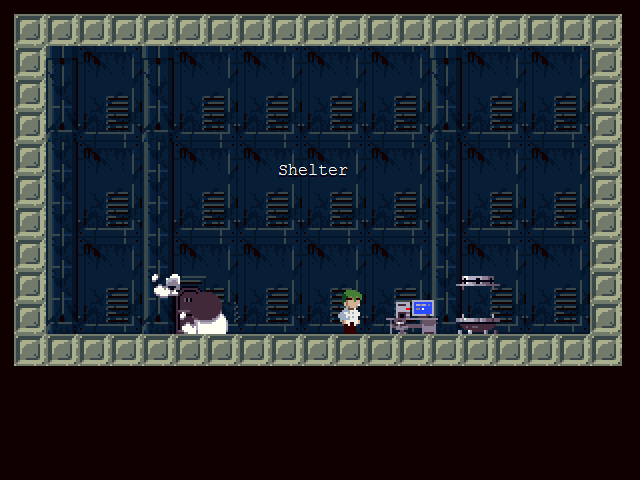 Kaboom!
And look who it is!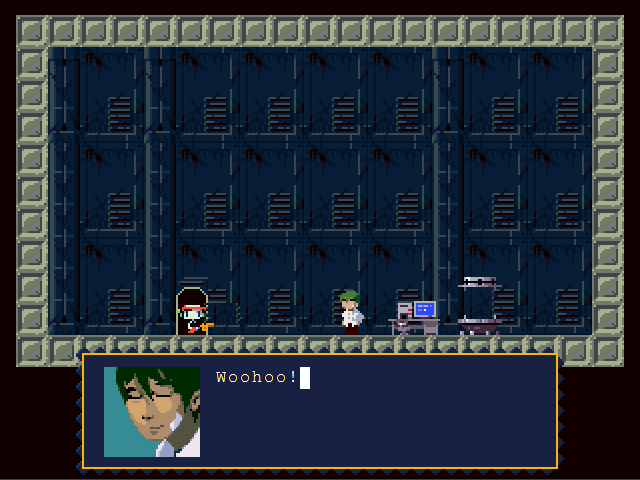 You did it, my boy!
I knew you could do it the minute I laid eyes on you.

.....
Anyway...
My name is Kazuma Sakamoto.
You can call me Kazuma, that's fine.

I was lucky enough to escape from the Doctor, but unfortunately, my teleporter sent me here.
I thought I was going to starve...
I owe my very life to you!

Oh, by the way...
...You wouldn't happen to know the Mimiga Village, would you?

...Sue?
You've met Sue?!

Ah, I see.
You came in Sue's place to find me.
All right, then!
Lead the way to the village!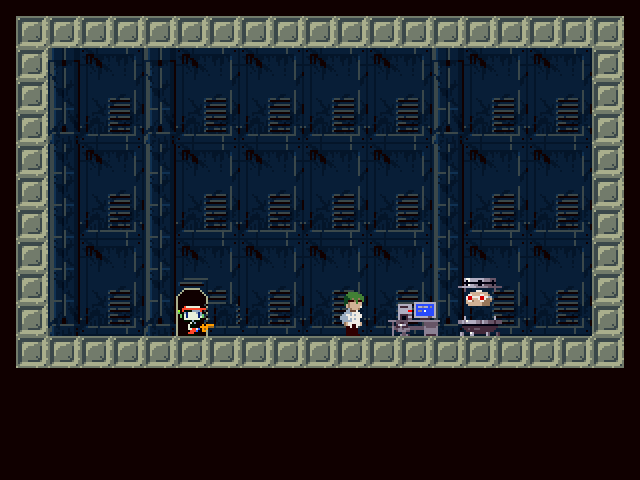 A visitor is teleporting in!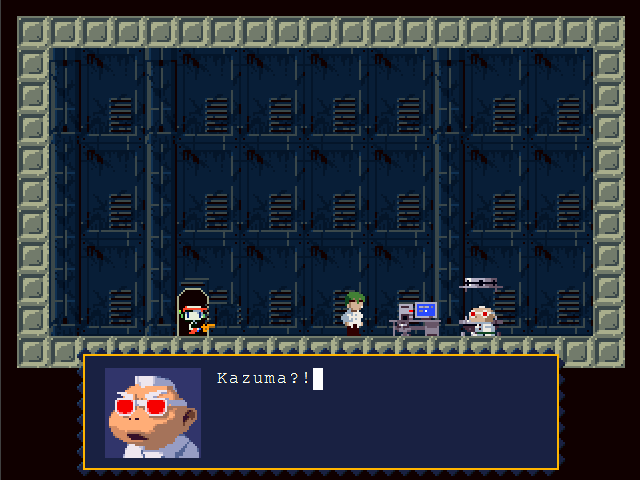 Professor Booster!
You're safe!

Yes, more or less.
And how is Sue?
Is she all right?

She's at the Mimiga Village.
This young fellow was just about to guide me there.

!!!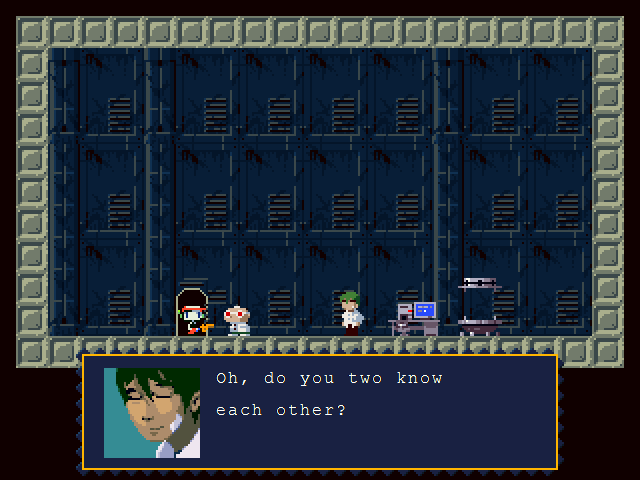 .....
No...
...No, we've never met.

Never mind, we must hurry to find Sue.
The Doctor has begun gathering the Mimigas.
It seems he has become aware of the red flowers.

But, Sue...
Will the red flowers affect Sue as well?
Just like the other--

Kazuma.
The Doctor has begun gathering the Mimigas.
You know what that means, don't you?

You... you mean, the war?
He...

Precisely.
We have no choice now but to stop him.

Stop him? But how?

I have an idea.
For now, let us hurry to where Sue is.
We'll talk then.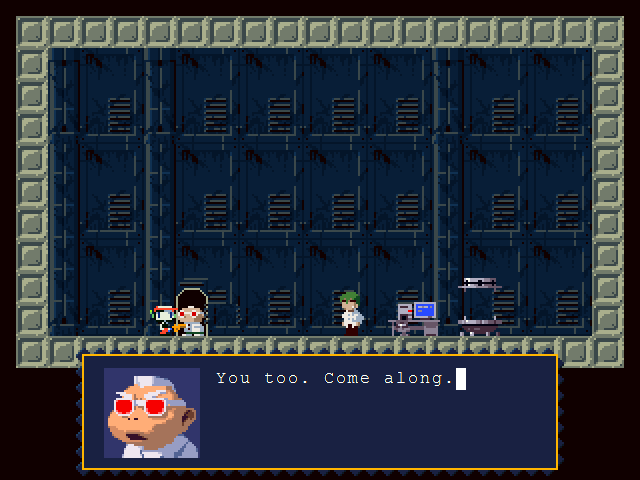 Let's poke around here a bit first!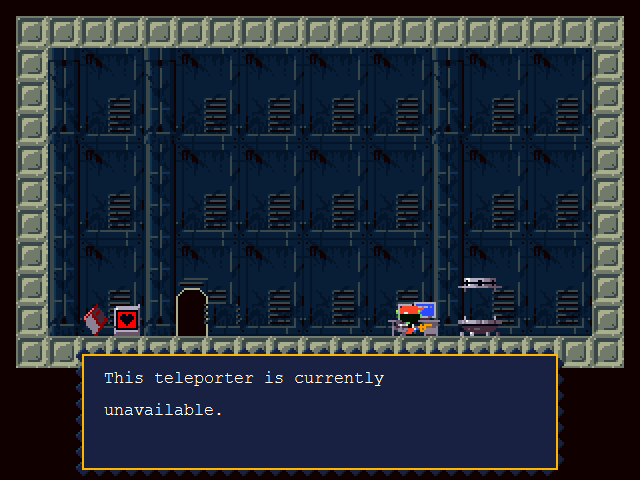 The teleporter is dead on this side, but I got a heal and save station. After dropping by them, let's head outside!

So then, young man, can you lead us back?

Kazuma.

Yes, sir?

Can you operate that?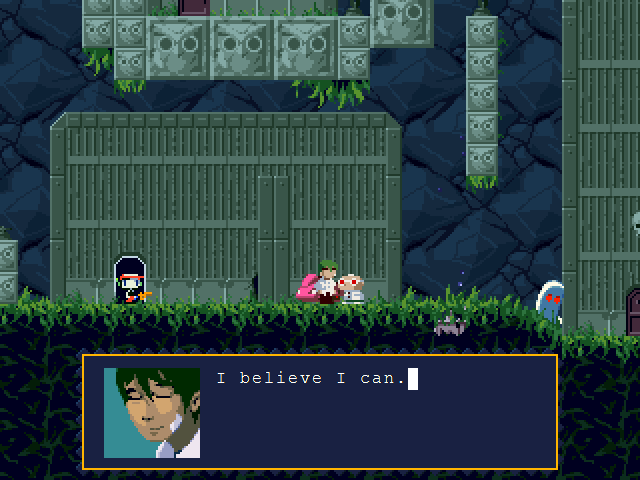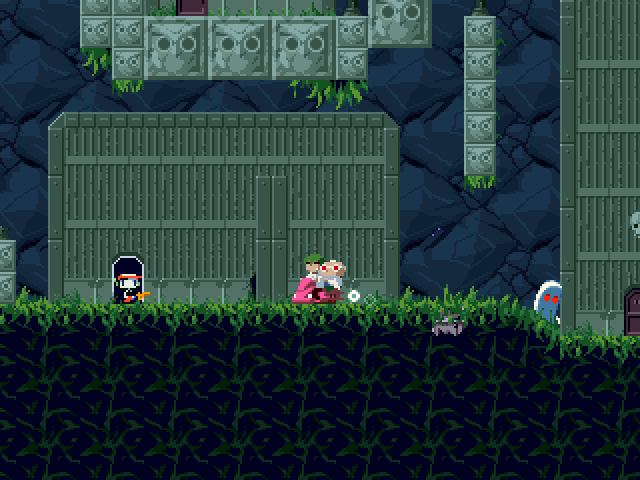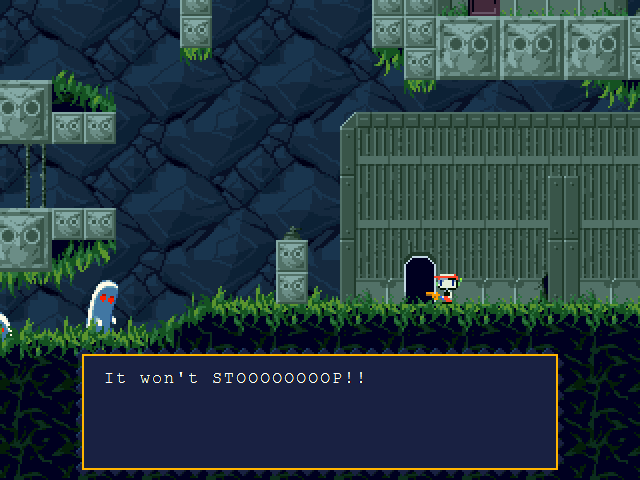 To be continued!
<<
|
^^
|
>>