<<
|
^^
|
>>
Chapter 16: Faffing About Story
Previously, Curly had amnesia!
Let us consult Cthulhu for help.

Says she doesn't even remember who she is...
Just a piece of junk, I guess.

Now that you mention it...
There's a certain kind of mushroom, I'm told, that brings back memories when you eat it...
Wonder if it'd work on her?
MISSION ACCEPTED.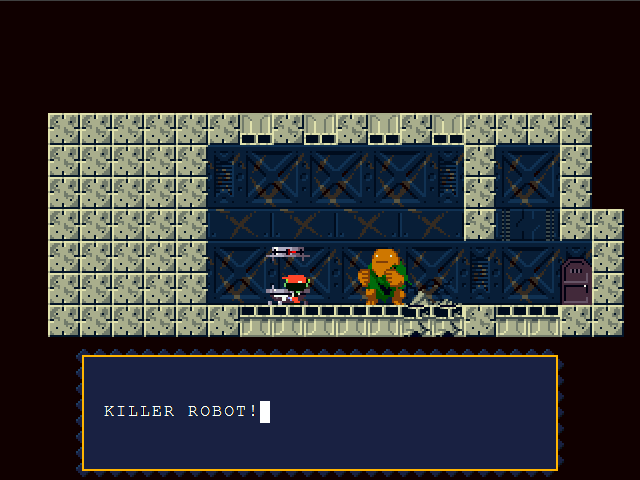 But not until after this crap.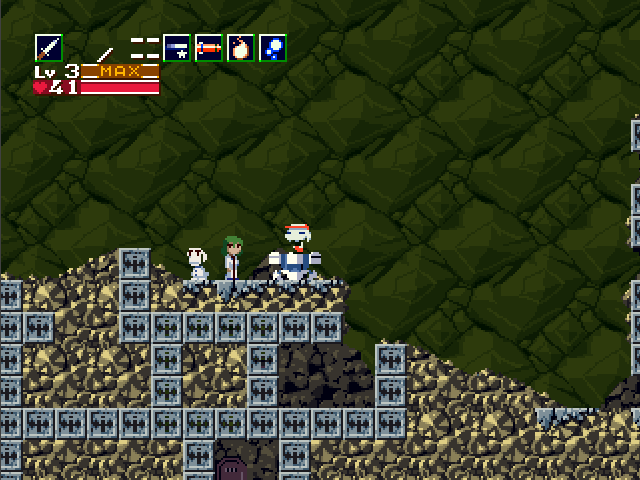 There's another secret here that I won't be doing on this run!
If you use the rocket without talking to Sue's mom, then you can do the entire endgame with a Mimiga mask on. It changes dialogue a bit, but it also means that you have to do the whole endgame without the Booster.
That's not going to be possible due to our current circumstances, as you will soon see.
Besides, we have errands to be running!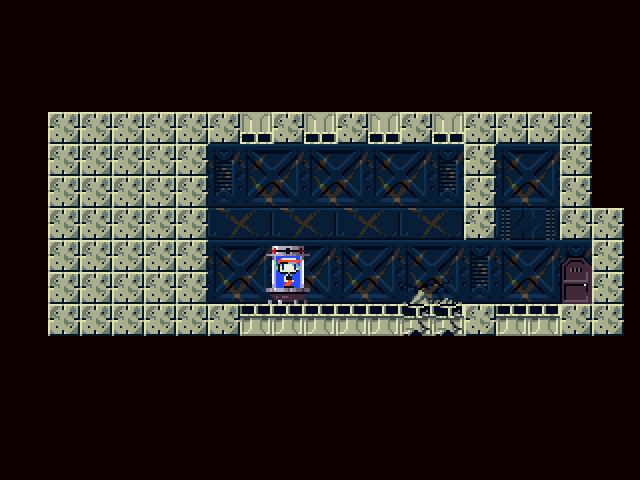 Let's actually take this teleporter this time!
Like most teleporters, it leads to the Mimiga Village.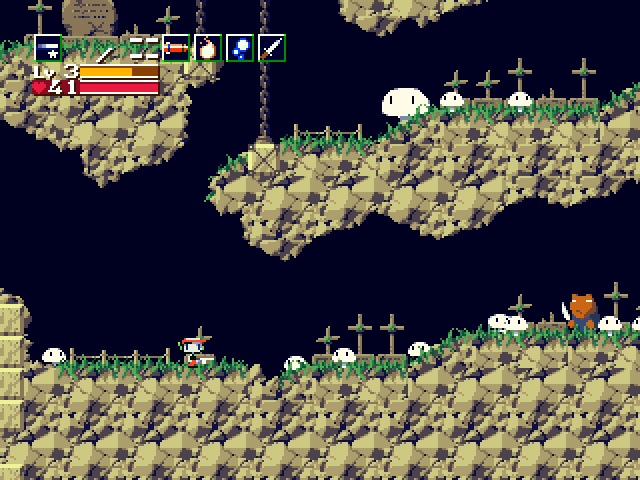 To the Mimiga Graveyard!
My business here is threefold.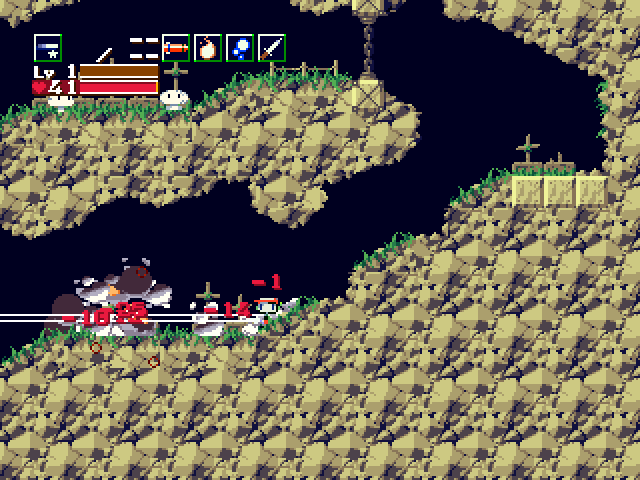 1: SCREW YOU GRAVEKEEPER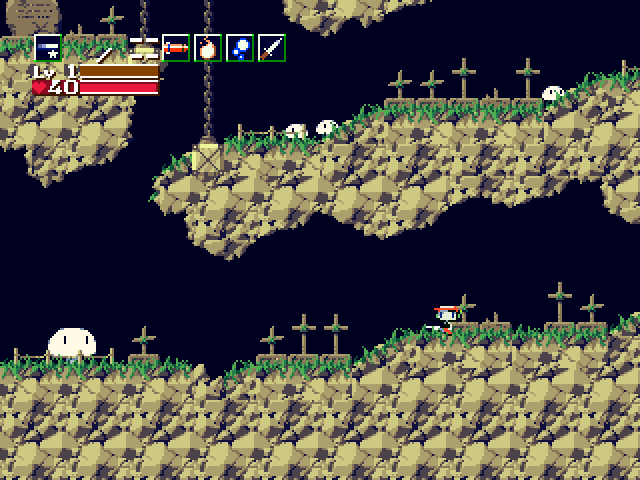 Our next business is just barely visible right here!
Can't see it? I'll magnify:

IT'S MR. LITTLE.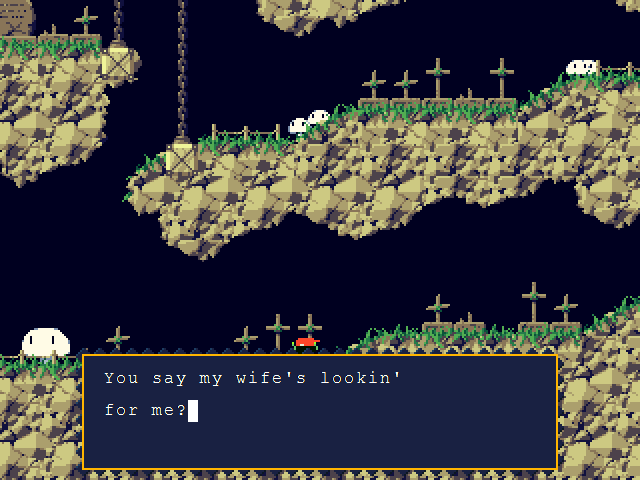 Yeah, you're right, I ain't been home in a while.
Arright, time to go.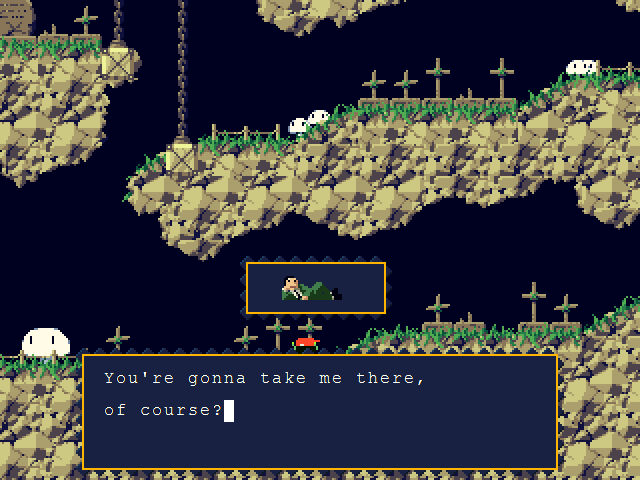 Tiny man acquired!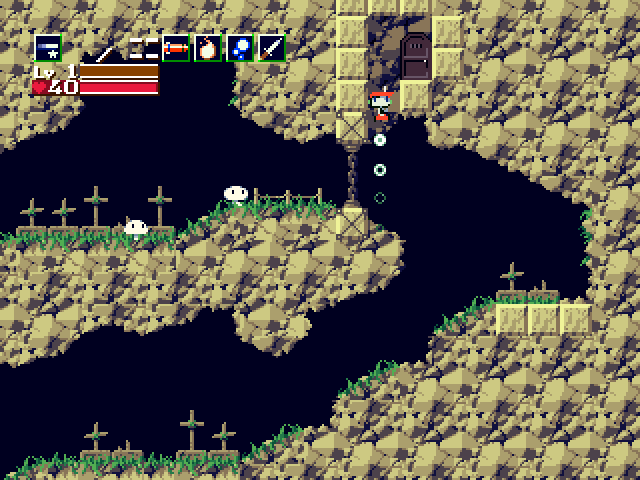 And now for our third order of business...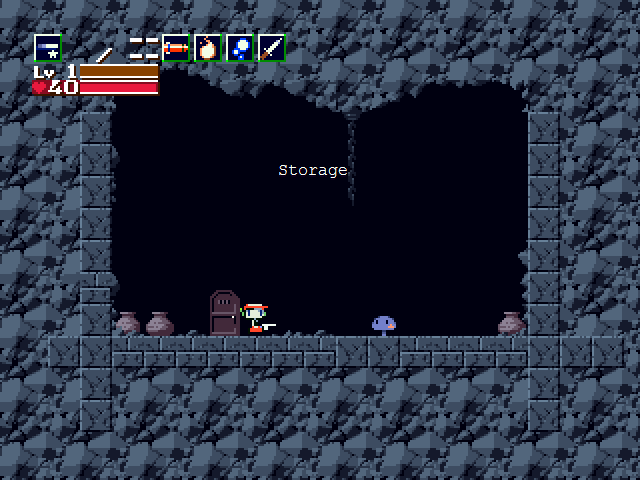 Hey, look!
It's a special mushroom!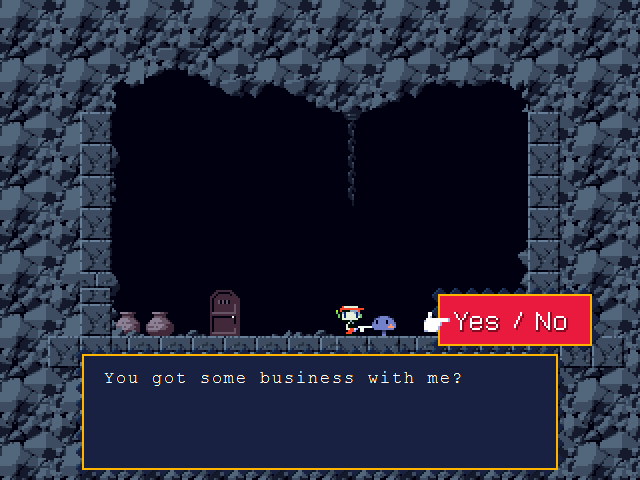 Hm? Amnesia?
How awful.
Well, then. Do you want me to give you the Mushroom Badge?
[>Yes No]

But in reality, you don't really want it, right?
[ Yes >No]

You want it that much?
[>Yes No]

You want it absolutely positively no matter what?
[>Yes No]

But really you don't want it, right?
[ Yes >No]

Fine, here you go!
Got the Mushroom Badge.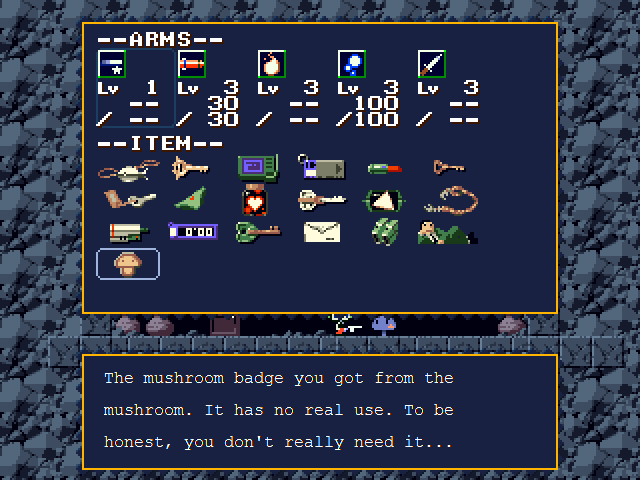 This is a piece of crap!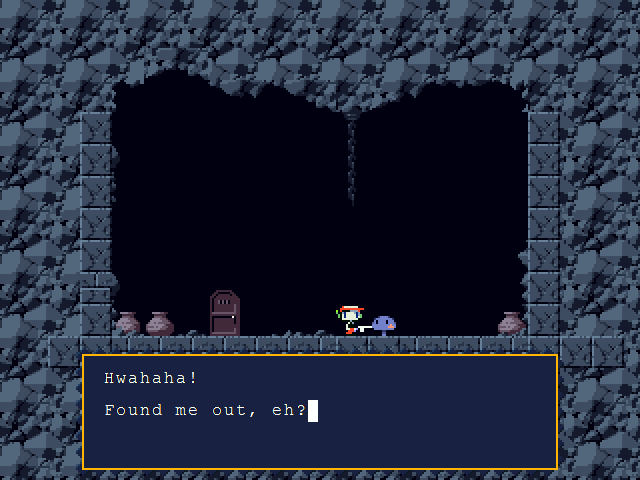 That's nothing more than a silly badge!
.....
What?
You want to eat me?!
I'll have you know that I am a valuable, valuable mushroom like no other in all the caves!

Grrrrrr!
I'm not gonna just let you eat me up!
Die!!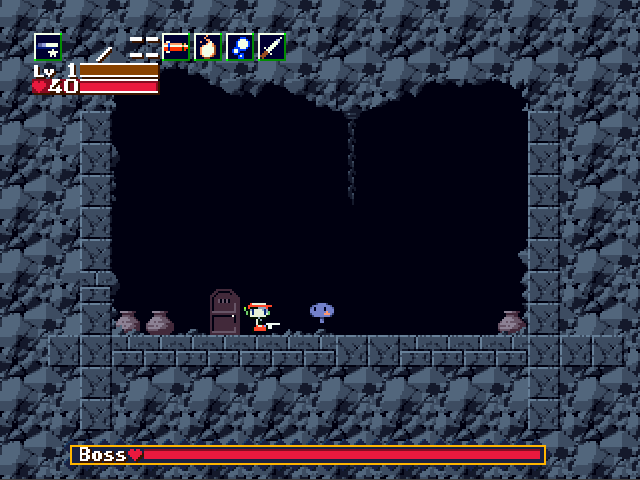 BOSS BATTLE
MA PIGNON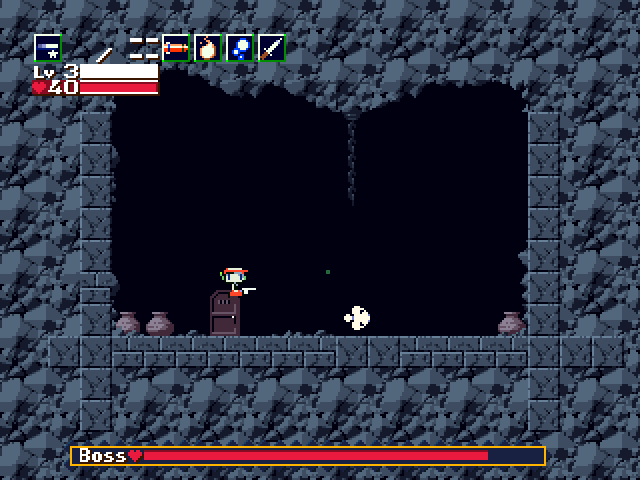 Ma Pignon charges!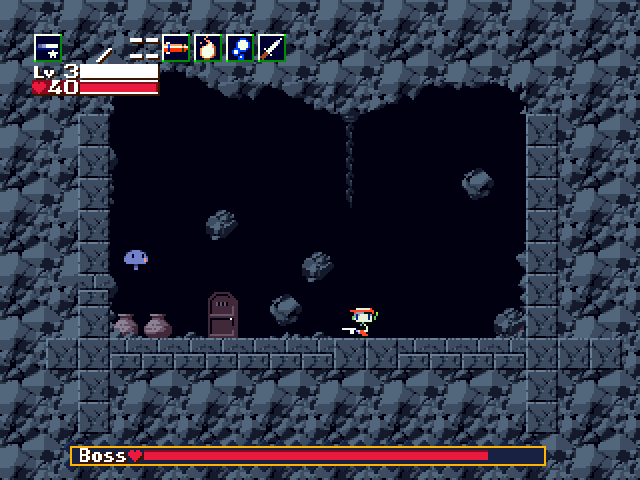 Rocks fall down!
Simple enough boss strategy.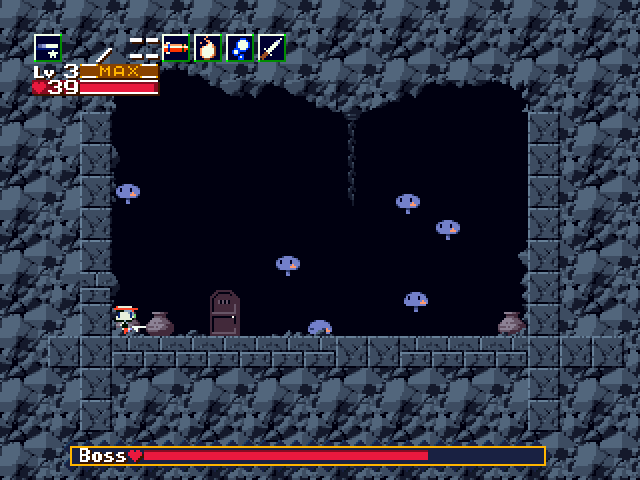 Also he spawns a ton of clones of himself sometimes. Fortunately, they die in one hit.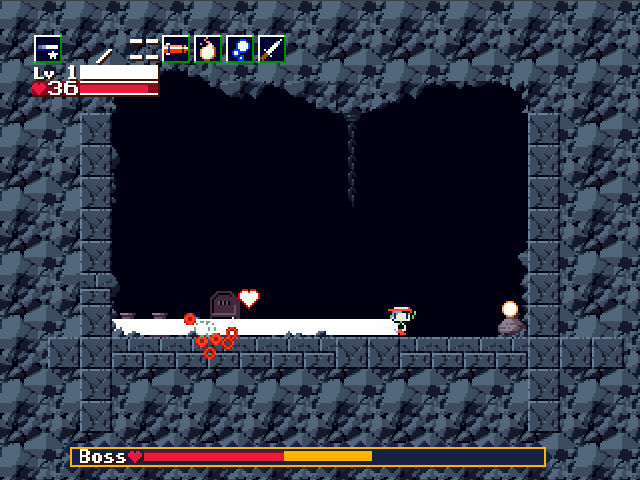 HE SHALL SUFFER THE FURY OF MY LASER.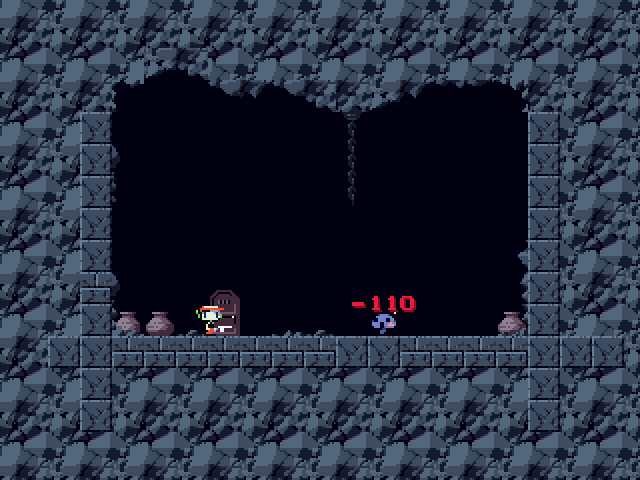 Bam!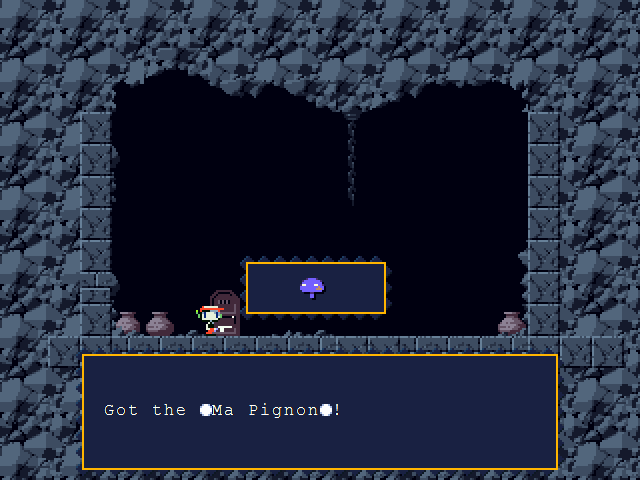 Mushroom acquired!
BACK TO THE PLANTATION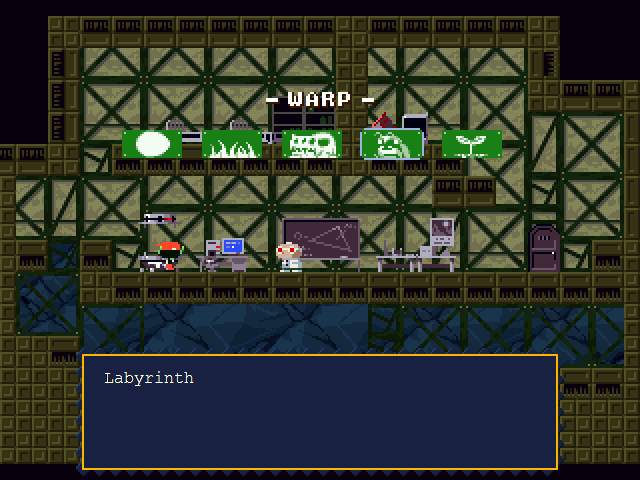 HAHA JUST KIDDING
We have more errands to run.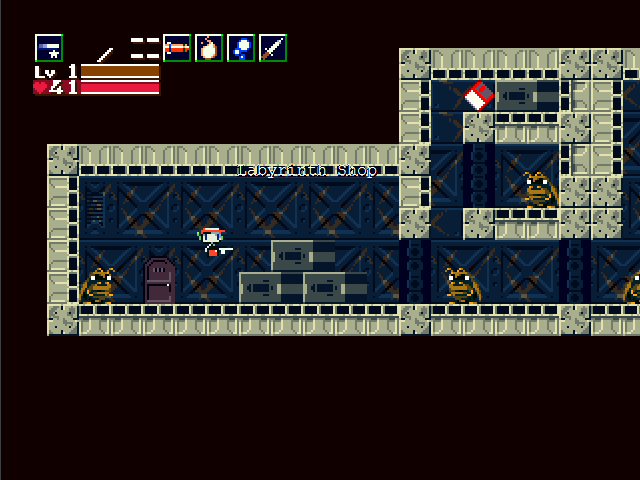 To the Labyrinth shop!
No Machine Gun, no Polar Star. What else do you have to give us?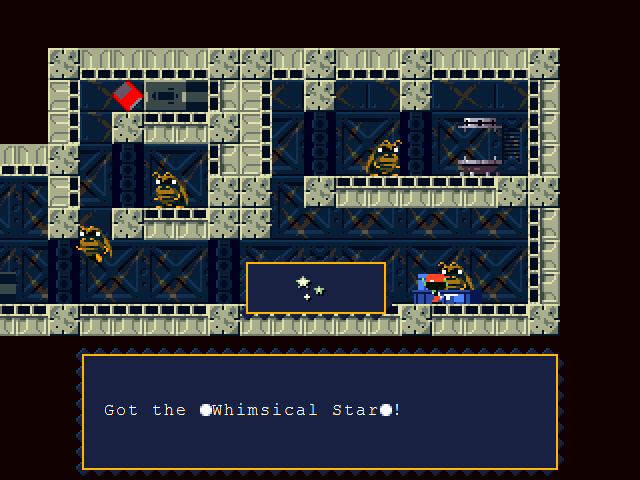 Just a decoration, I'm afraid, but you've already got the strongest weapon, so what else can I do?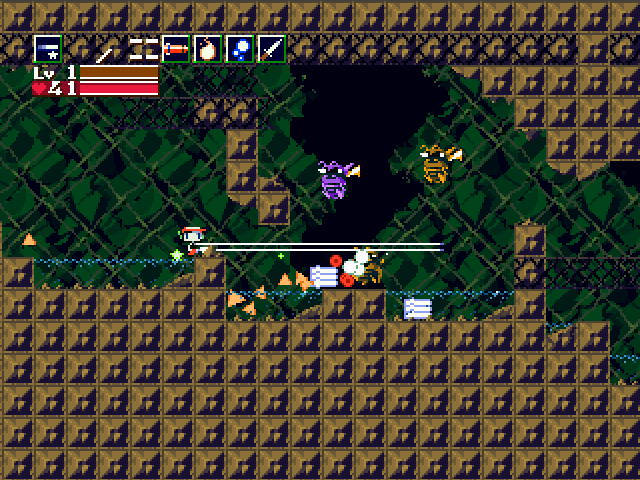 The Whimsical Star gives me three little stars that randomly orbit me, doing one point of damage at a time when they touch enemies. That is all!
NOW back to the Plantation.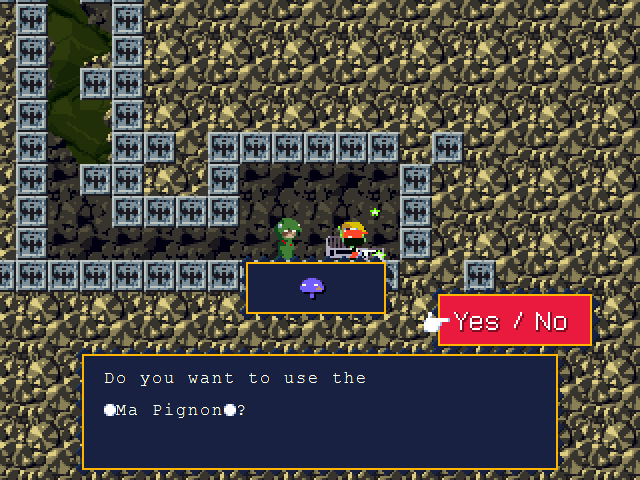 TIME TO SAVE CURLY'S BRAIN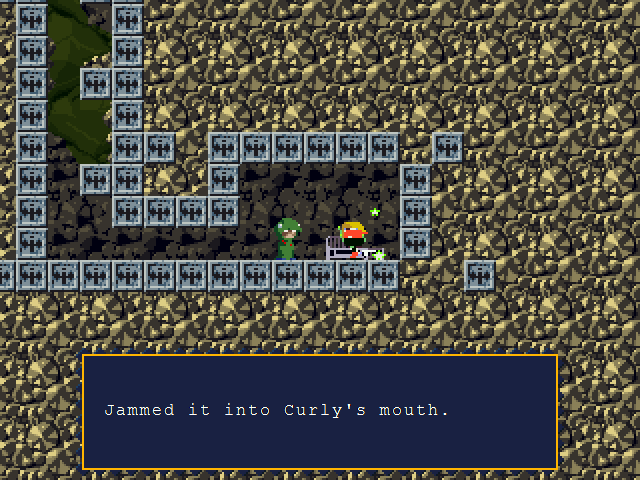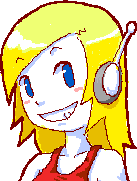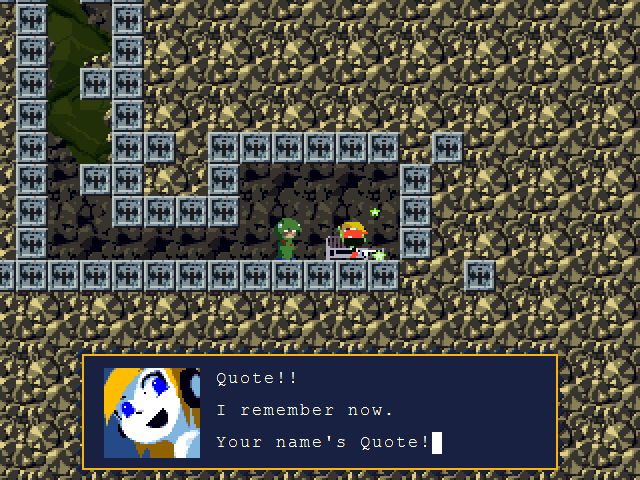 You and I...

Right...
Back then, a huge number of robots were sent to this island from countries on the Earth's surface.
Their target was the awesome power kept within this island... The
Demon Crown
.

But you and I, we were different.
The two of us were sent in order to destroy that power.
When we got here, the island was in shambles.
The robots had torn it all to pieces...
And countless Mimigas had been slaughtered...

It was... terrible...

Finally, one man got the
Demon Crown
in his possession.
The robots' work was done, and the island fell silent.
But that was juts the beginning of the tragedy.
With the crown in hand, the man turned the Mimigas into killers and began his assault on the Earth.

I tried to stop him. You were there, too.
.....
That's... as far as I can remember.
I'm pretty sure we were able to wound him.
But we seemed far out of our league...

I'm fine, thank you.
Don't worry about me.
Oh, here.
Take this with you...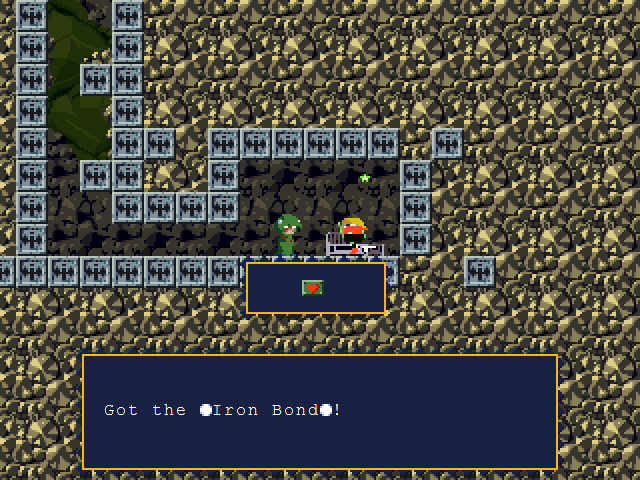 Now we have a memento of Curly's trust!
Almost out of errands...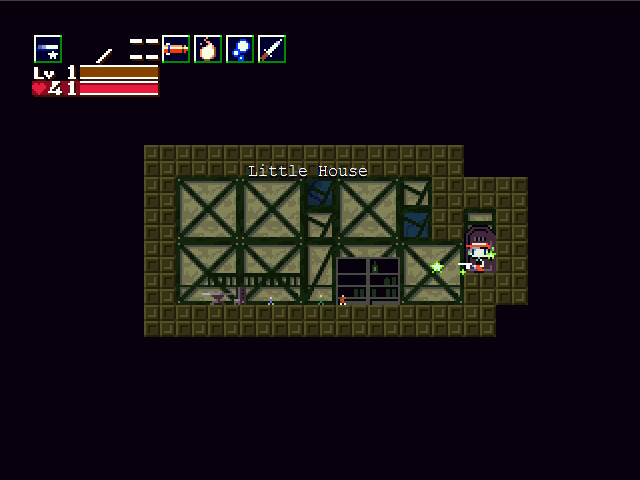 Mr. Little has been brought home!

Ah, it's good to be back.
Oho, if that isn't a fine-looking blade you've got there.
Care to trade it for my fabulous gun?
[>Yes No]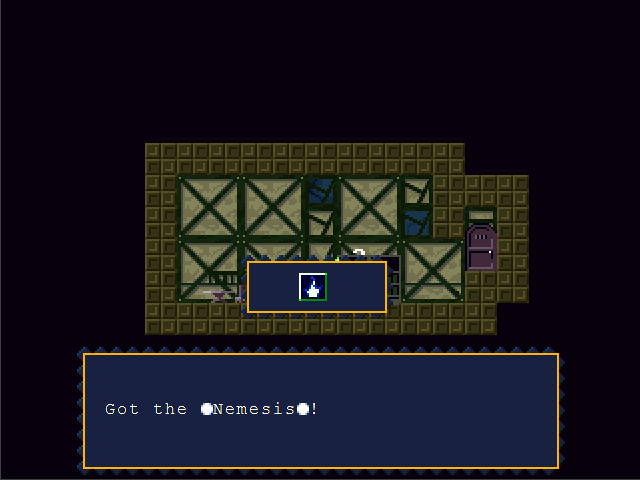 The Nemesis: One of the most powerful weapons in the world!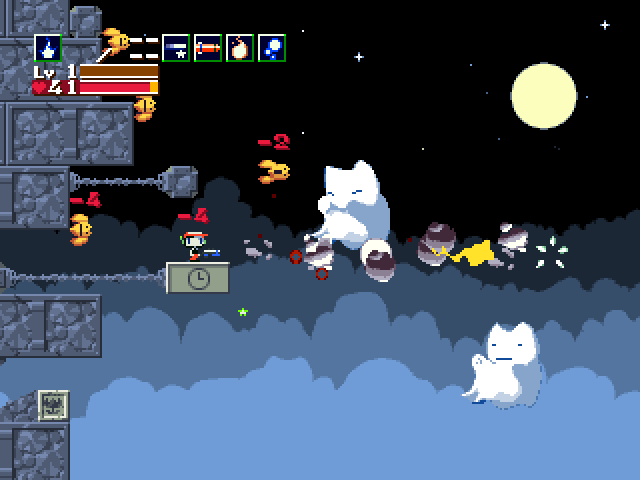 The Level 1 Nemesis is incredibly powerful, blasting through everything in its path!
But...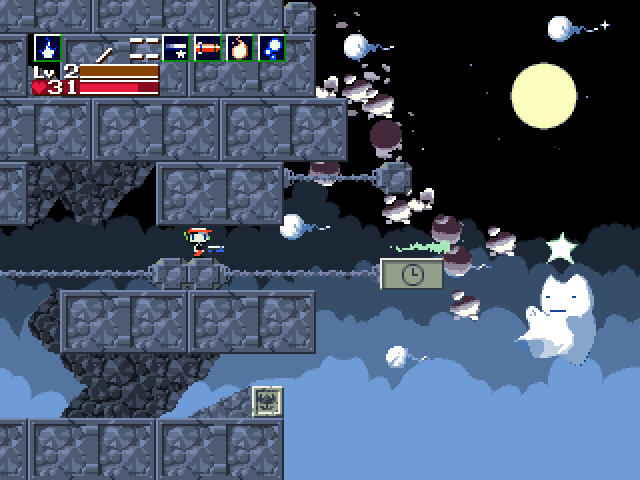 At level 2...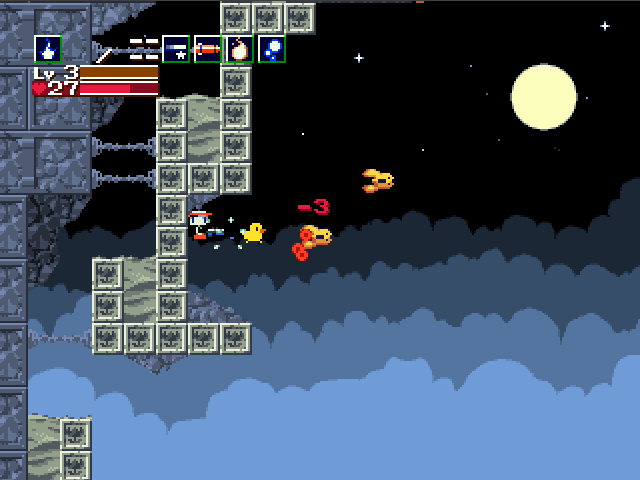 And at level 3... It's terrible.
The Nemesis is the only weapon that gets
weaker
as it levels up.
ANYWAY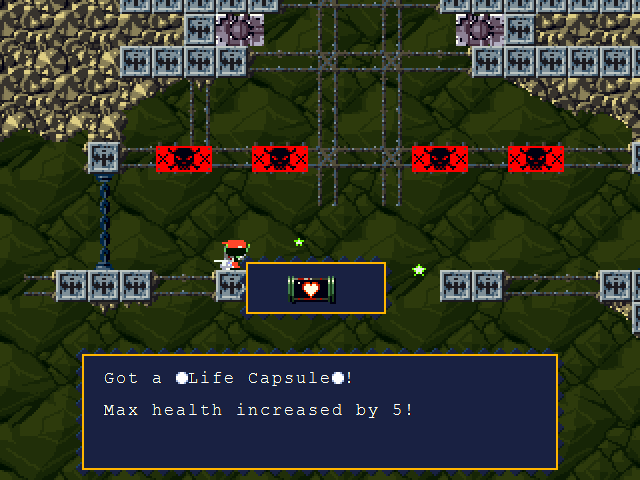 The faffing is complete.
Now, TO THE FINAL CAVE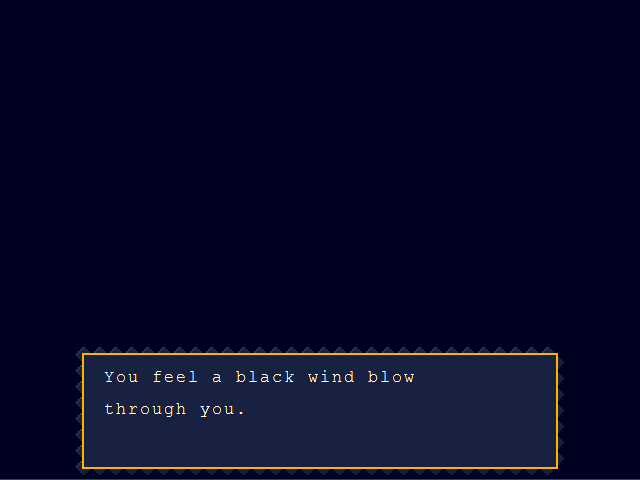 Eh?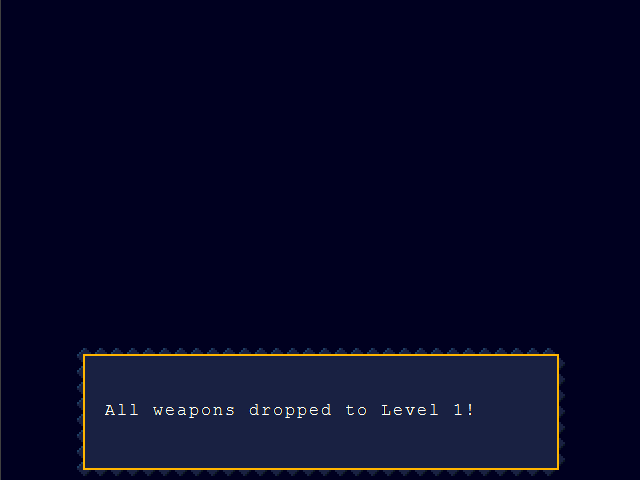 Oh, hell.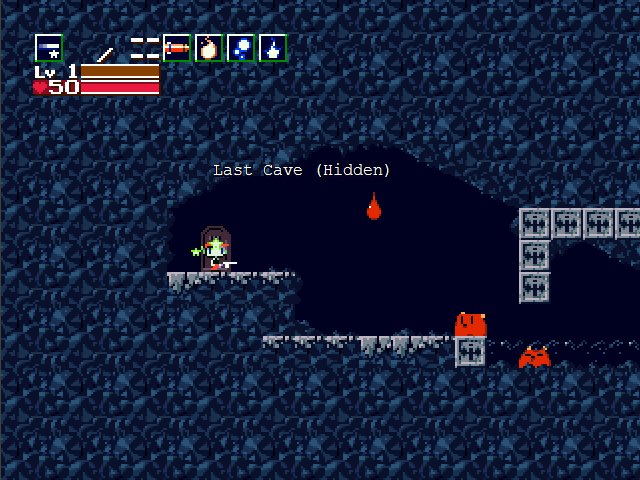 Things are a little different now.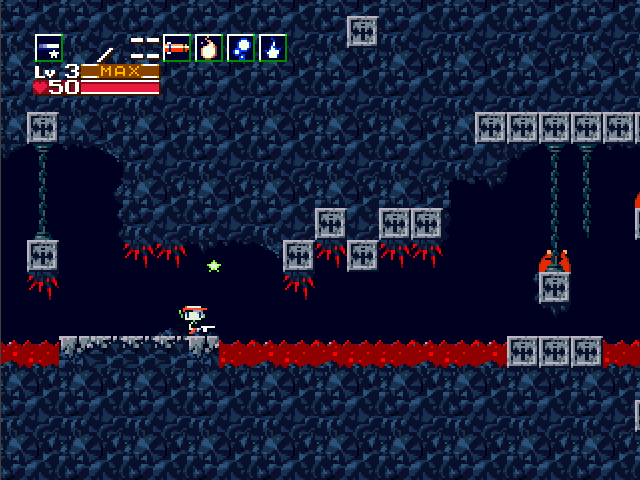 For one thing, there's a lot more lava.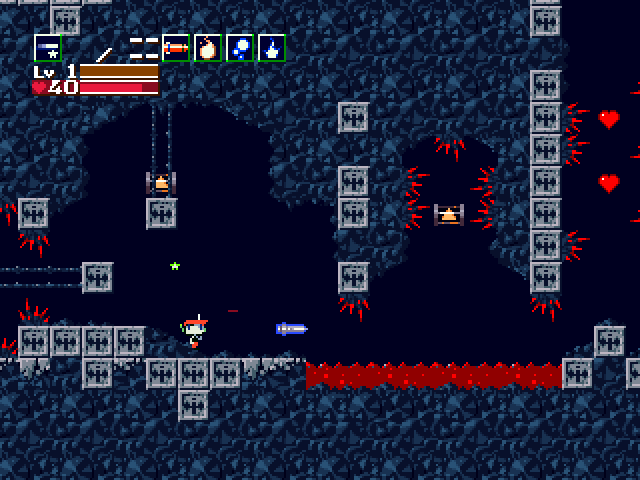 Introducing a new game mechanic in these weapon capsules! Little bundles of WP that I can use to restore my fallen weapon levels.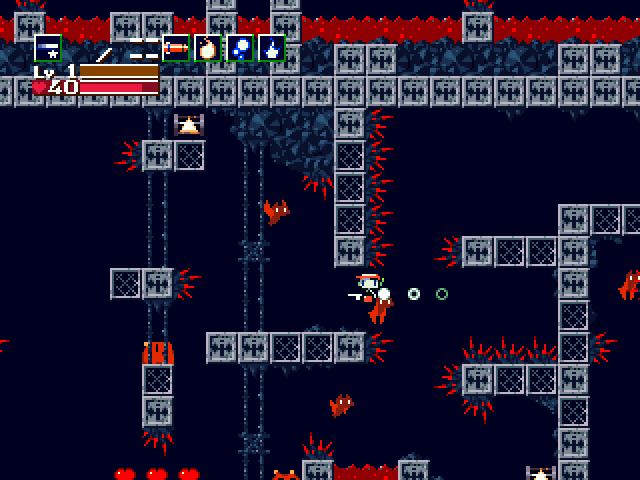 this place is intense as hell!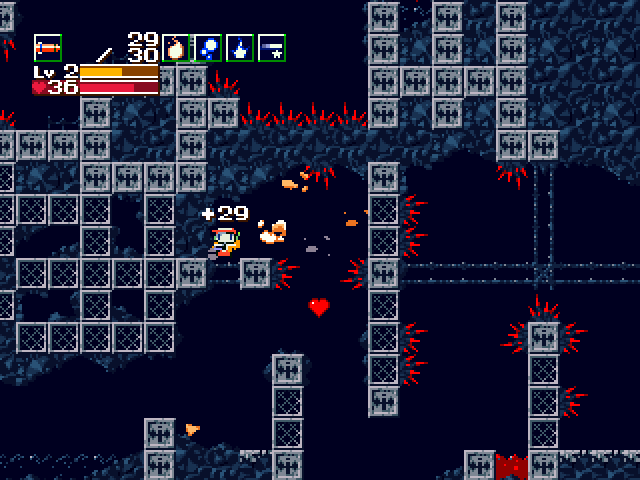 Since the Spur doesn't level normally, my first priority is restoring the super missile launcher.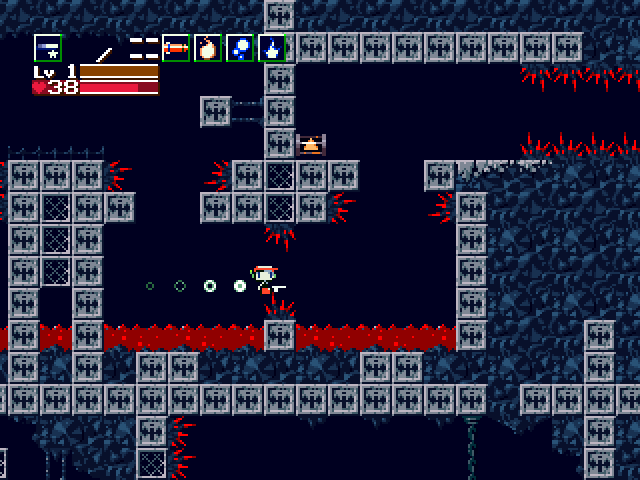 Also new to this area: Jumps that would be totally impossible without the Booster 2.0!
But blocking the path...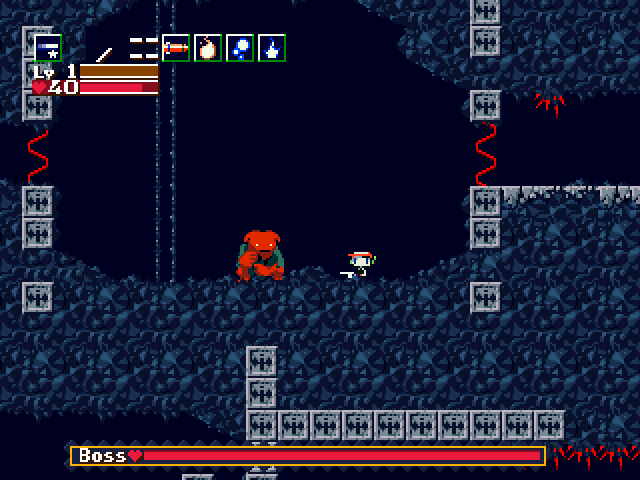 BOSS BATTLE
RED DEMON
It's the same demon that killed Arthur!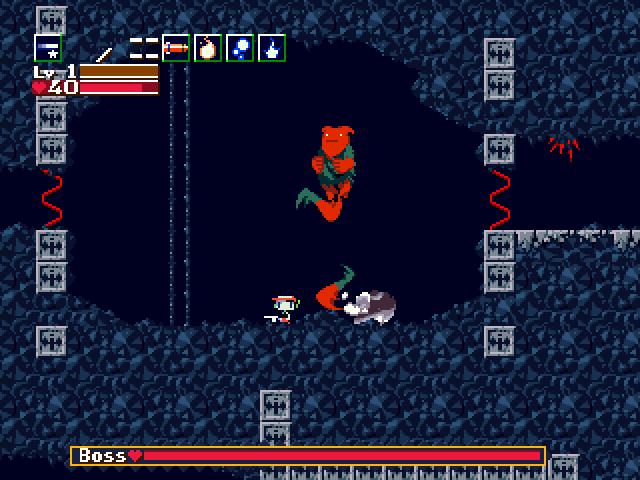 It jumps around, throwing boomerang things at me!
However, there is a critical flaw in its strategy: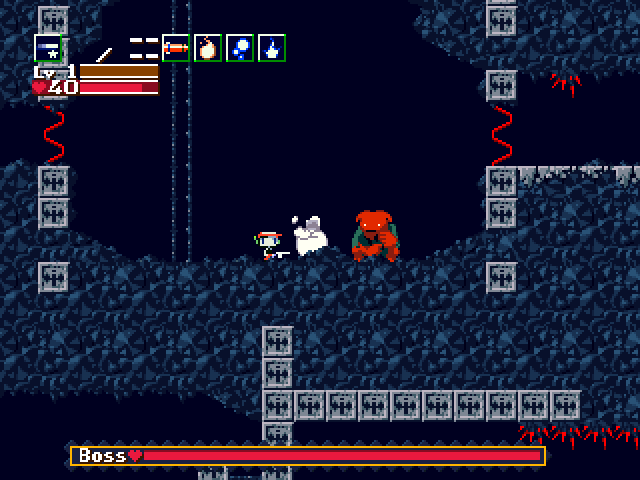 It can't shoot over that little ridge in the ground.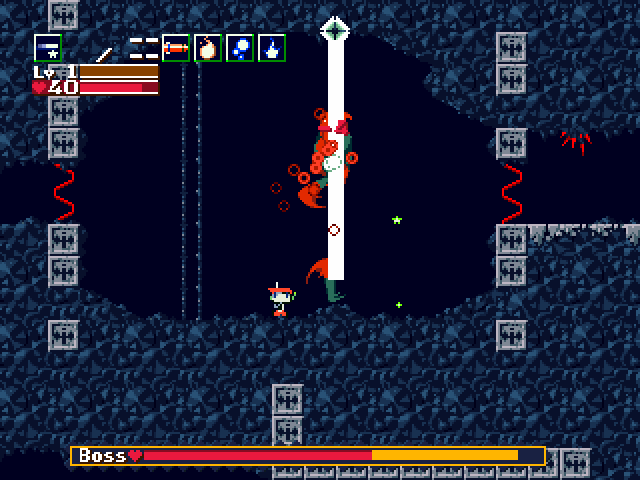 Hide behind the ridge, shoot it as it jumps overhead, repeat.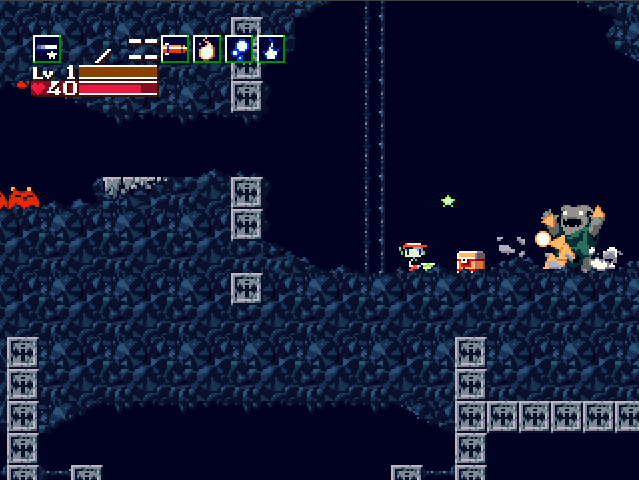 And then he goes down.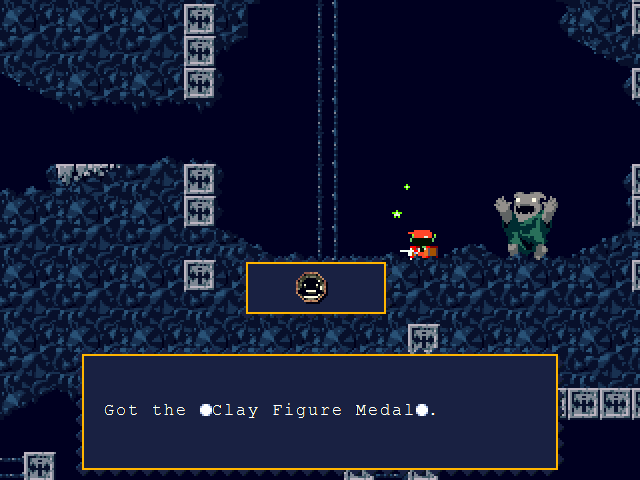 Another totally pointless item!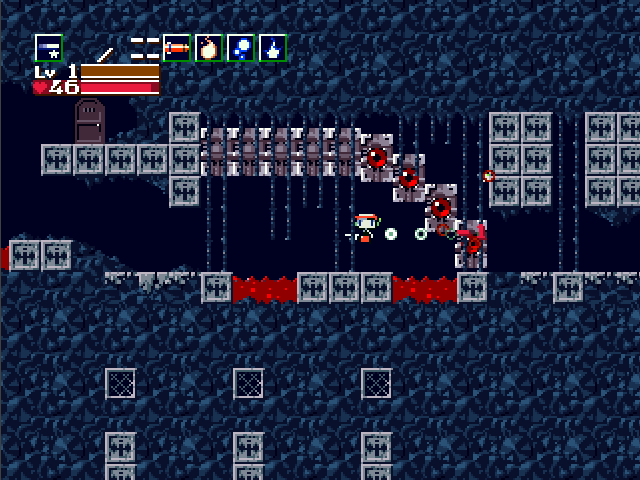 AAAAAAAAAAAAAAAAAAAAAAAAAHHHHHH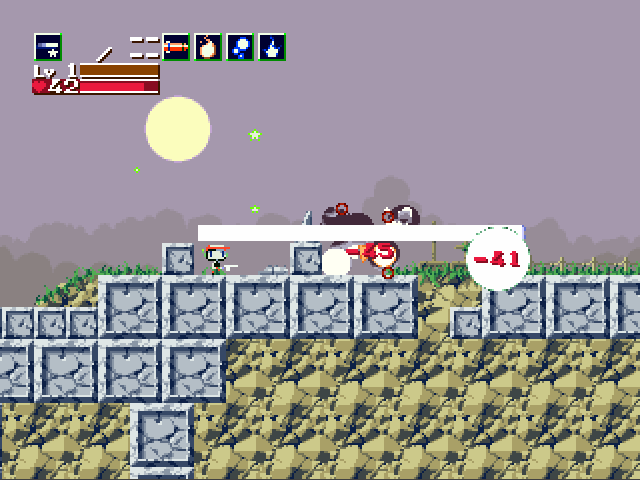 And we're topside!
But one more detour before the gauntlet.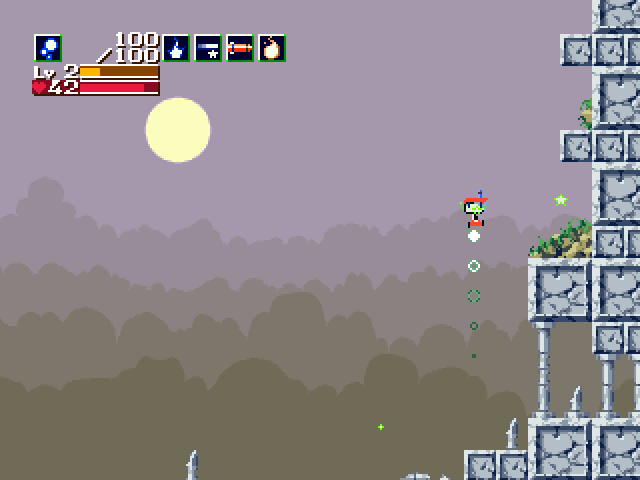 We must scale the outer wall of the throne room!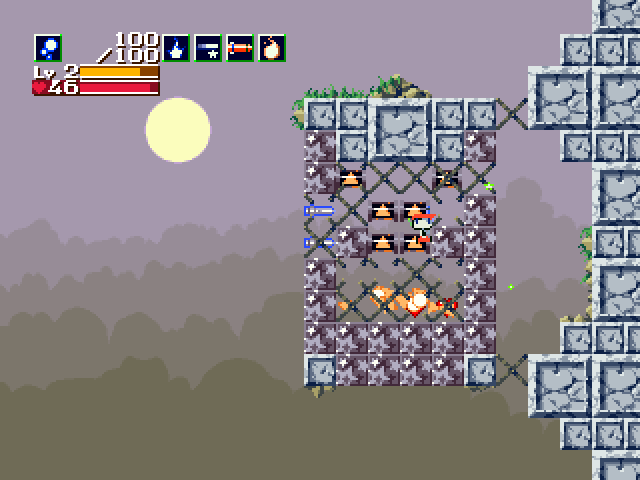 Hiding near the top of the area is a treasure trove of WP for exactly this reason!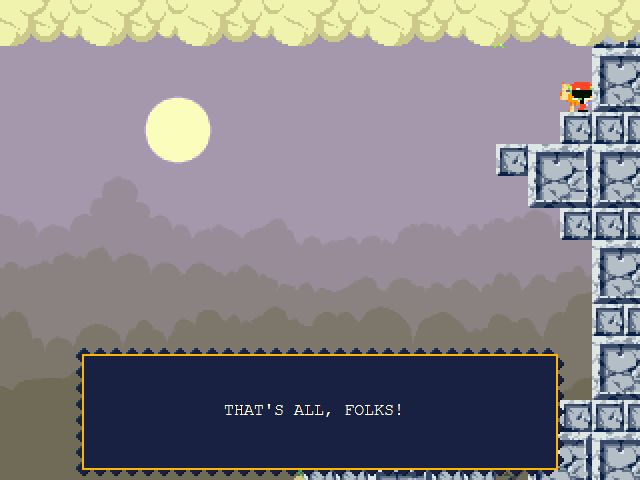 That is indeed all, folks.
TO THE BOSS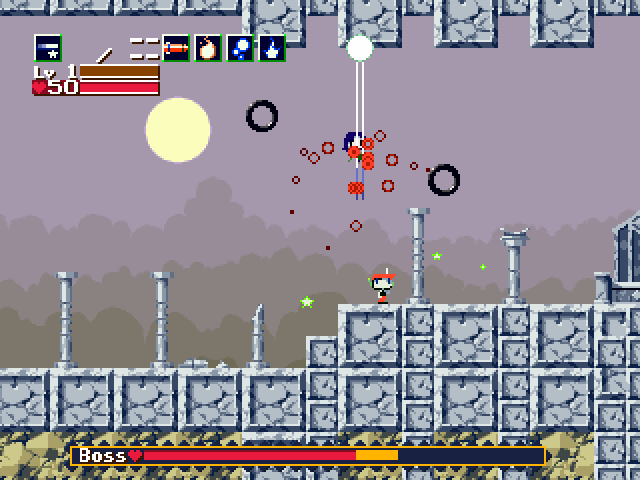 Misery is no match for the Spur!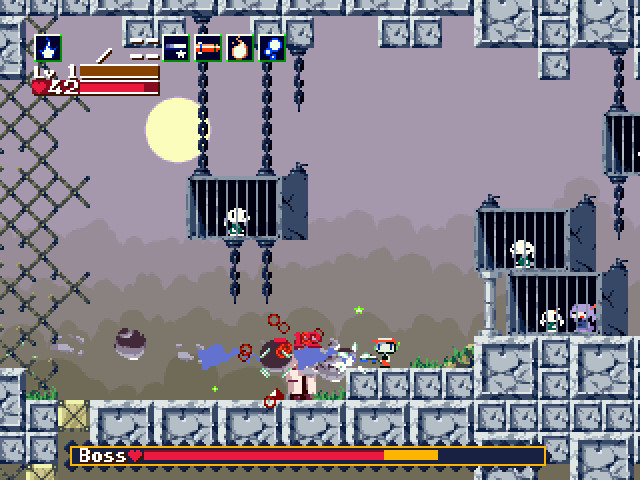 The Doctor is no match for the Nemesis!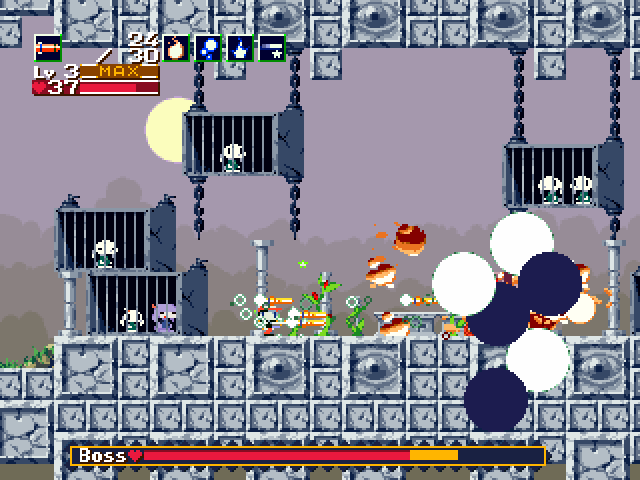 The Muscle Doctor is no match for the Super Missile!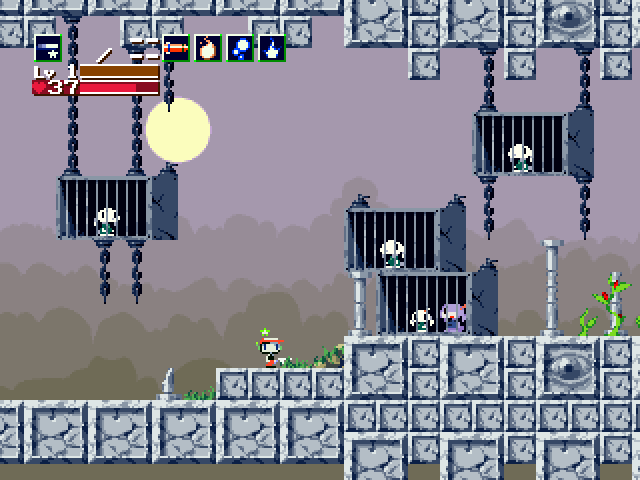 Before we go on, time for a little secret healing...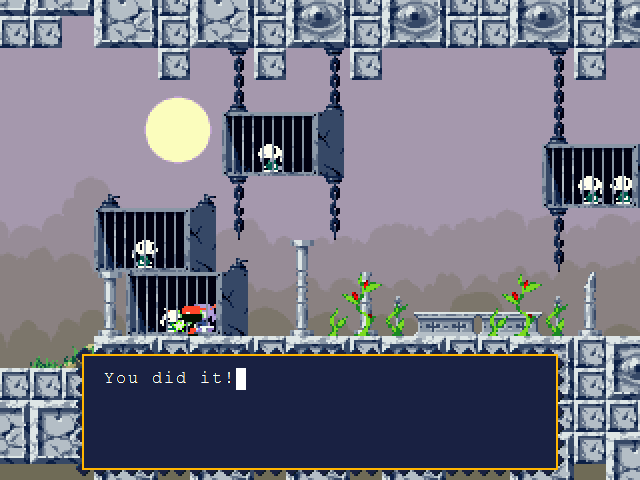 I feel like a princess.
Sue?
Oooh, I know her.
That girl looks like a Mimiga, but she's really a human, isn't she?
My eyes can't be fooled.
Anyway, she's not here.

You're so strong!
Almost like the great hero Arthur.
Tee-hee!...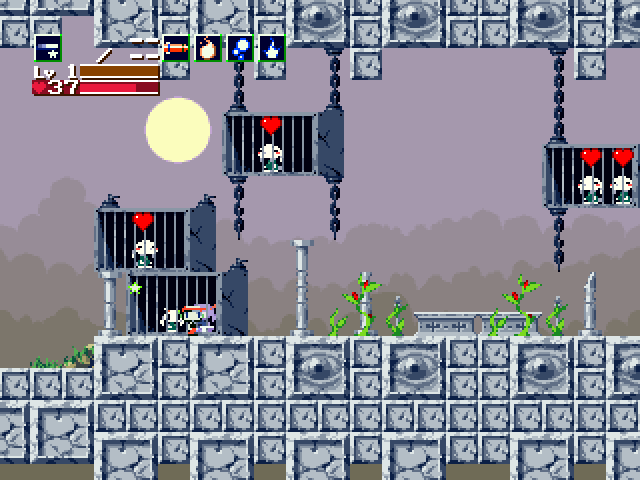 The ladies cannot resist Quote's manly charm!
And yes, those hearts are recovery items.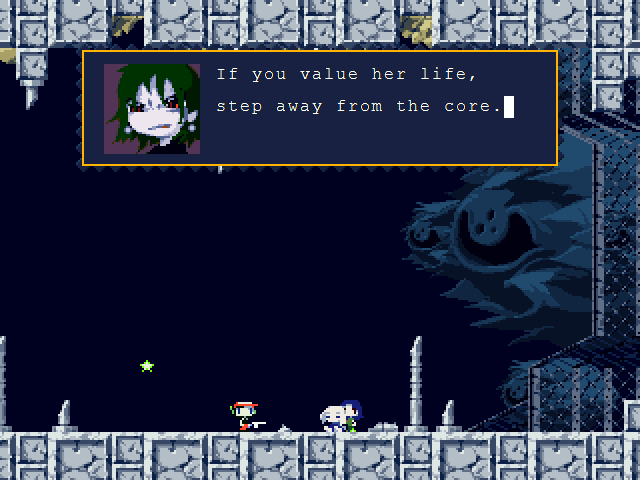 Time to own the endboss!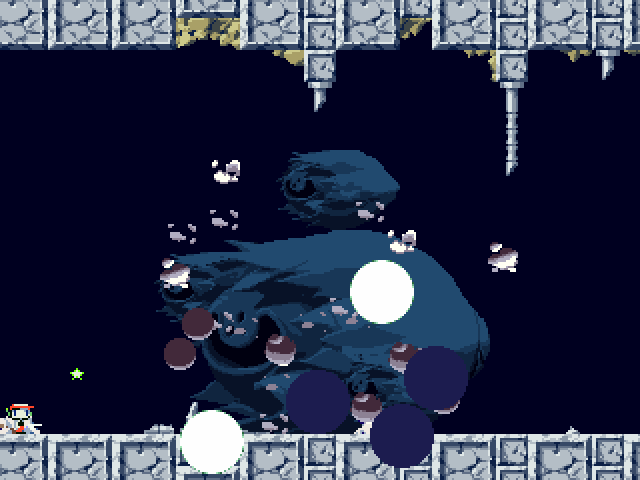 Endboss owned!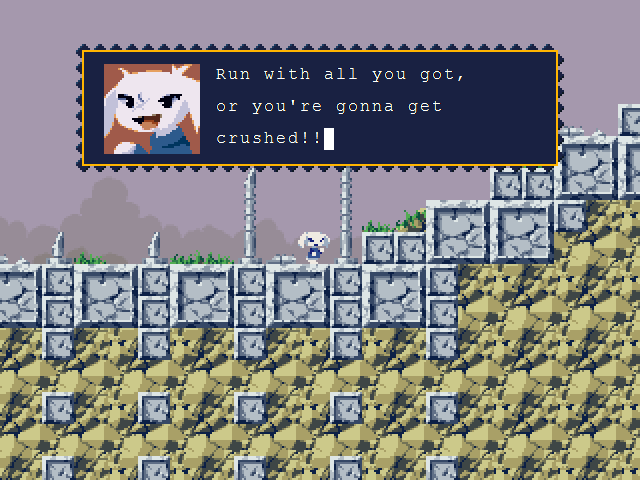 Now, we flee...
...or do we?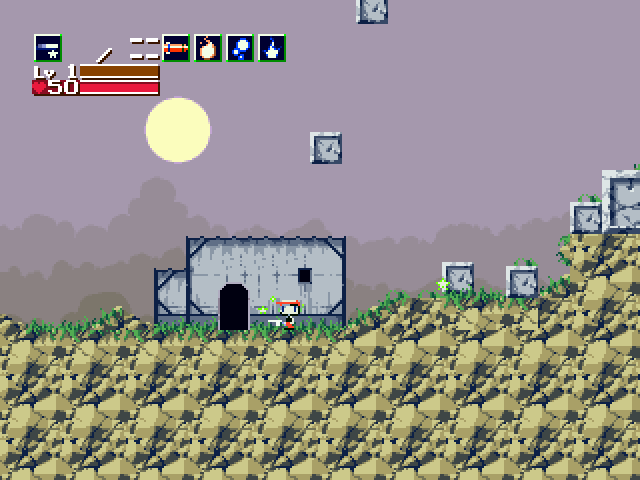 This time, the Prefab Building is open!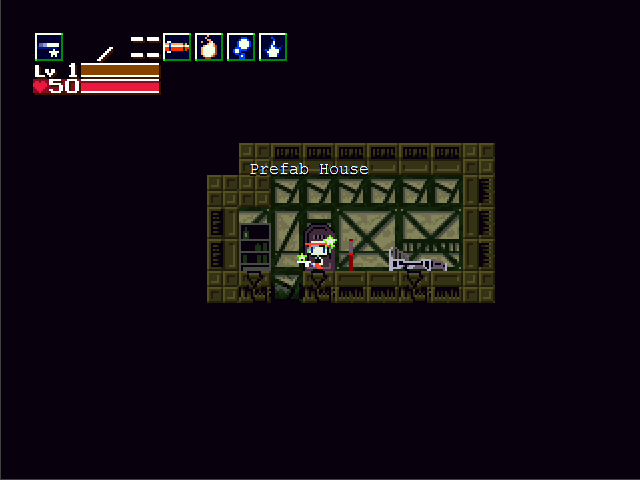 From here, we descend...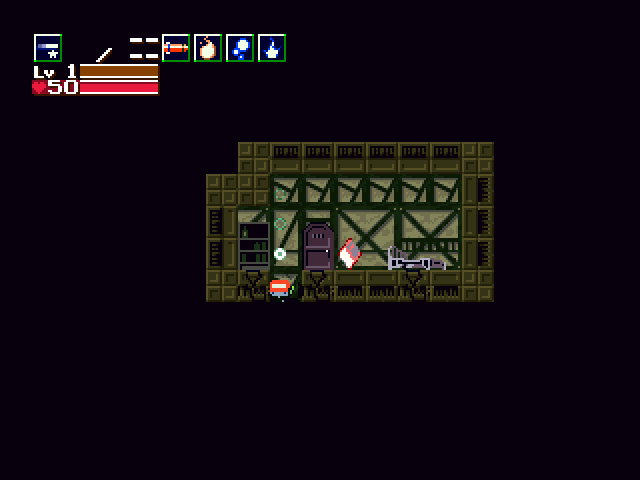 ...into hell.

TO BE CONTINUED
<<
|
^^
|
>>