<<
|
^^
| >>
Final Chapter: Hate and Madness Given Flesh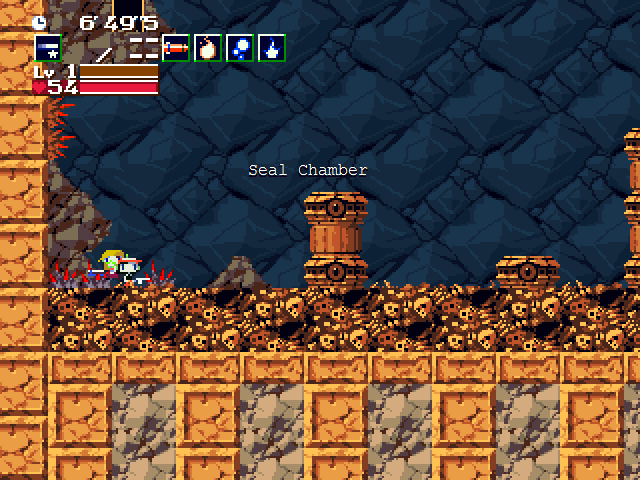 [ BGM - Sealing Chamber ]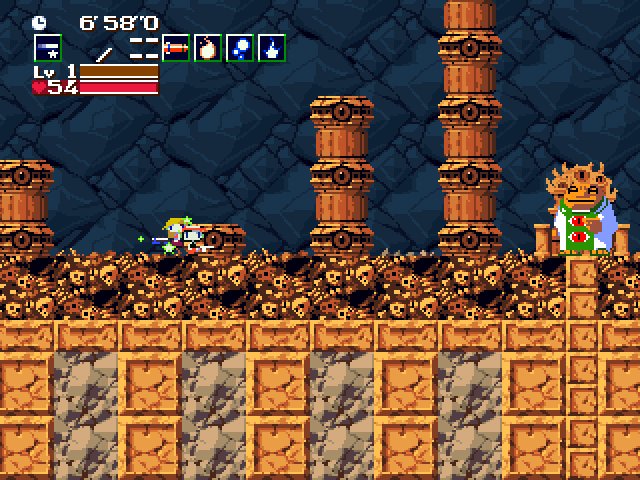 There he is.
Old man Ballos himself.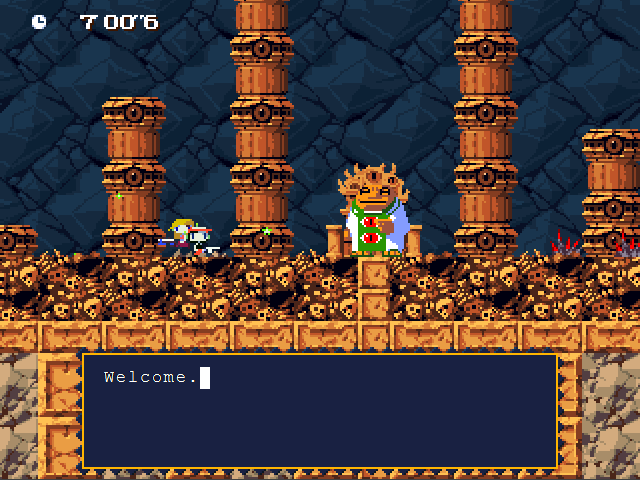 I am Ballos.
Ages upon ages ago, in fear of enduring further punishment,
I allowed my magic to run wild...
The magic became such that even its master's hands could not control it.
As I looked on, unable to quell its fiery rage, it took from me my loved ones, my children, my dearest wife...
Their cries of agony soared above the flames.
I could not avert my eyes, so I merely gazed upon the spectacle...
Laughing...

Jenka sealed me away, but my magic yet rages out of control even now.
Long, long have I waited...
Waited for the one who would finally subdue my magic's fury...

Now, kill me!
Or I-- shall kill YOU!!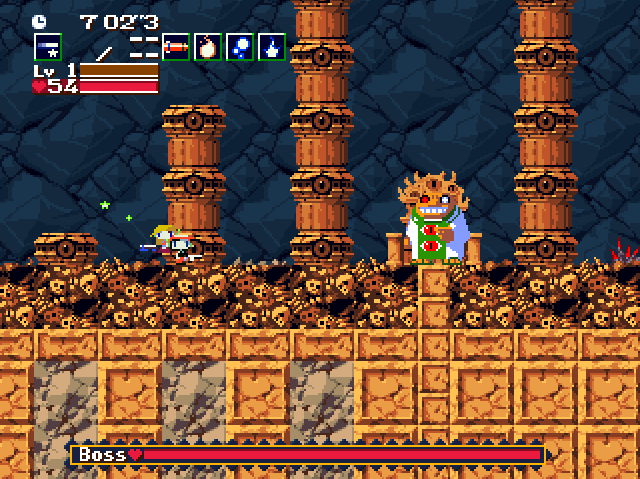 [ BGM - Gravity ]FINAL BOSS
BALLOS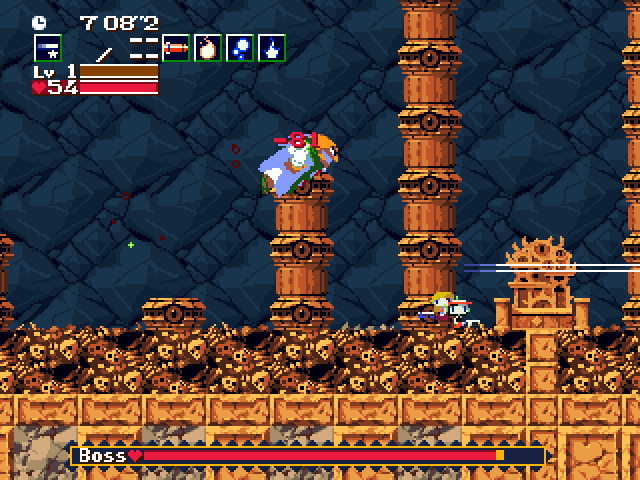 Consumed with rage, Ballos charges relentlessly!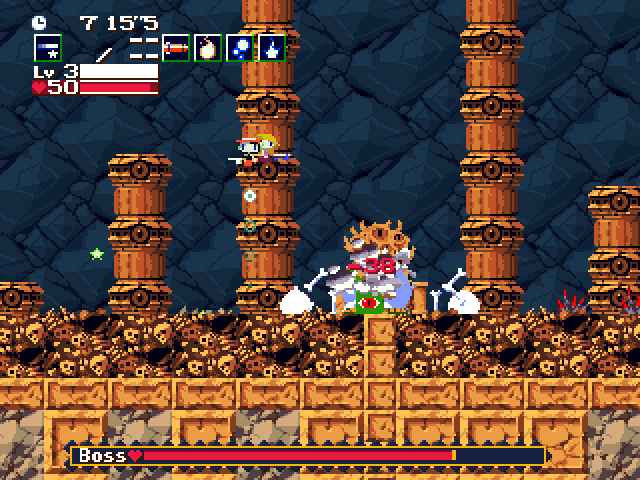 When he strikes the ground, bone shockwaves fly out!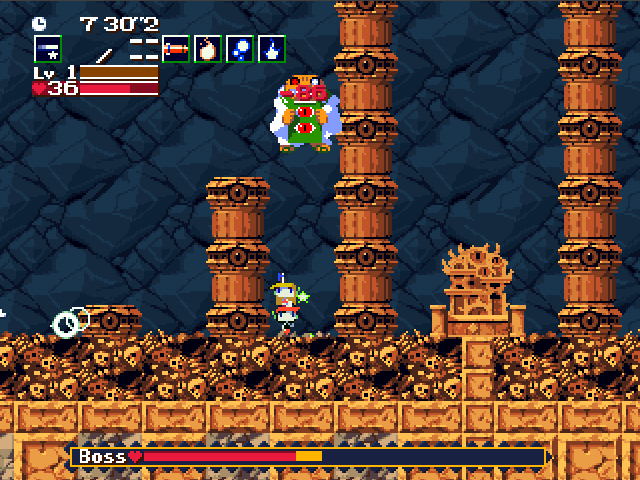 Then, he takes flight and WHAT ARE THESE CROSSHAIRS FOR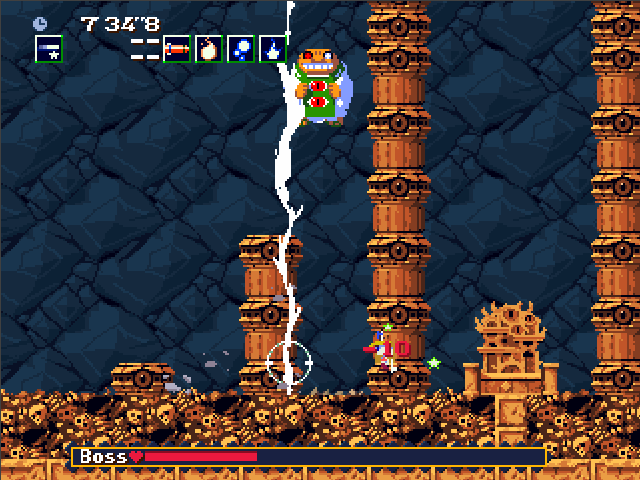 LIGHTNING BOLTS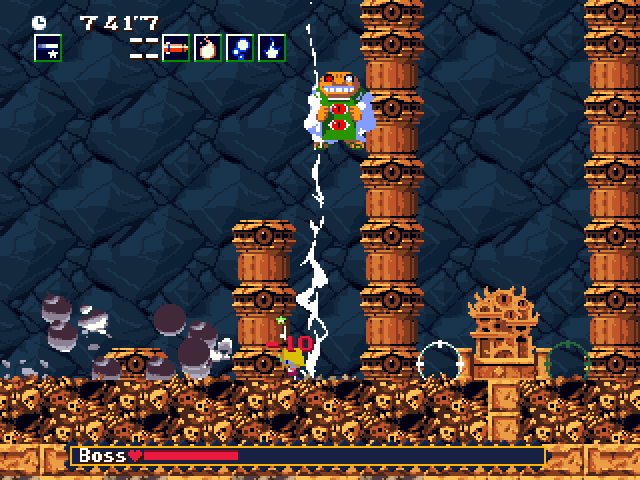 LIGHTNING EVERYWHEEEEEERE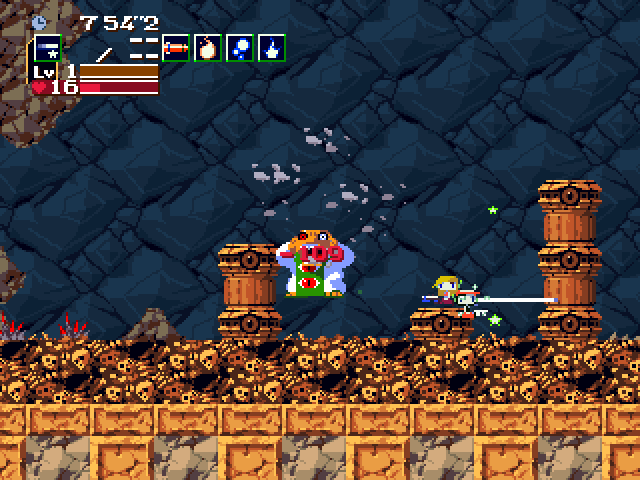 And defeated!
......?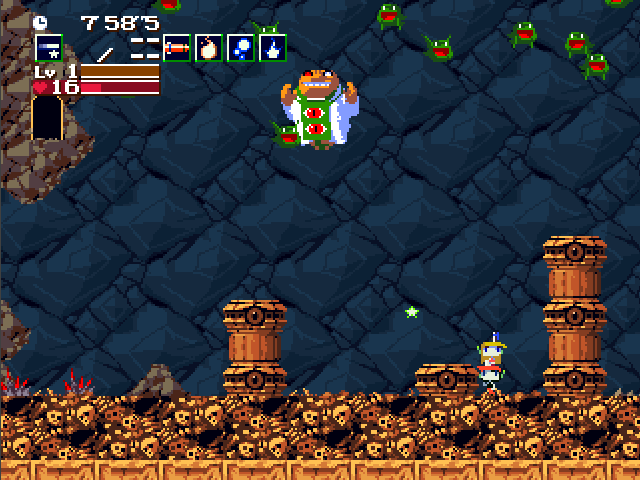 Where are you going.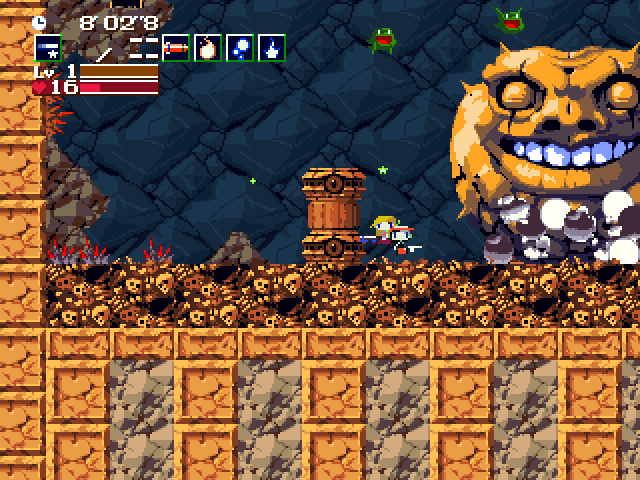 OH HOLY CHRIST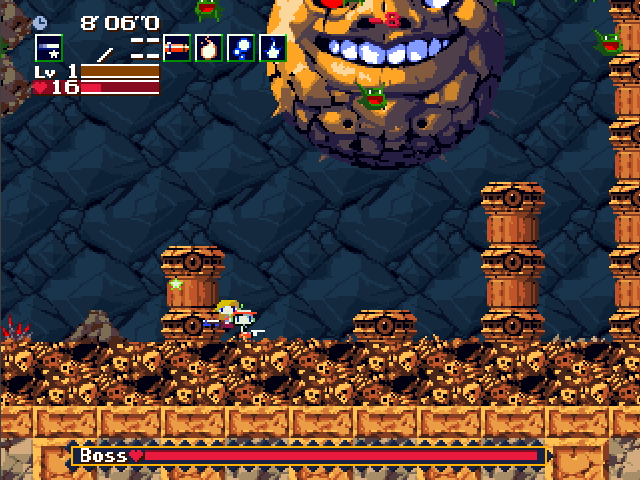 [ BGM - Eyes of Flame ]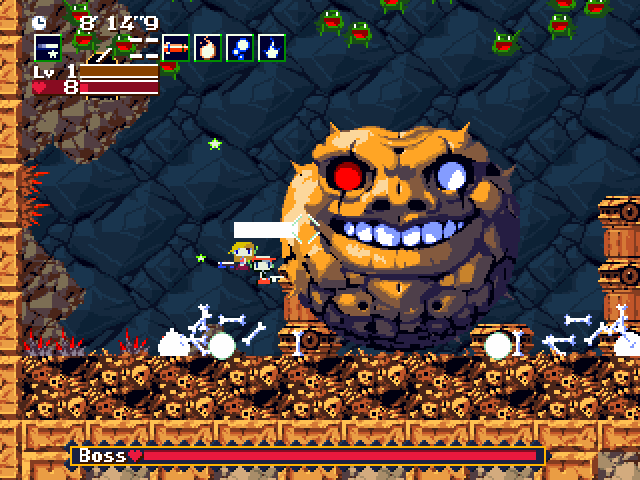 So!
This is Ballos's second form.
It is invincible.
Incidentally I am about to die.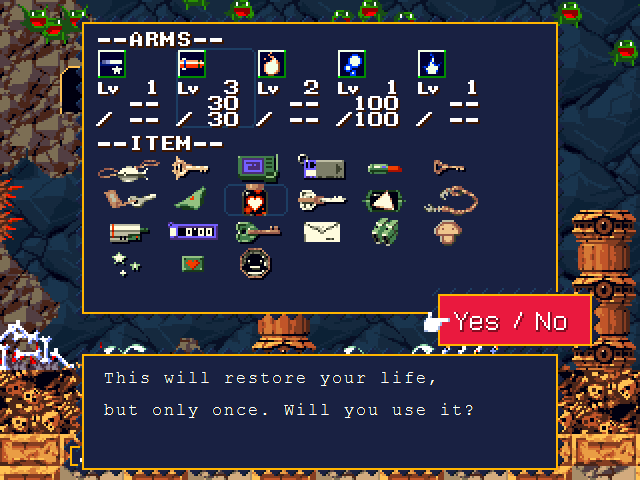 BUT A TRUE WARRIOR FIGHTS ON UNTIL THE BITTER END!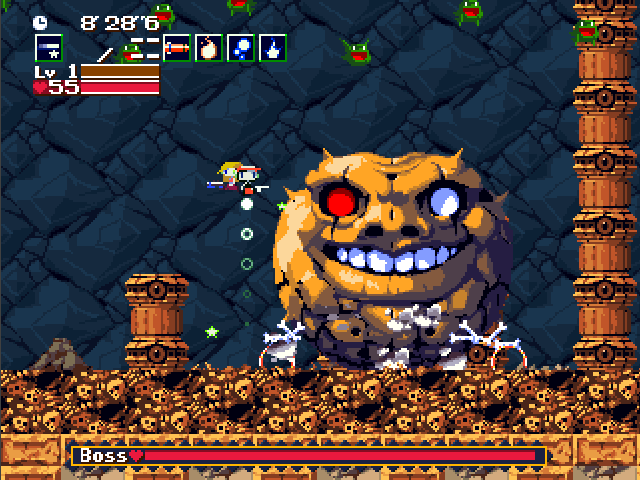 Now, every third jump, he pauses briefly, and I can jump up onto his body...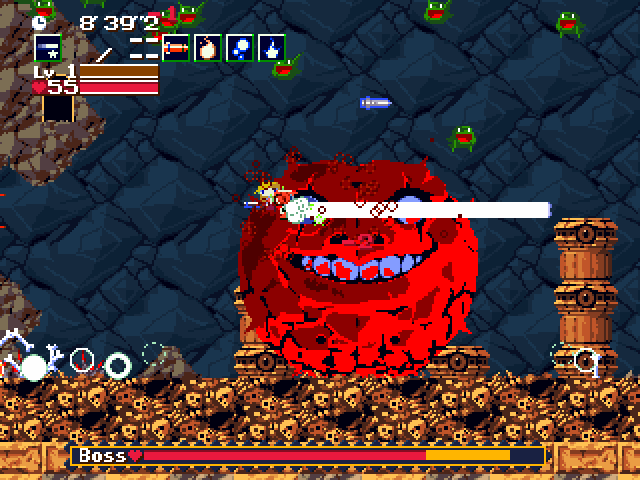 ...AND SHOOT HIM THROUGH THE EYES.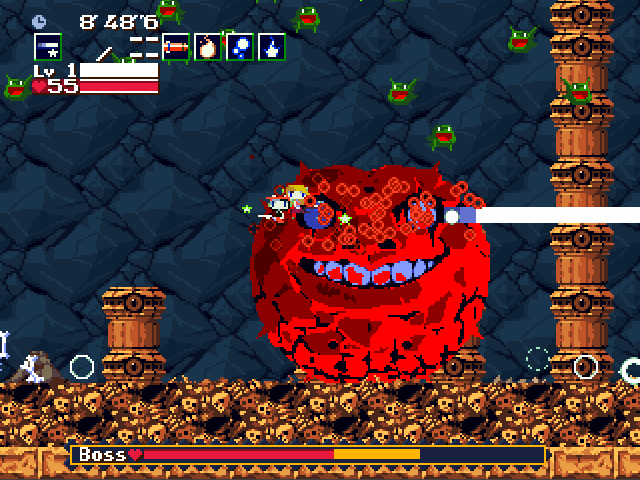 AND SO
ON THE CURLY ROUTE
BALLOS STEALS THE 1000th SCREENSHOT
OH GOD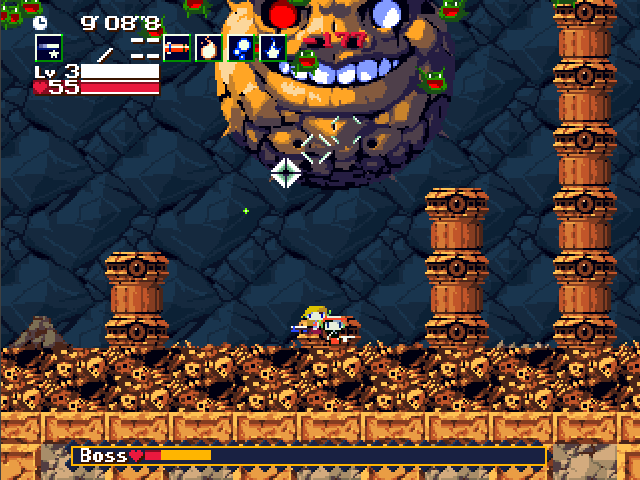 SO CLOSE.......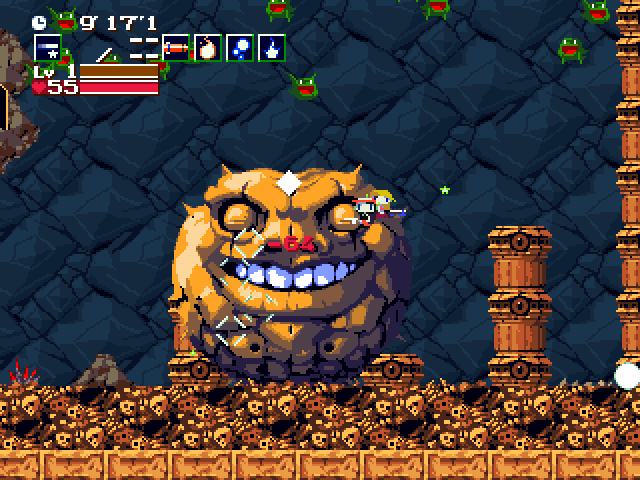 BAM
He closed his eyes?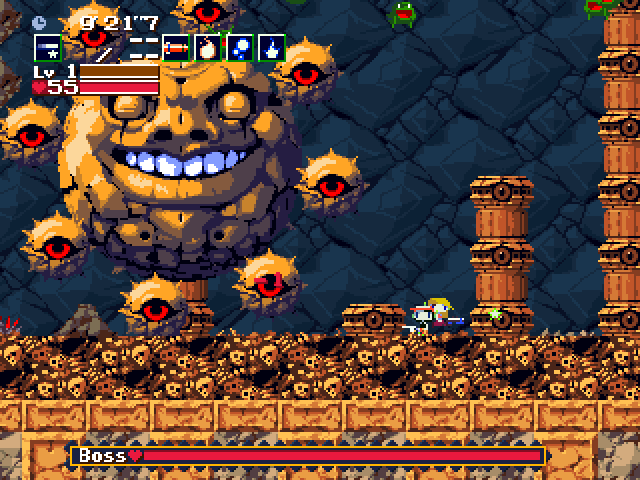 [ BGM - Last Battle ]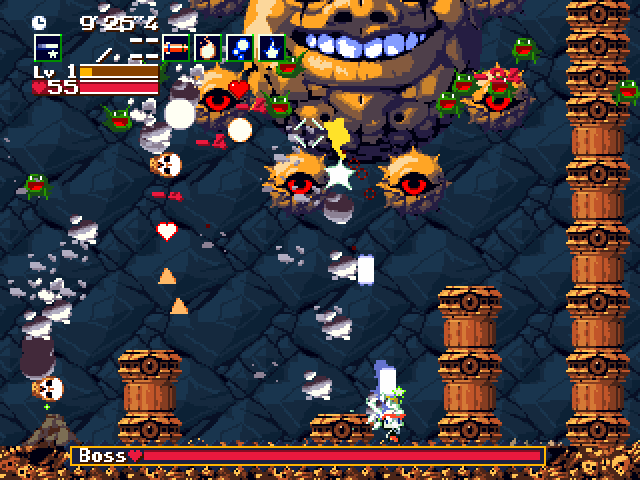 Deprived of his ocular weakness, Ballos is now truly invincible...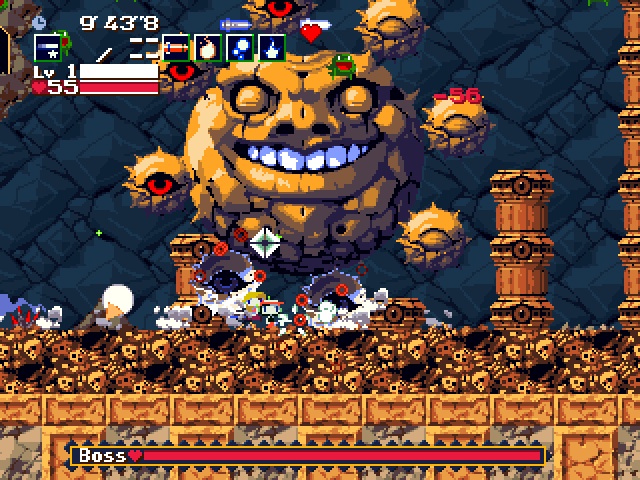 ...but the orbs surrounding him are not!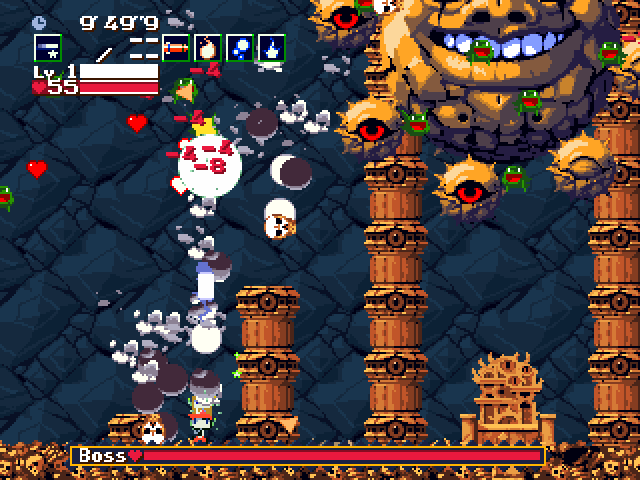 On the ground, he tries to run me over. In the air, he rains skulls.
I just need to destroy all eight eyes...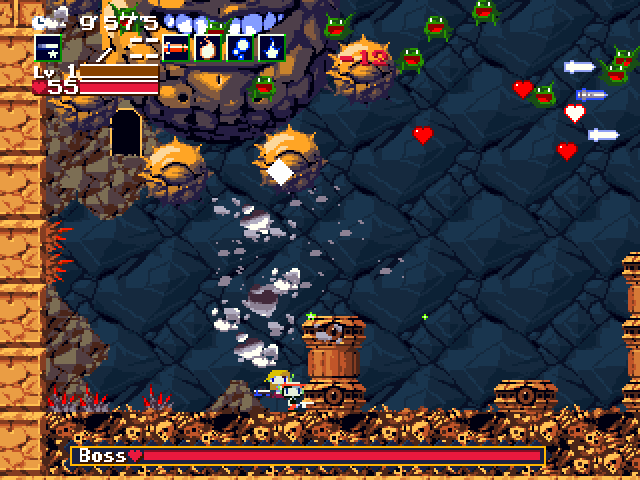 And that's the last one!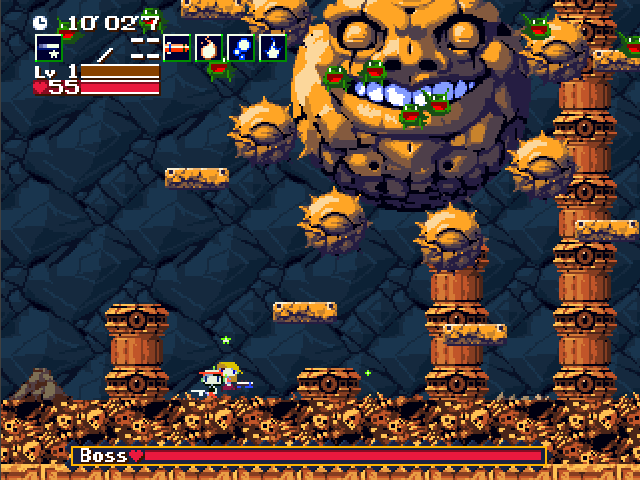 What are you doing NOW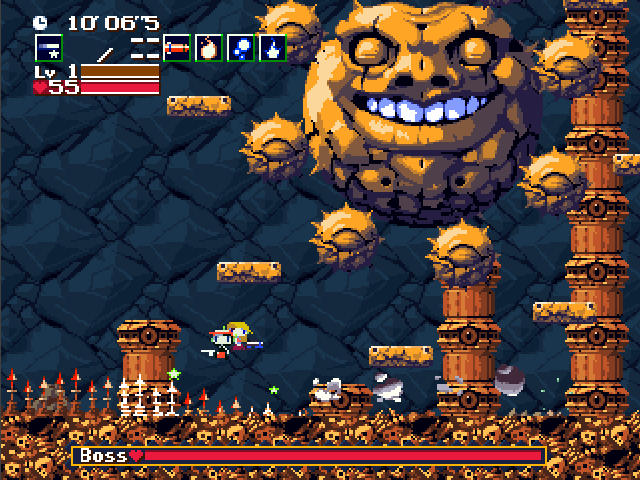 OH GOD SPIKES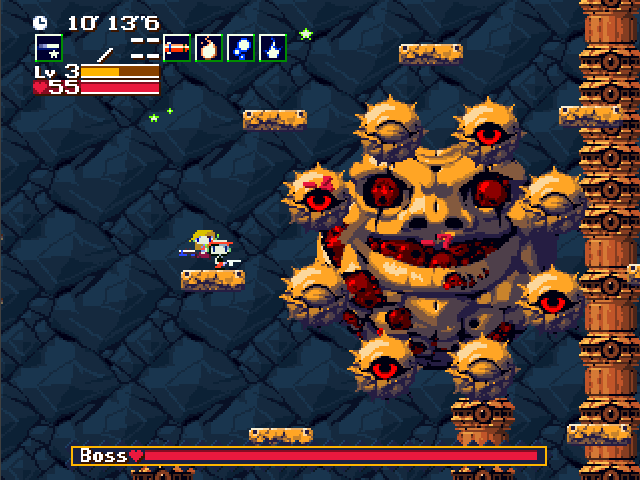 SO BALLOS
THIS IS YOUR TRUE FORM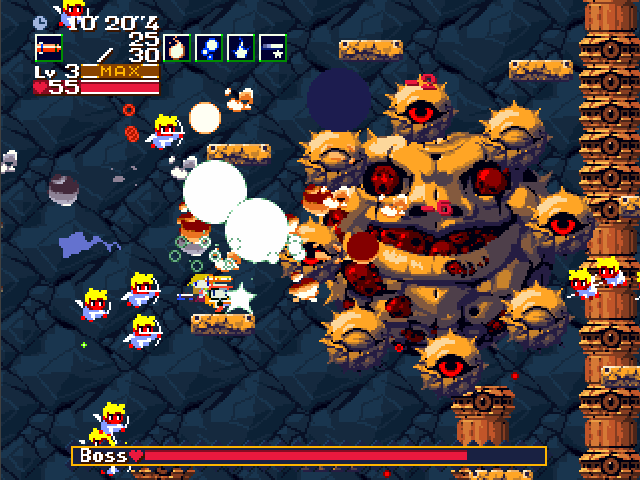 These eight spinnign platforms are the only ground I have left.
Powered-up fallen angels with bows swarm from behind me.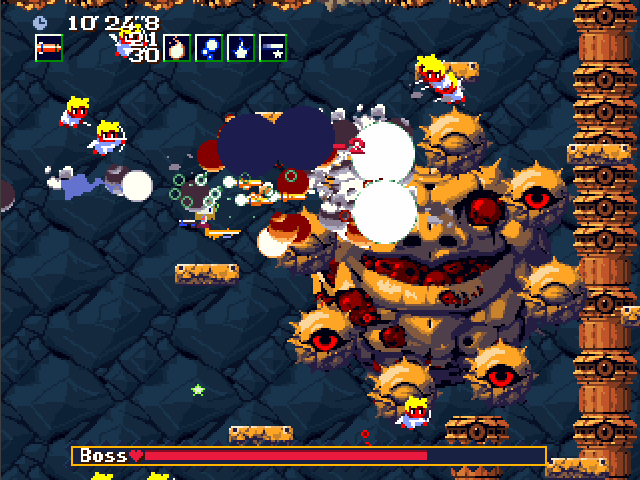 The open eyes need to be destroyed, and begin to bounce around the battlefield when they are. The closed ones are unbreakable barriers.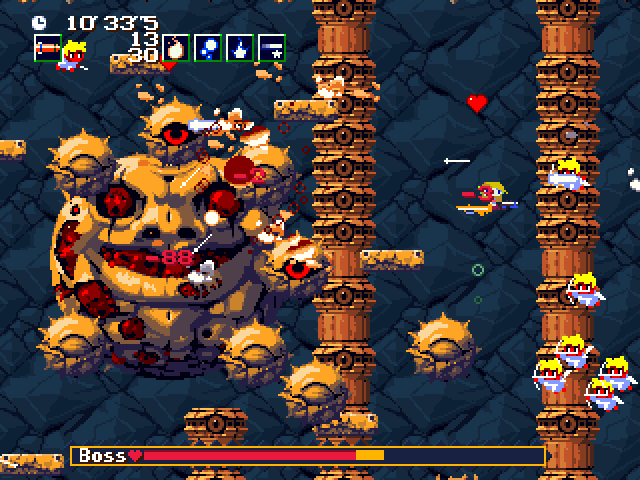 But I'm not afraid.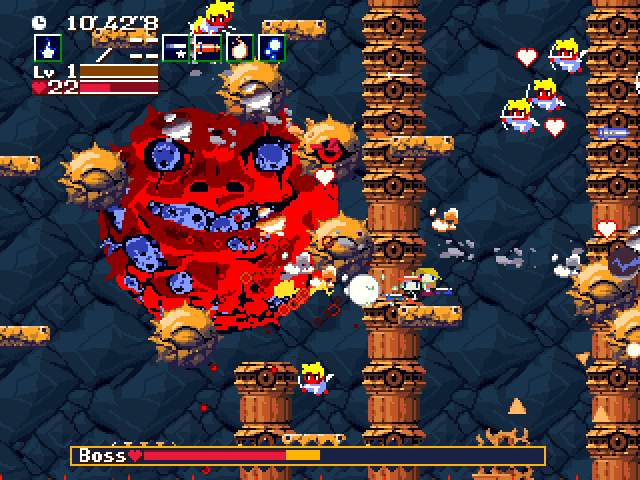 After all, Curly is the one warrior to whom I can trust my back.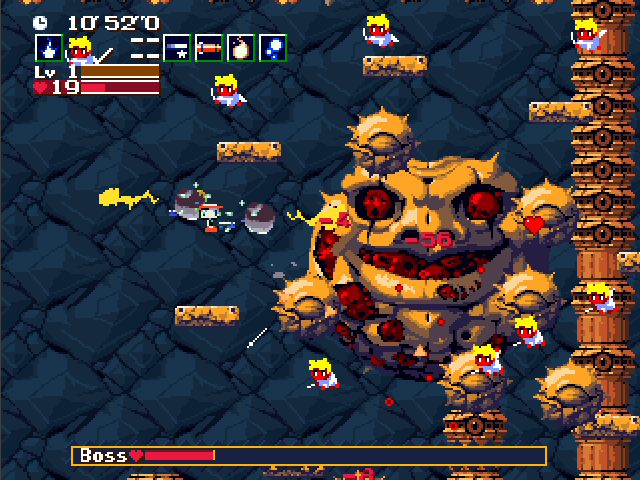 AND WHEN WE FIGHT TOGETHER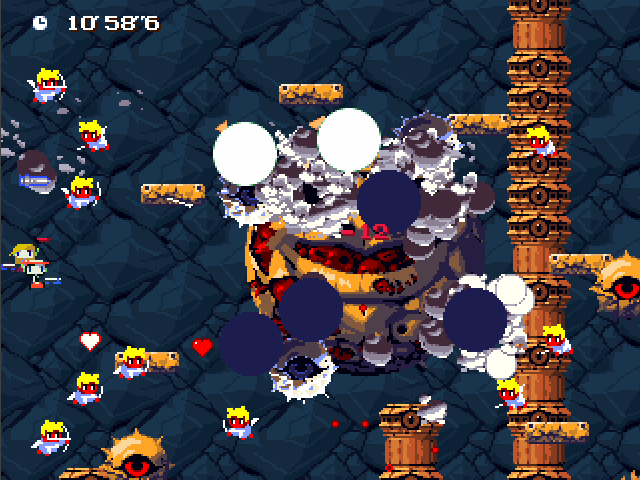 WE WON'T LOSE TO ANYONE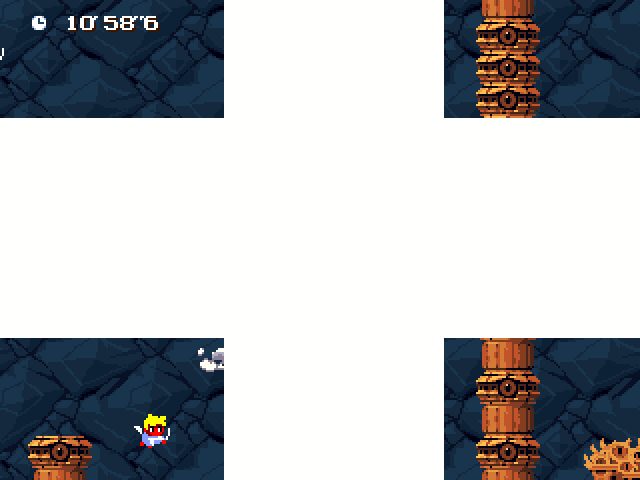 Rest well, Ballos, for you are finally free.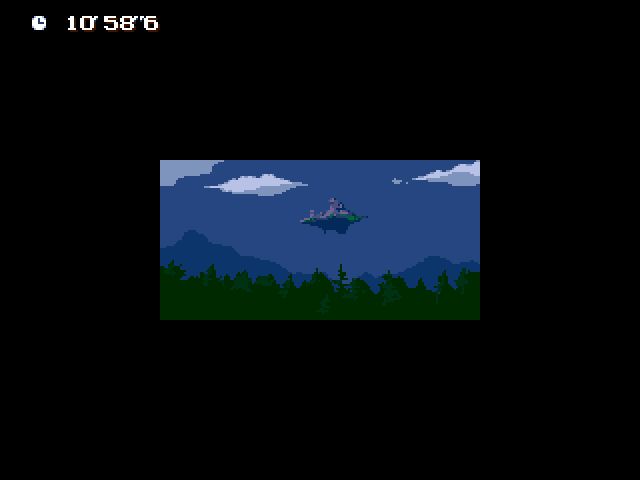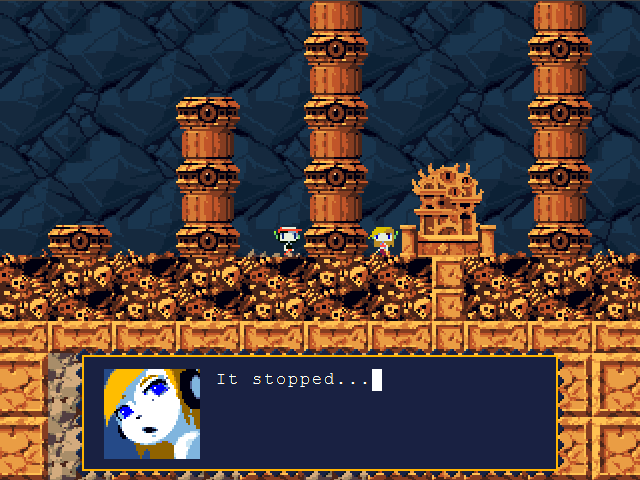 The island's stopped falling!
Maybe all the negative energy was weakened after we beat him?

.....
Well, I dunno, but it looks like our work here is done.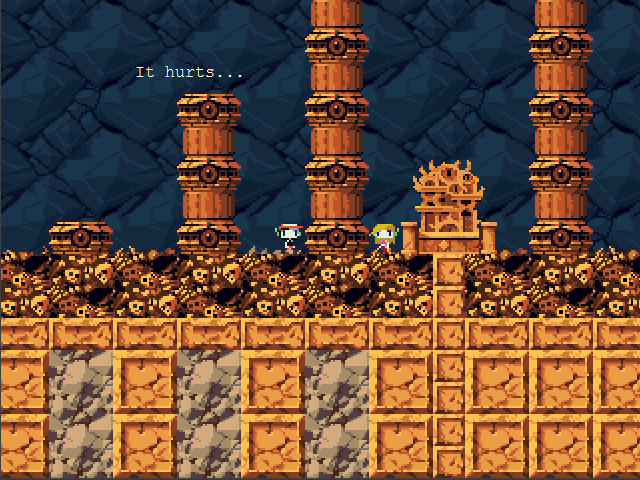 What?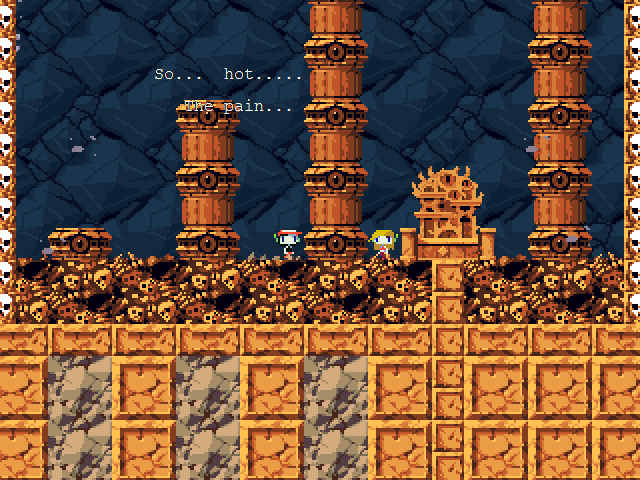 [ BGM - Zombie ]

The wall!!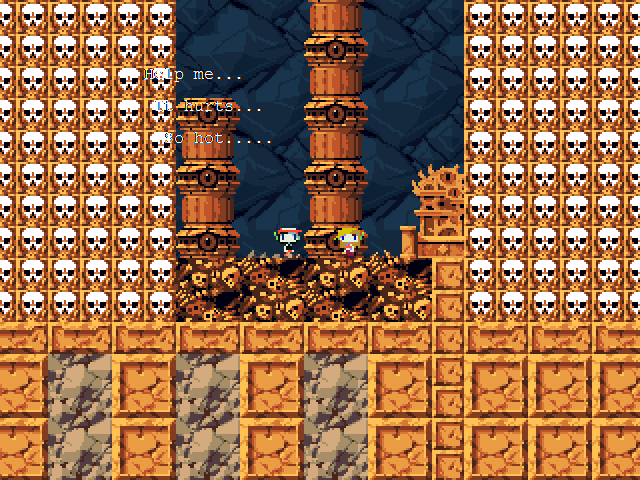 We're gonna get crushed!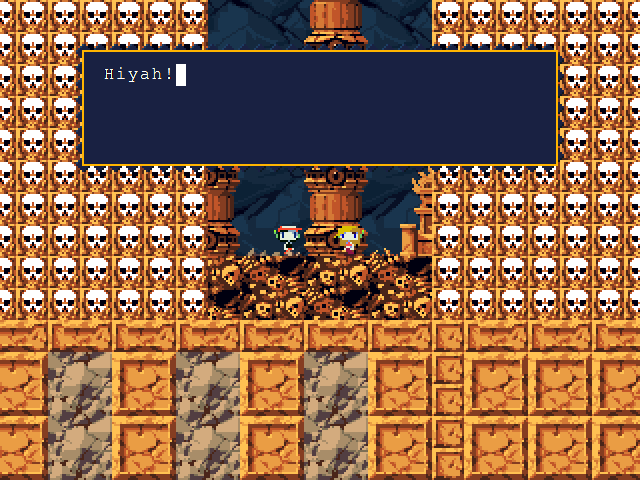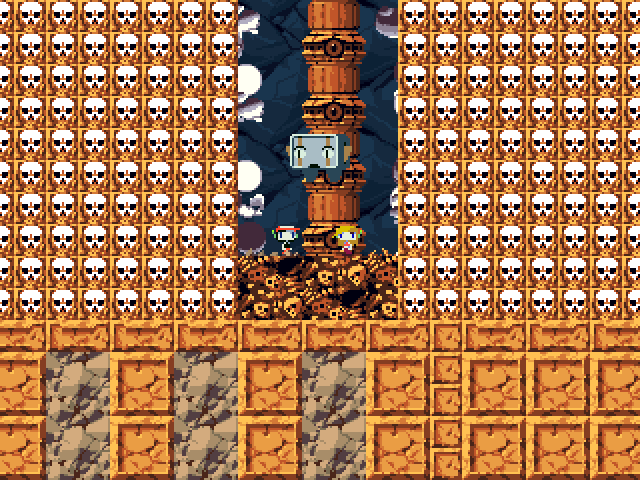 There you are!
Just like Misery said.

You came to rescue us!

Hold on tight!!
Let's go!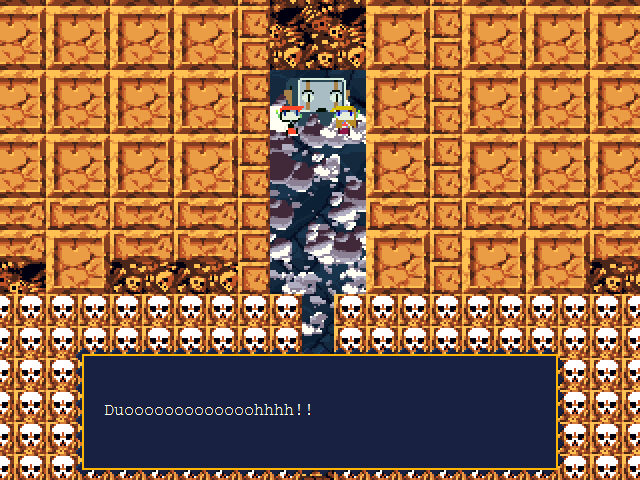 Is your head all right?

I'm not sure...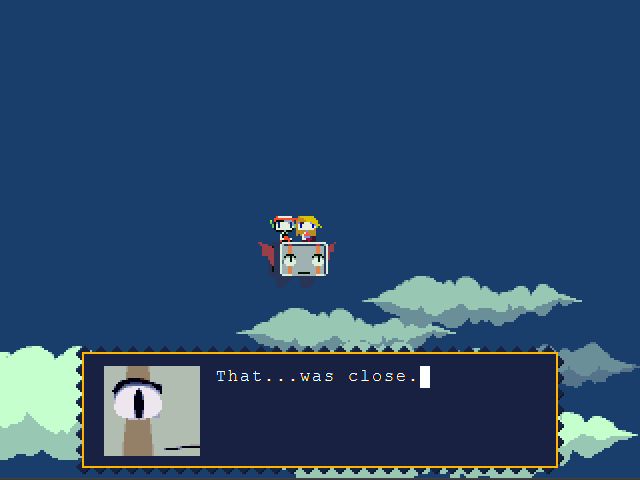 I thought I was scrap metal this time for sure...
Looks like we owe you another one.

Nah, don't thank me.
I was just doing what Misery asked me to do.

Misery? You mean, that witch?

That's right.

I thought she hated our guts.
Heck, I thought YOU hated our guts...

You beat Ballos, right?
When you did that, it lifted our curse.
Now neither of us has to take orders from anyone!

I thought you guys were just jerks, but I guess it was all the Crown's fault!

Well, you reap what you sow.
After all, Misery's the one who had him make the crown in the first place.

Huh.
You don't say.

I do say.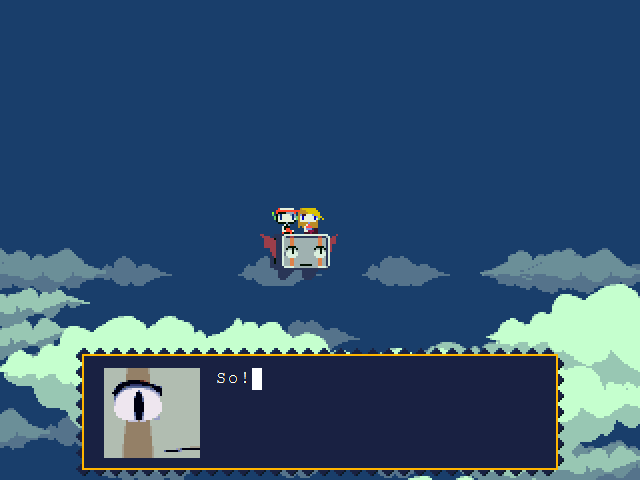 So?

So what are you going to do now?
I can take you anywhere you like.

Hmm, you're right...
Our mission is over, and now I just want to live out my days somewhere where I can relax and enjoy a beautiful view...

Uh, you know...

Hm?

...Would it be all right if I joined you there?

Sure!
Let's live the three of us together!

Really?!

I'll let you pick the spot.
Just find us a good place, okay?

You got it!!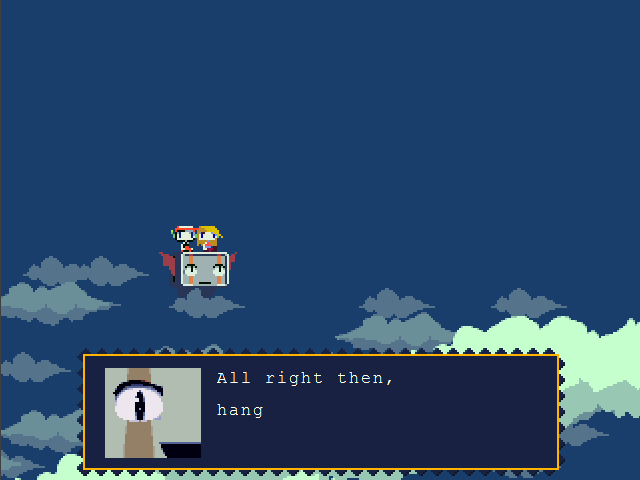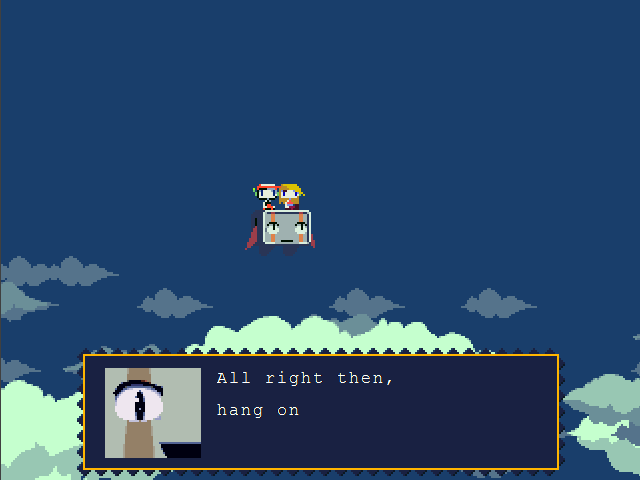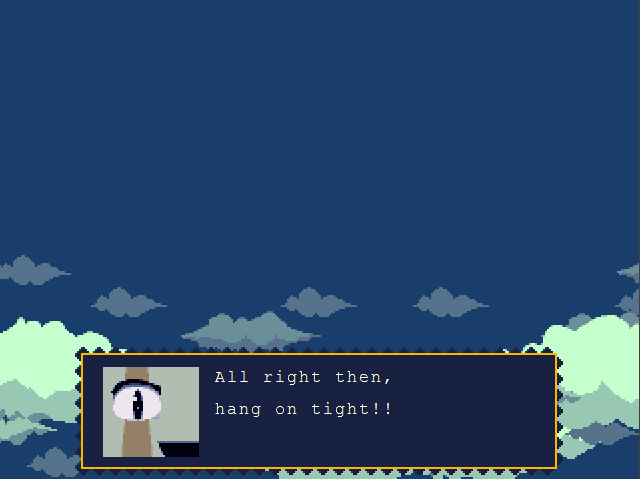 [ BGM - The Way Back Home ]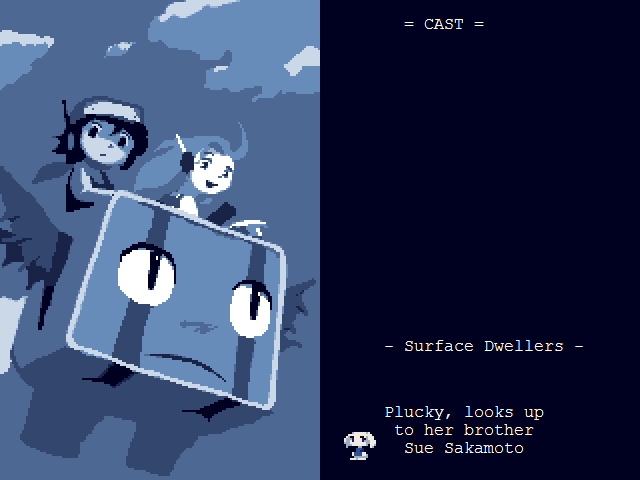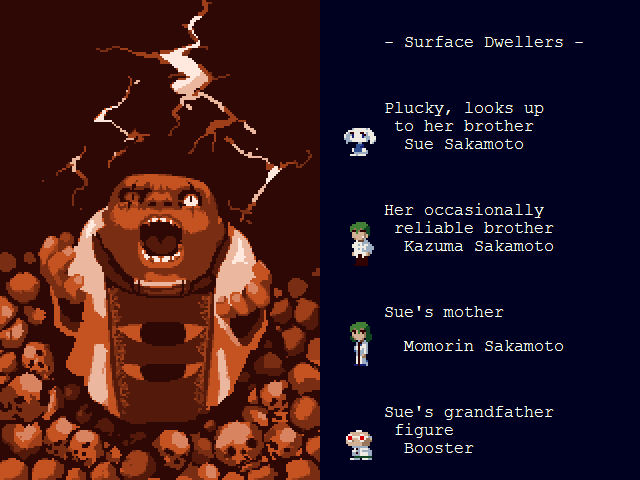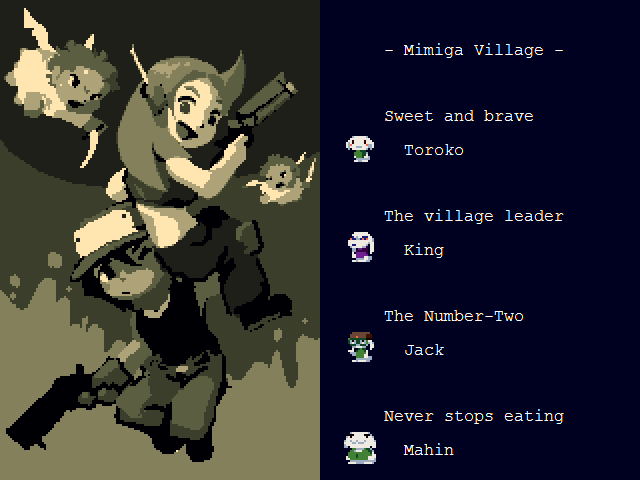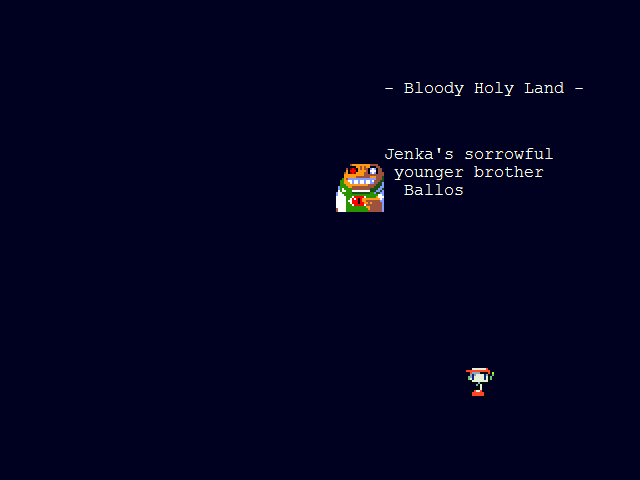 [ BGM - White ]
*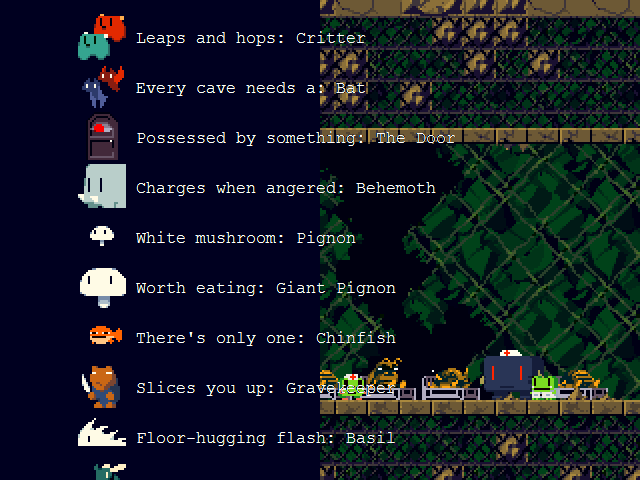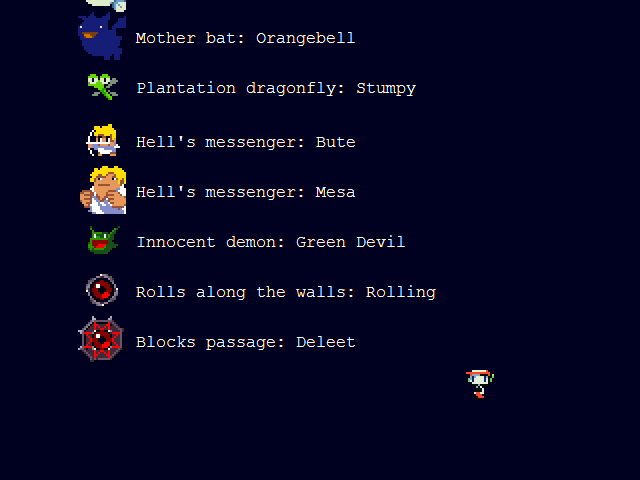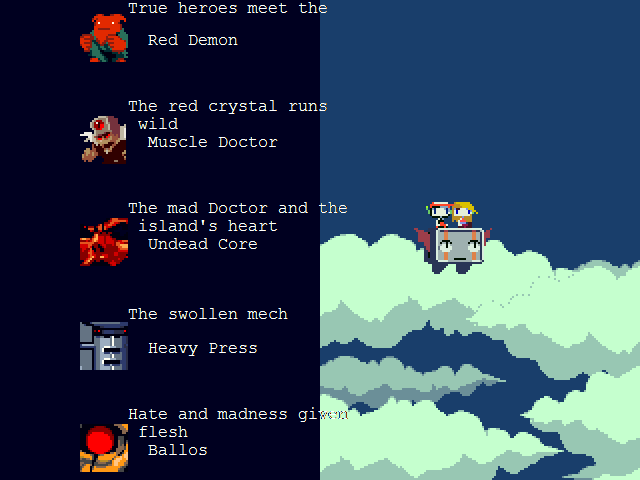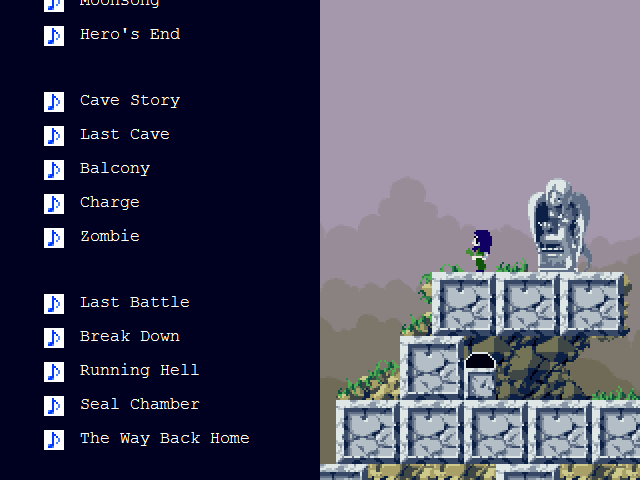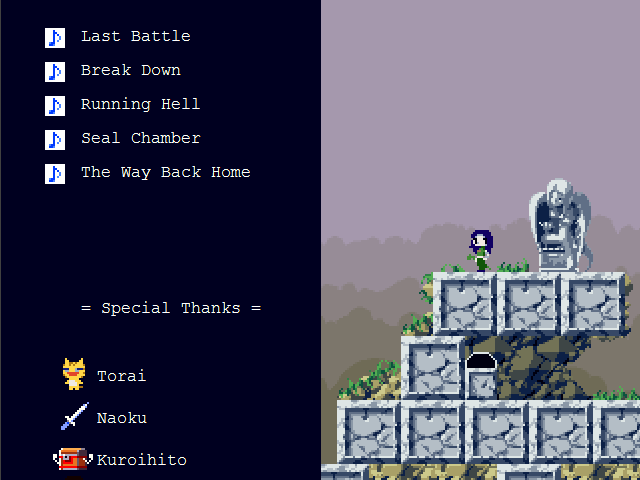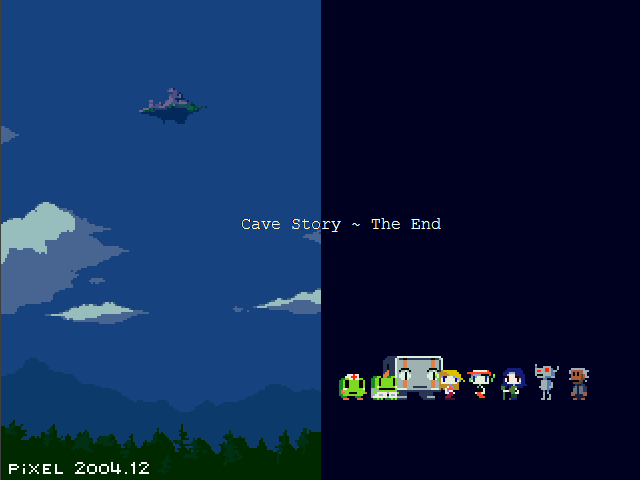 THE END
This time, we're done for good! This is truly the end of Cave Story. Thanks for reading!
To tide you over until the next LP starts, have a video of some crazy person beating the Sacred Ground at over 400% of my speed:
---
*It doesn't actually play that song in the game, but the song is unused, so I thought I'd throw it in here for kicks.
<<
|
^^
| >>