<< |
^^
|
>>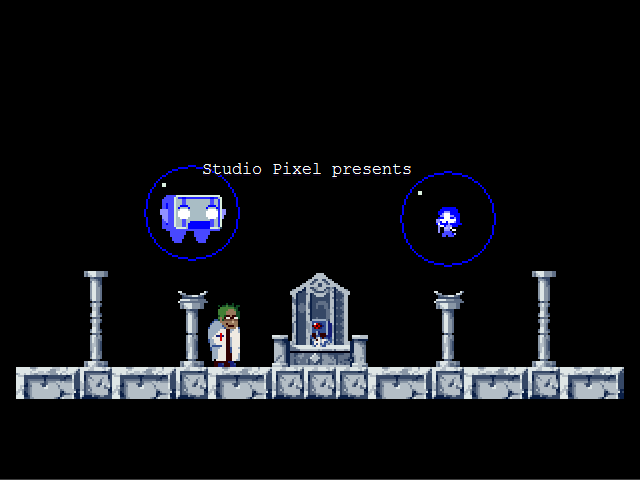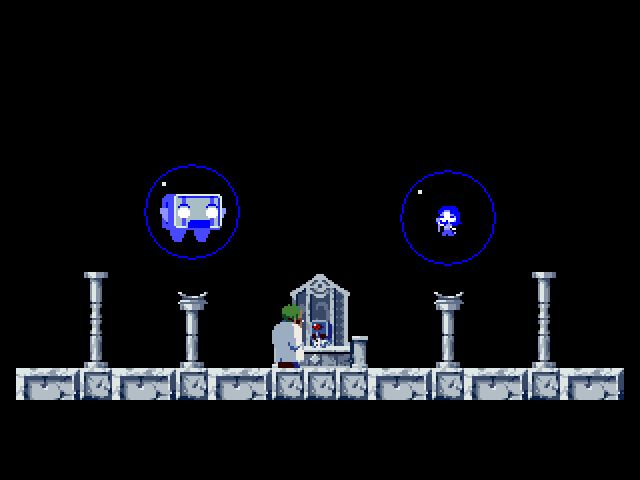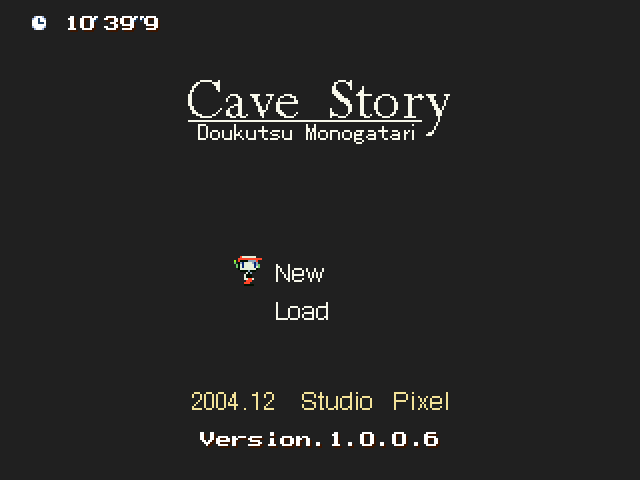 WELCOME TO
LET'S PLAY CAVE STORY
Chapter 1: First Cave
I explained the rules last time, so with no further ado, we shall now begin.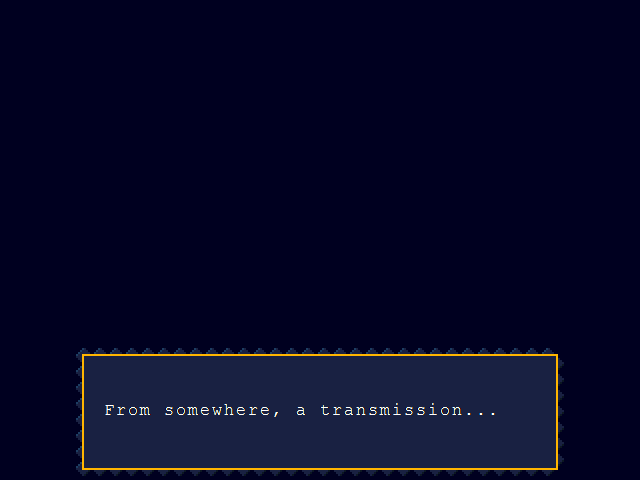 [ BGM - Access ]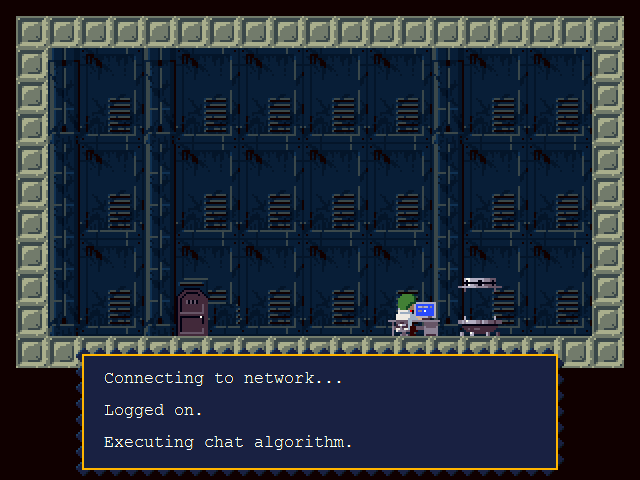 Sue?
You there?
It's me.
Kazuma!
I managed to get away somehow, but I've gotten lost...
I've found a shelter, but there's nothing here.
If you can hear me, please answer!

...Please?
---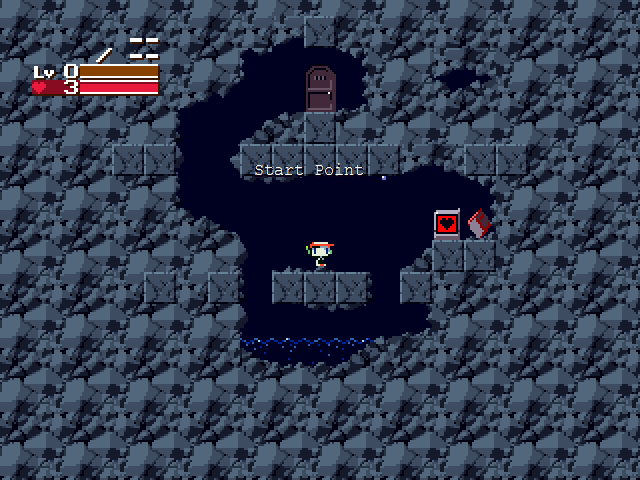 And we're off!
For starters, let's get a look at what we can do.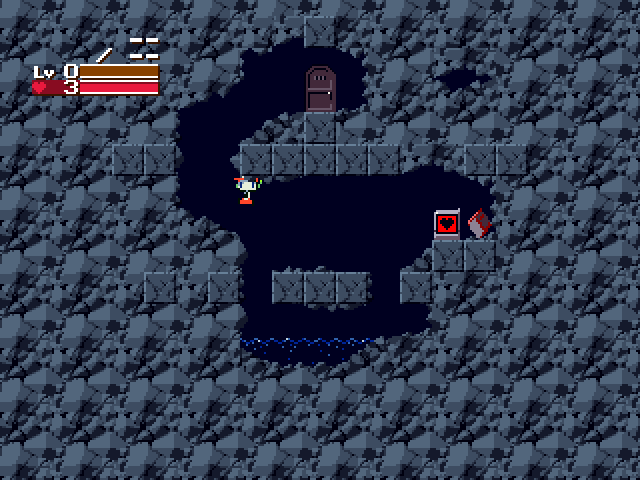 I can jump!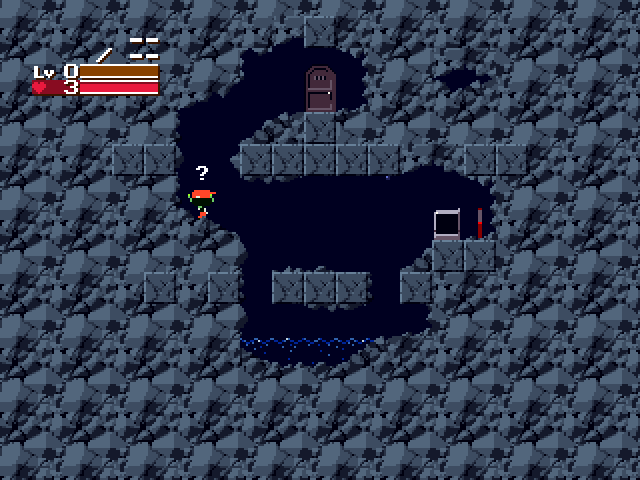 I can inspect things!
...That's about it.
Who am I? Where am I? WHO KNOWS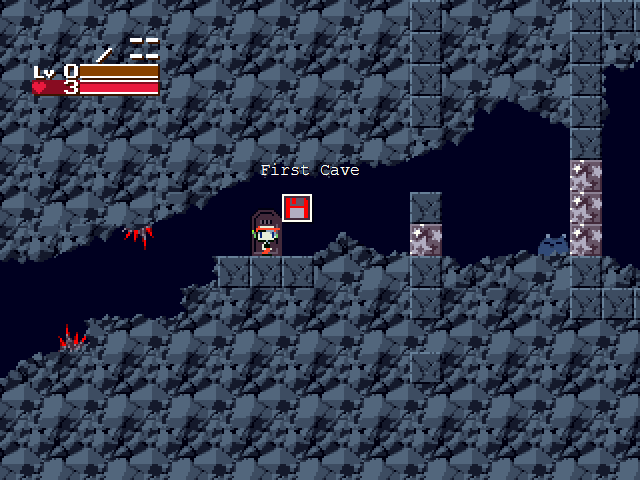 [ BGM - Gestation ]
The first real area!
I am intrigued by the path to the right, but I will not take it, as I can't get past those blocks. Also, there's an enemy, and I'm unarmed.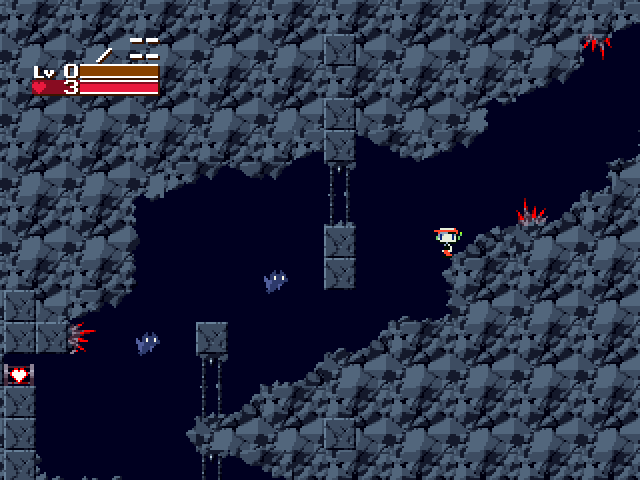 More things!
SPIKES: These little ones do 5 damage per hit. See the number in the corner next to that heart icon? That's my current - and max - health. So, they kill me in a single hit.
To the left: Bats! They just fly neatly up and down, allowing me to avoid them easily. Also, they only do one damage, so I can survive a hit from them.
Beyond them: A mysterious capsule! I wonder what's inside?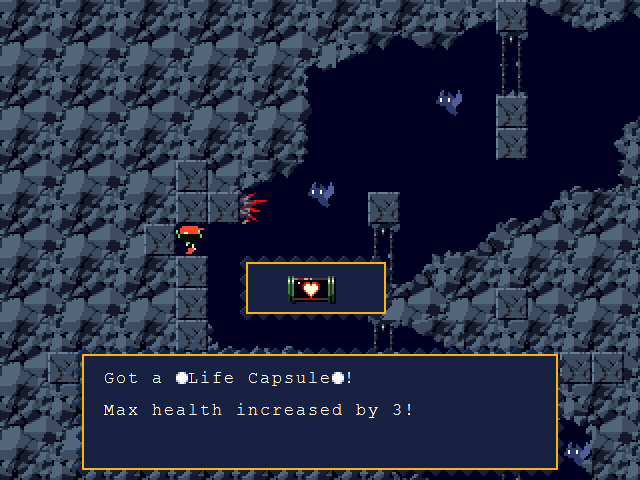 All right! My first upgrade.
Thusly equipped, I can survive a hit from the spikes. But just one.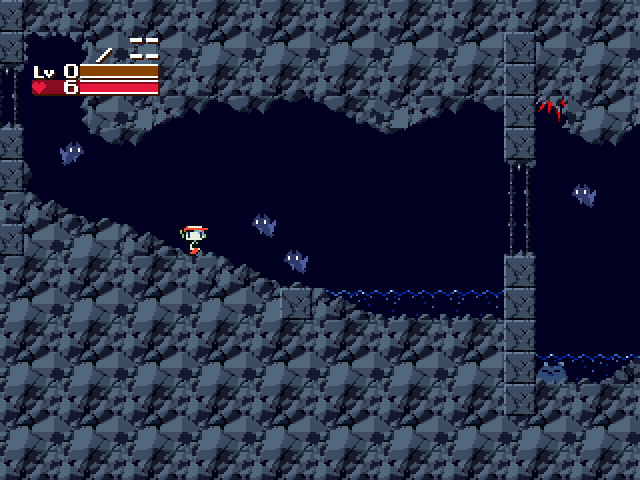 Further down, more bats, and water!
Water greatly reduces my movement capabilities, and also I drown if I stay under it for too long. So, I need to get a good running start to get over the water.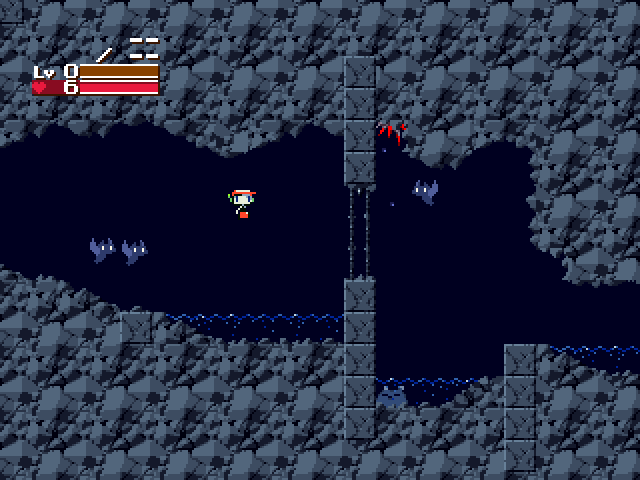 Haaa!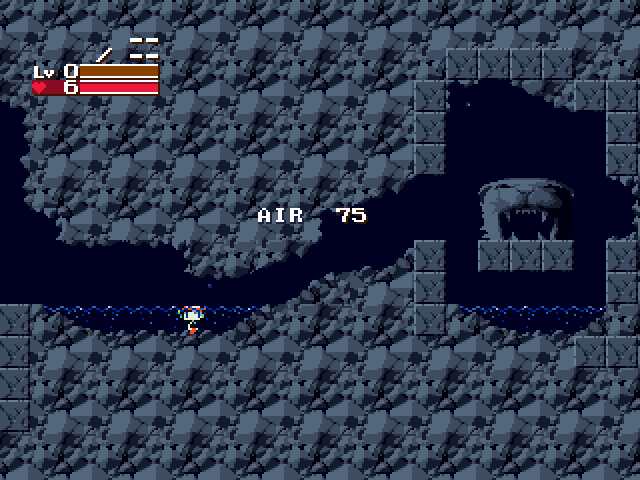 Demonstration of aforementioned drowning possibility. It drops at about 5 air per second, so I have 20 seconds of breathing time before it's game over.
To the right, is a mouth-shaped cave! Let's check it out.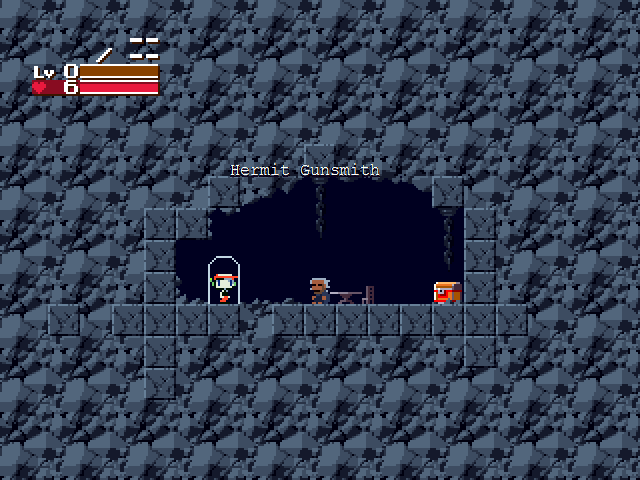 Some sleepy guy!
Let's talk to him.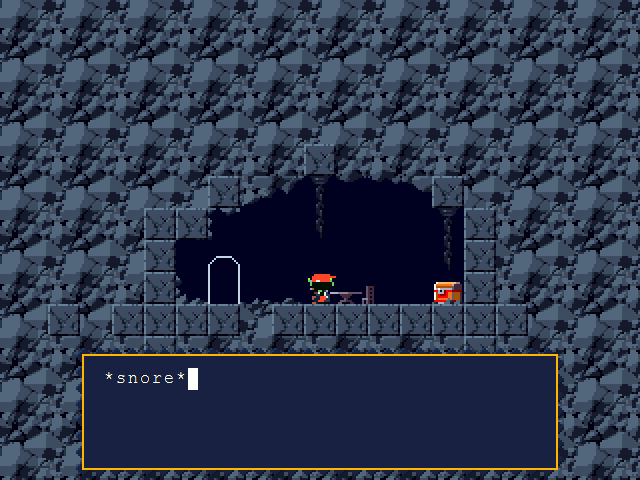 Useful information!
I think we know waht's really important here.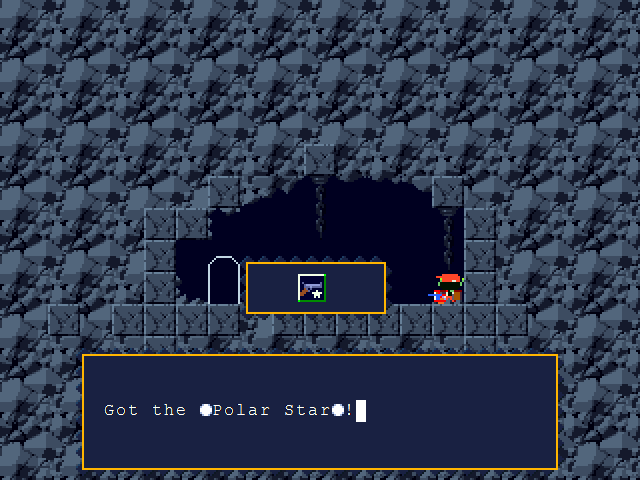 And so I have obtained my very first weapon!
---
From somewhere, a transmission...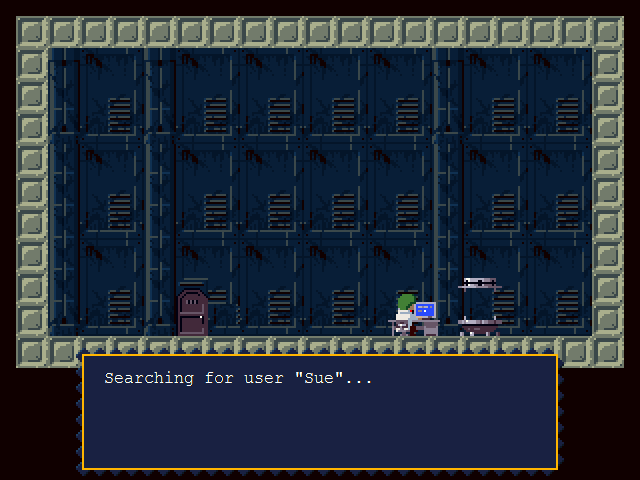 [1 user "Sue" found.]

Sue!
Please respond!
They're looking for you...
Are you asleep?
Your brother is so lonely...
---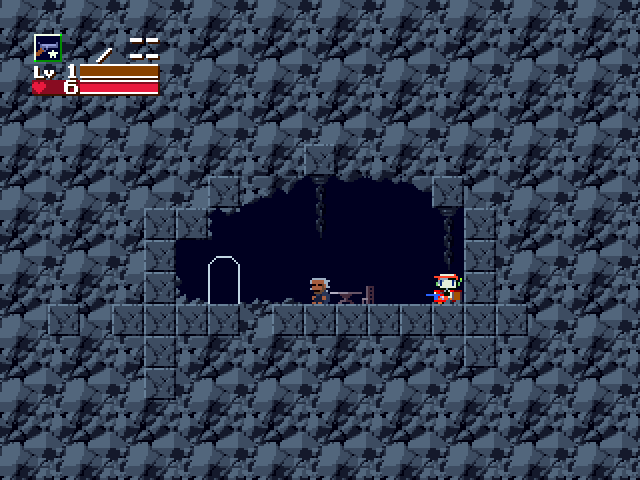 I am armed!
Looking in the corner, we can see that my Polar Star is level 1. More on this later.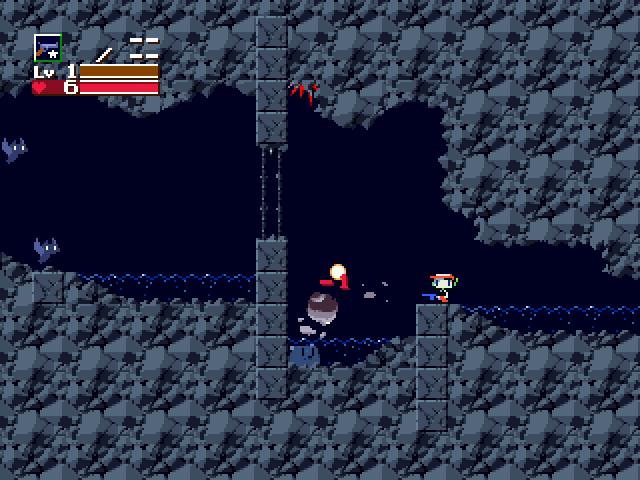 I can blow up bats in one shot!
It dropped something. I wonder what?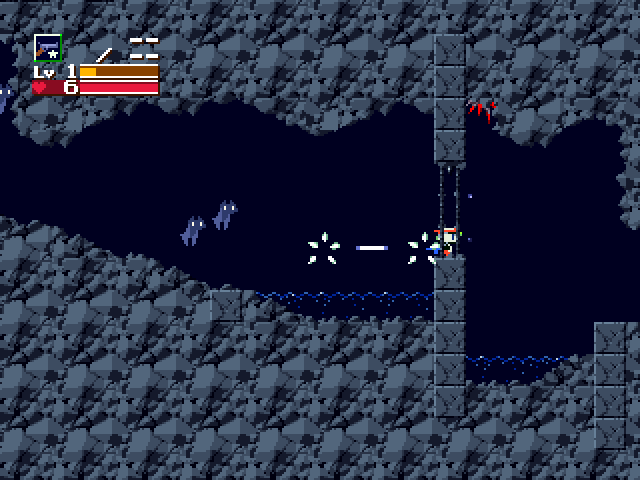 It added to my point gauge!
Incidentally, see that little starburst? That's my maximum range with this weapon.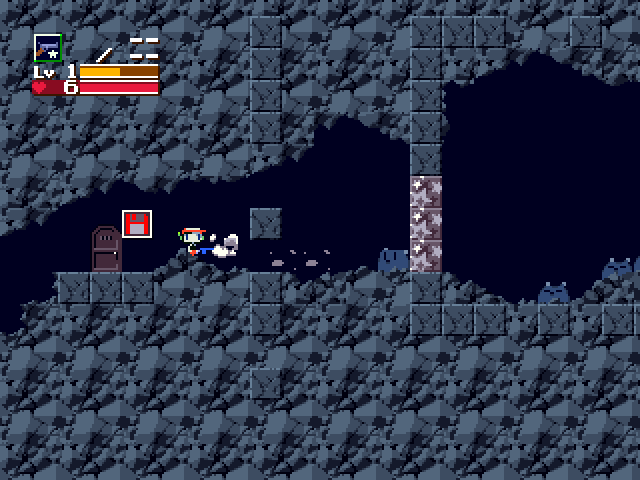 I can destroy these blocks, now!
TO THE RIGHT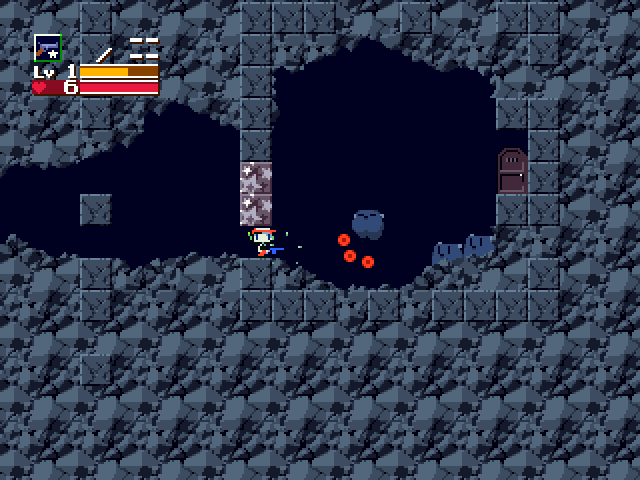 These critters take two hits to knock out, and leap at me if I get too close. Still, more or less harmless.
Just past a couple more critters and on to the OH DEAR GOD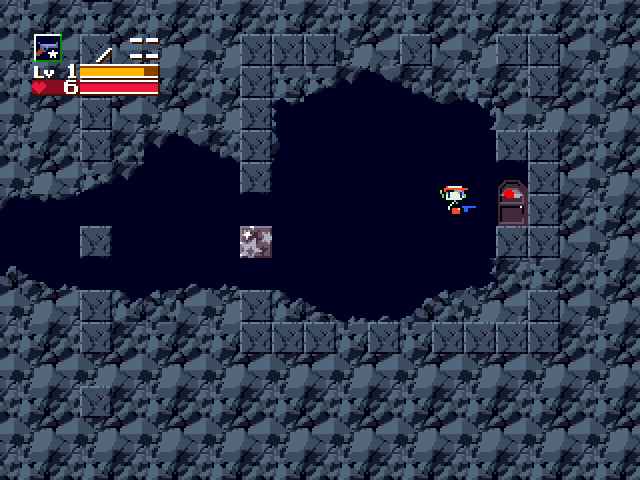 IT'S STARING INTO MY SOUL
KILL IT IN RITUAL BURNING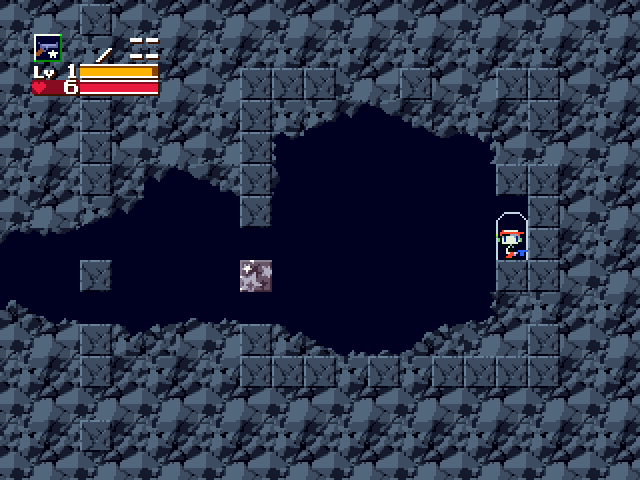 That was easy!
OUTWARD
---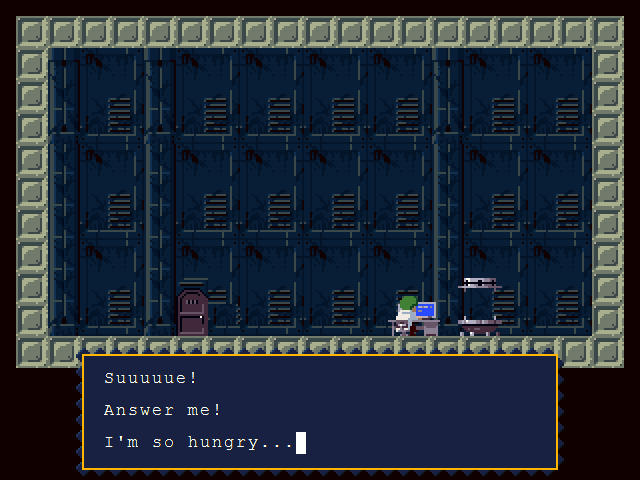 There's nothing to eat and I've been reduced to feeding on cockroackes.
...Ha-ha. That was a joke. Ha-ha.
...If I have to, though, I really will...
---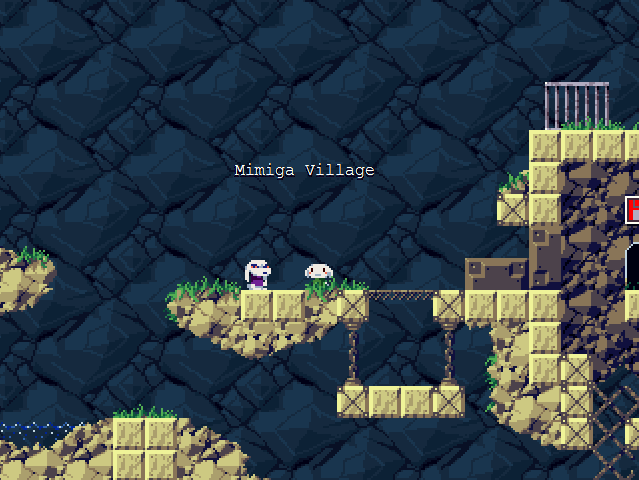 Hand over the key!

No! I won't!

Are you trying to protect Sue?
She's a stranger!
She's not one of us!

Sue's a good person.
I'd never betray her!

Toroko...
When the Doctor comes, you know he'll take someone away again...
IF we don't turn Sue over, it might be you he takes instead.

But... But...

The key, Toroko!
Suddenly, interrupted by a boy falling from the sky!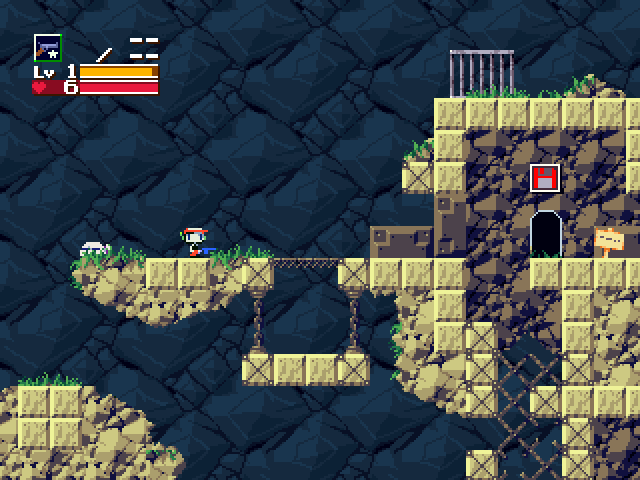 [ BGM - Mimiga Town ]
And back in control!
I wonder who this mysterious knocked-over person is to my left.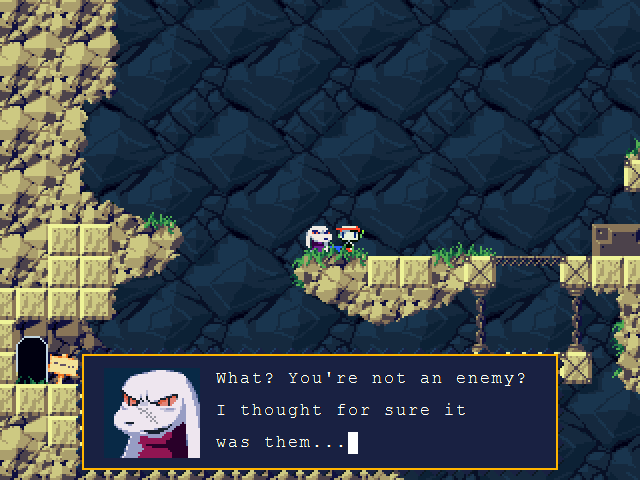 I'm King.
I'm the number-one in this village.
Not that it means a lot, with only six of us left.

Well, seven counting Sue.

She's not one of us, though.
She's just an outsider who showed up recently.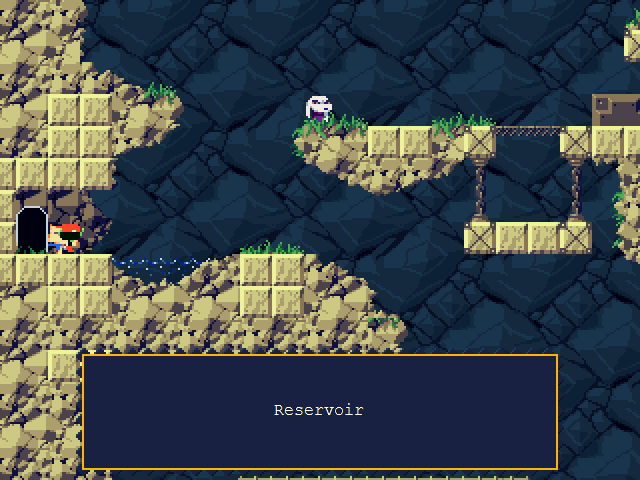 Resevoir!
Let's go there.
Droplets of water trickle from the hole in the ceiling.
Beyond that, seems pretty tame, aside from a pretty tough jump...
HAAAAAAAAAAHH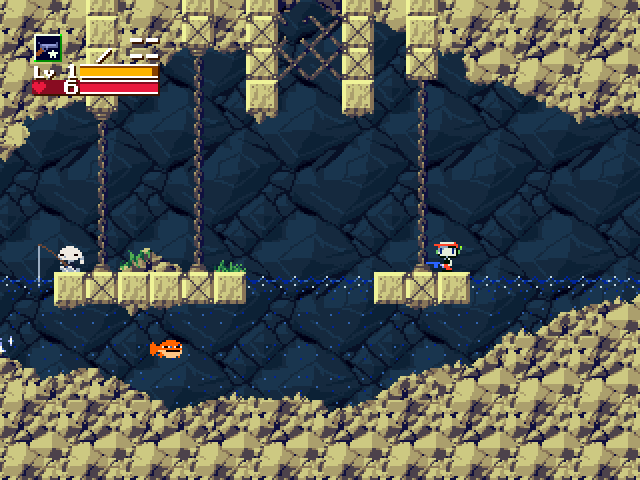 Made it!
And found all the interesting stuff!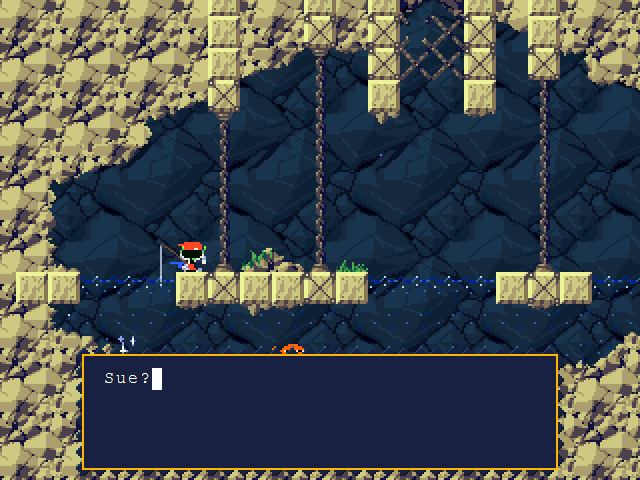 Yeah, I know her.
That's the cute girl who stays cooped up in Arthur's house all the time, right?
She showed up here not too long ago.
We found her washed up right here in the reservoir.
She doesn't seem to like us much...
I don't know why, since she's a Mimiga, just like us.
Enough chitchat!
CHECK OUT THAT SPARKLY THING.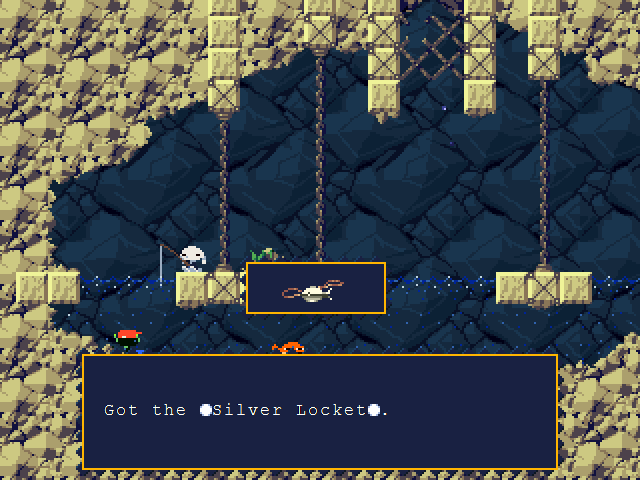 I found an item of note!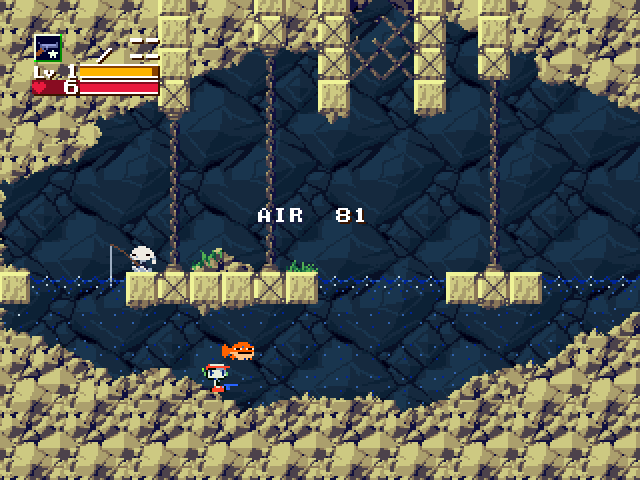 The fish is a fish. It won't hurt me if I don't hurt it.
I get nothing for killing it, so I prefer to let it live.
Anyway, let's get out of this lake before we drown.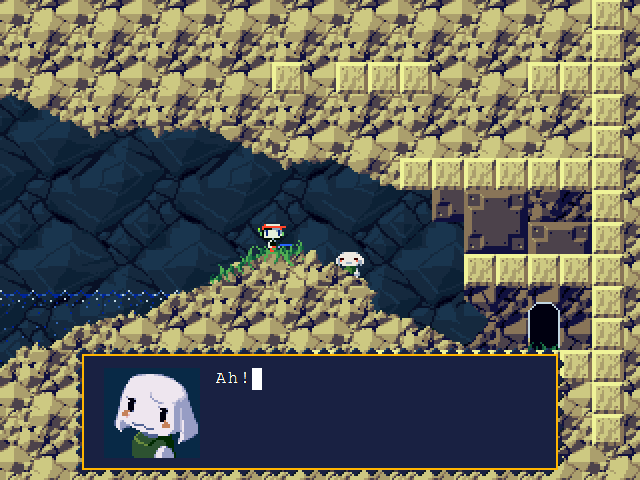 A WILD TOROKO APPEARED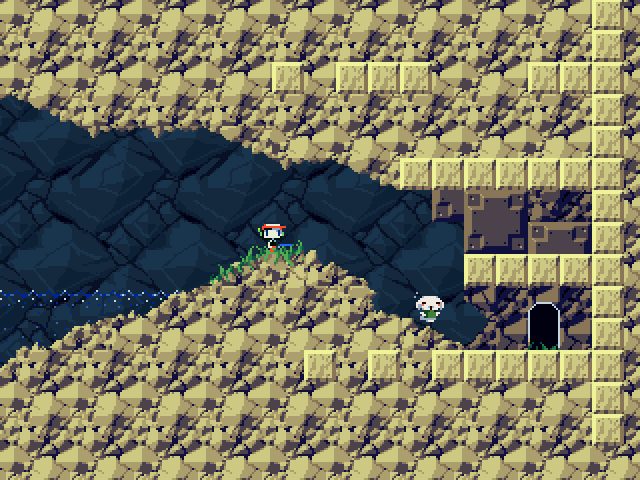 I had no pokeballs, so she got away.
Time to further explore this mysterious village.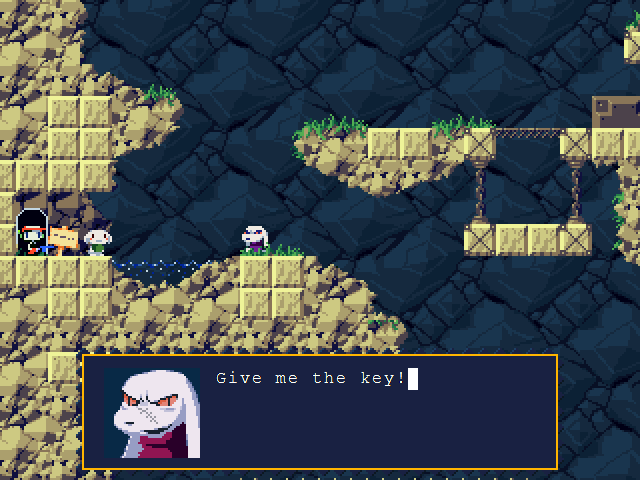 No!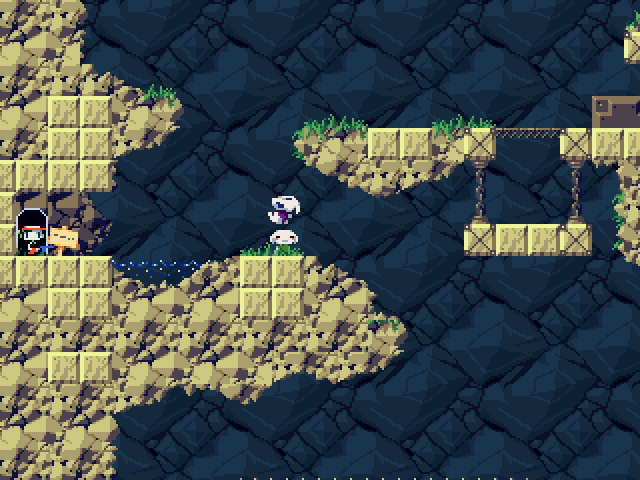 The girl packs a punch when she needs to!
AFTER HER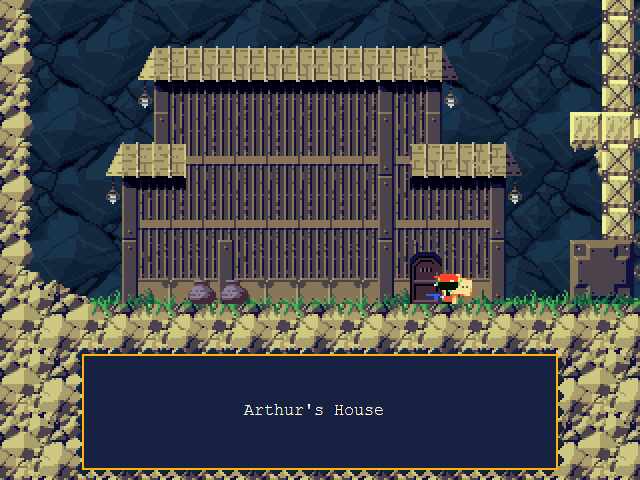 It's a mysterious house! Maybe she's in here.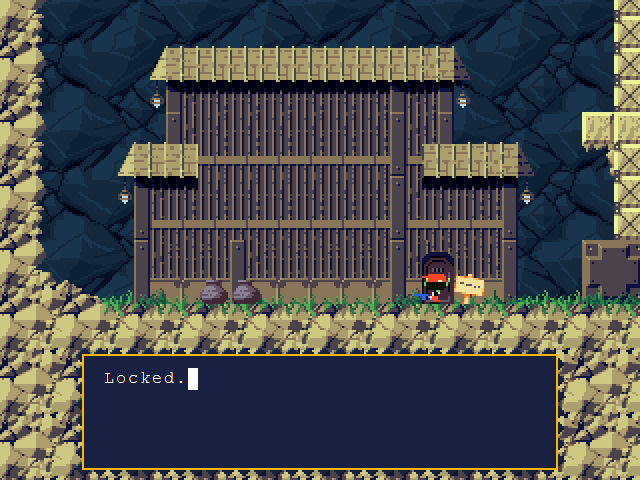 :C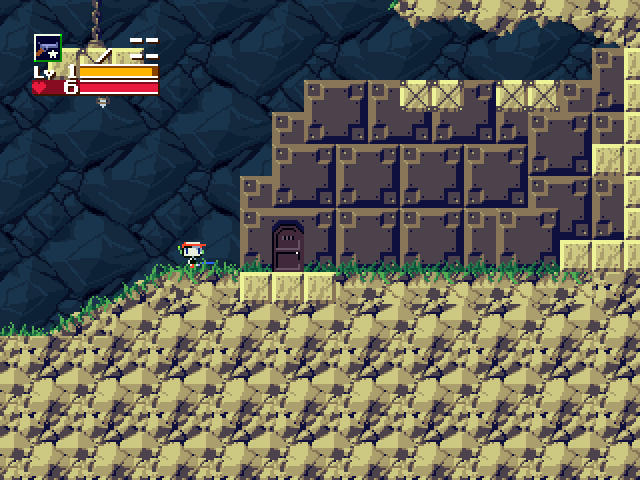 To the extreme right, we find a door!
MAYBE WE CAN GET IN THIS ONE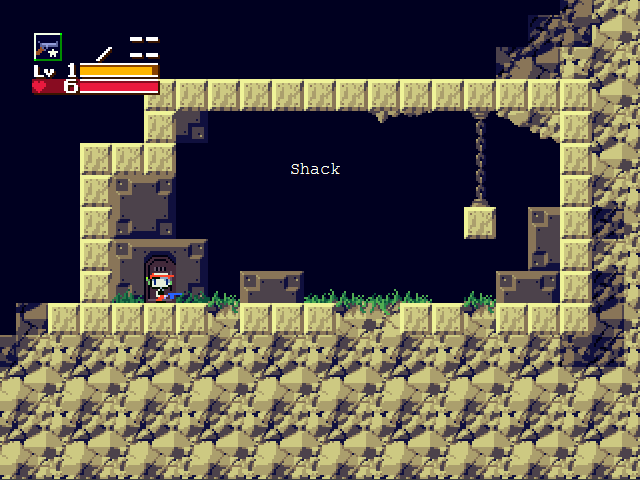 We can get in this one!
But it seems to be empty...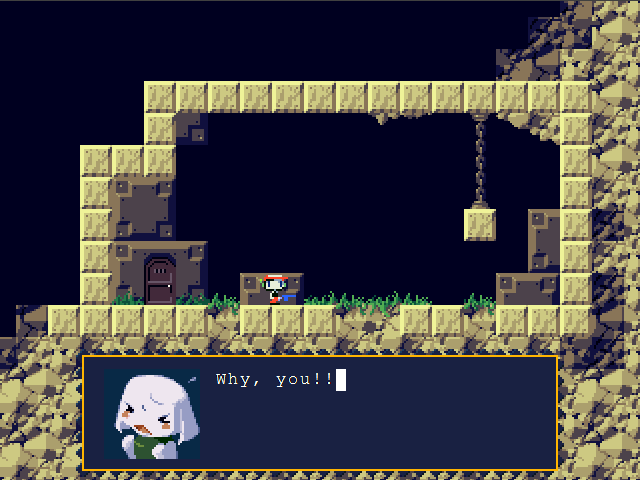 I'M UNDER ATTACK
FIGHT DESPERATELY FOR MY SURVIVAL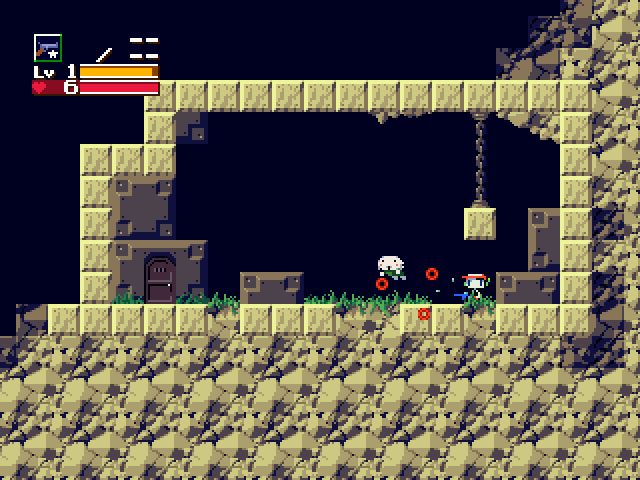 DEFEATED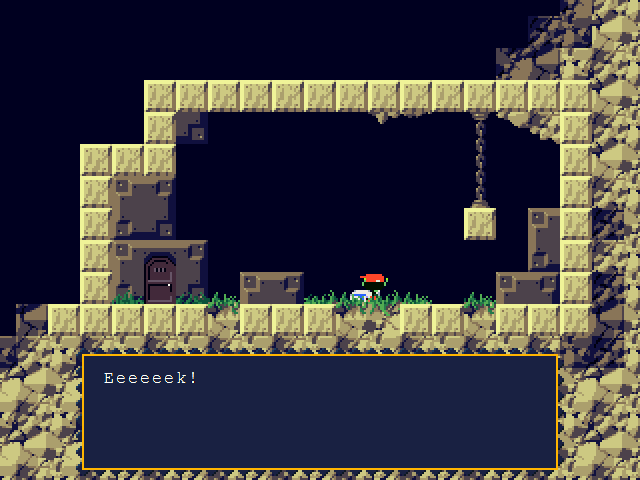 Save me, save me!!
.....Huh?

You're... you're not with the Doctor?

Oh! You had me worried. The Doctor's such a mean guy.
Popping up in our village and taking us away, sometimes even killing us...
Like my brother. He killed my brother.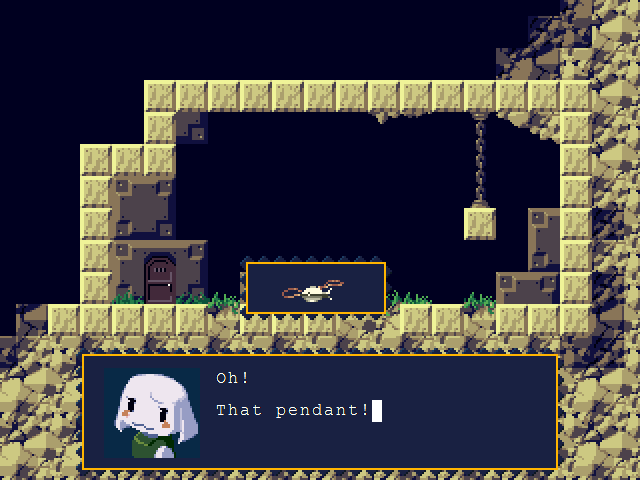 You found it for me? Sue gave that to me!

.....
Well... I shouldn't have it anymore.
King gets his ears all in a tangle when he sees Sue and I getting along...
You can have it.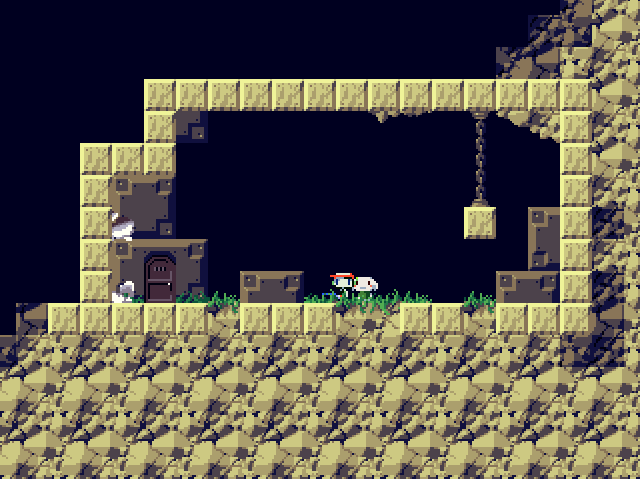 KNOCK
KNOCK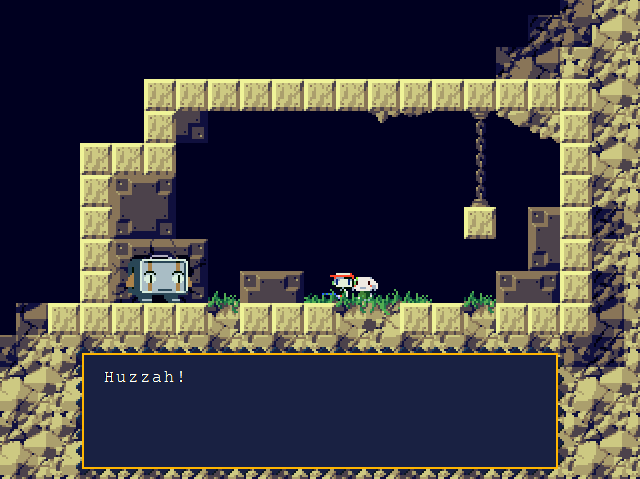 To be continued!
<< |
^^
|
>>