<<
|
^^
|
>>
Chapter 9: Heart of the Island
We last saw Professor Booster falling to his doom!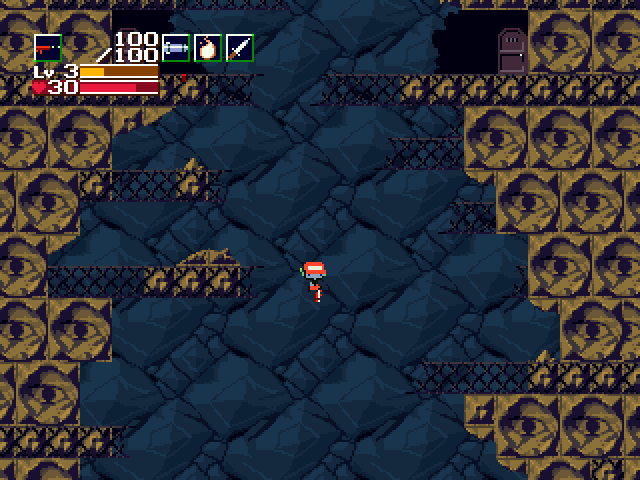 On the plus side, we're better at falling than he is!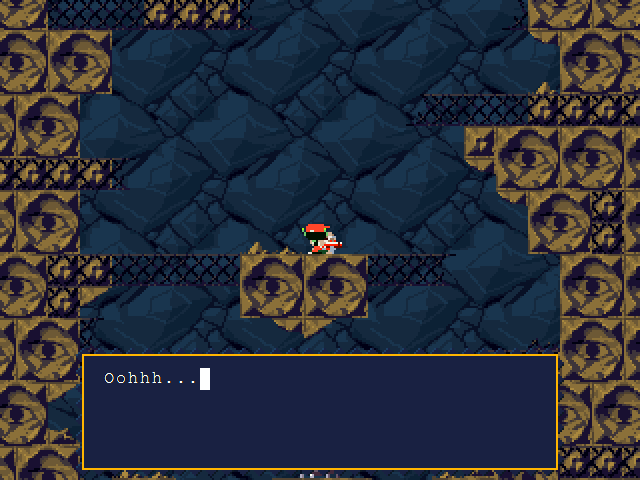 Oh!
What are you doing here?!

.....
Really, so Misery sent you here, too...
*chuckle*...
Maybe there's a silver lining after all...

You see, this island floats in the sky by the power of a certain organism, and I've recently discovered its location.
This labyrinth.
The organism lives somewhere within this very labyrinth.
If one could destroy it, this island would cease to function.

*chuckle*
The doctor must really be in a rush, to send you into the very heart of this island.
Take this with you.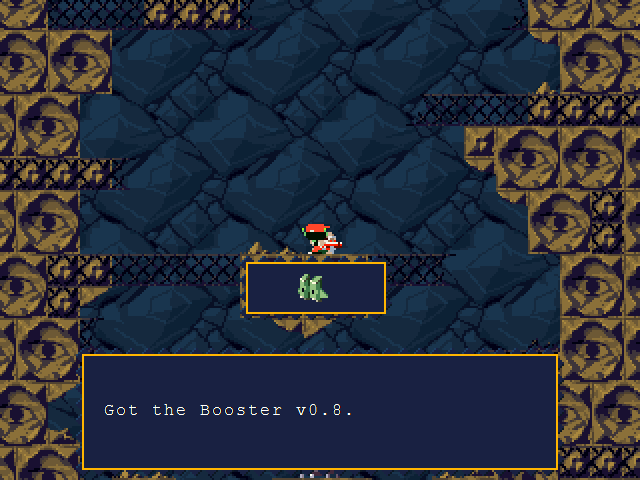 This little machine will help you fly.
If you press the Jump Button in midair, you can hover.

Phew...
The minute I was sent flying, I thought it was all over.
And yet it enabled me to meet you once again...
It looks like my luck has run out here.
I pray for your victory...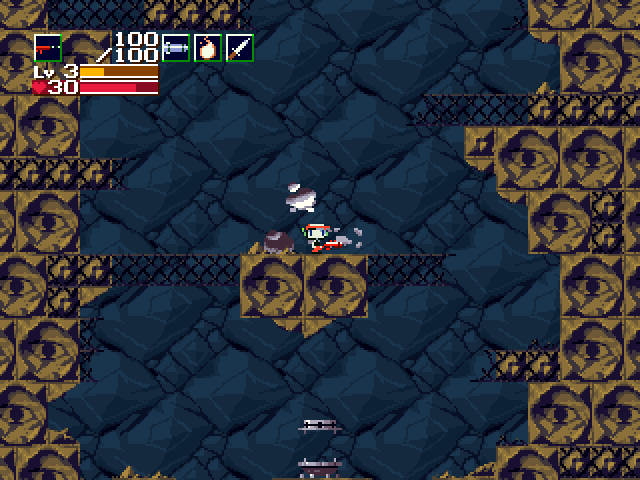 Booster is dead.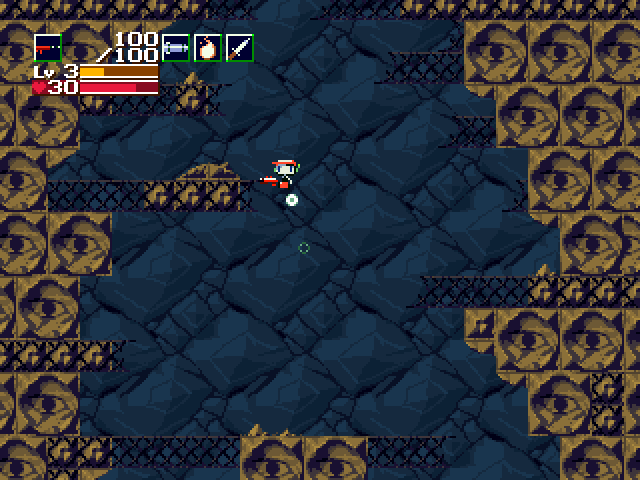 But thanks to him, I can now fly and fight at the same time!
The Booster only has a few seconds of fuel, but it recharges instantly when you touch ground.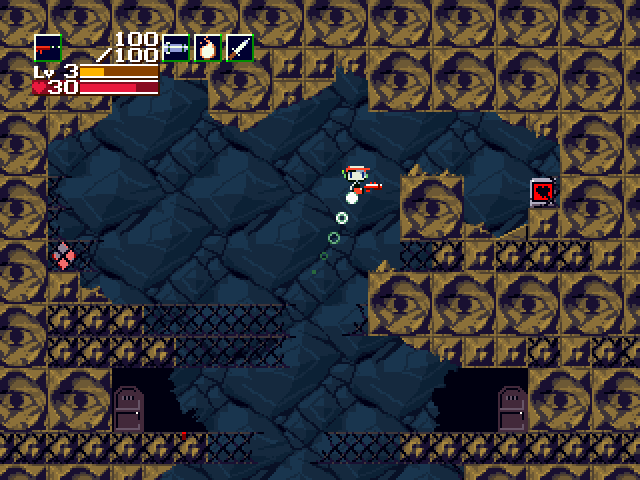 Time to heal, then get the hell out of here.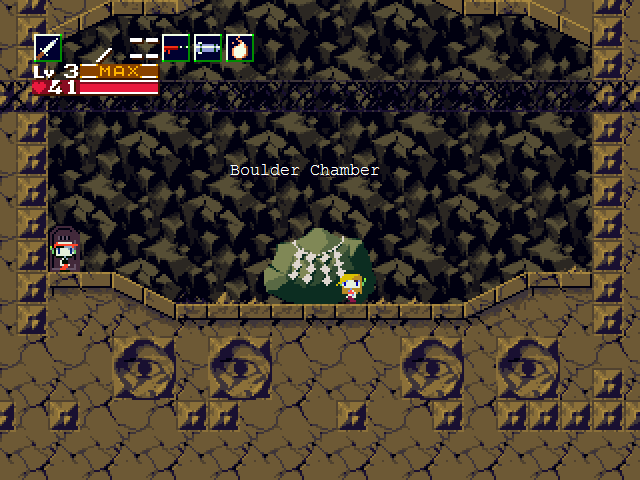 HOW THE HELL DID YOU BEAT ME HERE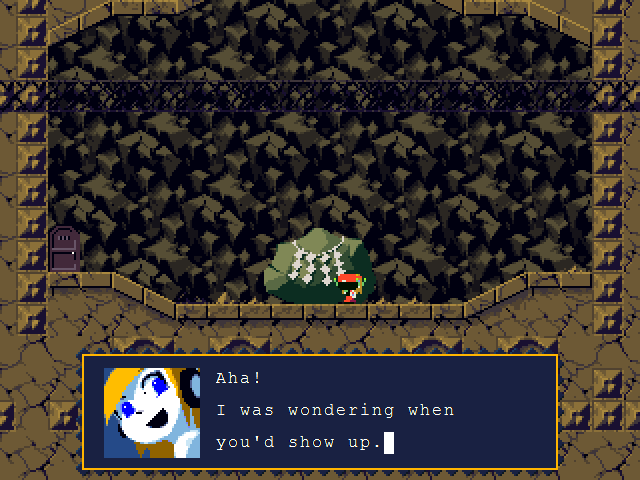 If we can just get this big rock out of the way, we can get to the exit.
Rumor has it, though, that a monster nest lies just beyond...
So ya better be ready for that.

Anyway, let's get this thing out of the way.
You hold that side.

Ready? Push!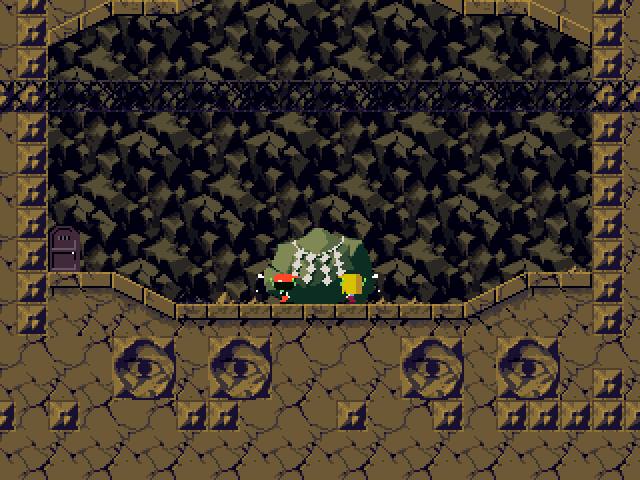 .....

It hasn't moved one bit.
I'm not sure the two of us are strong enough.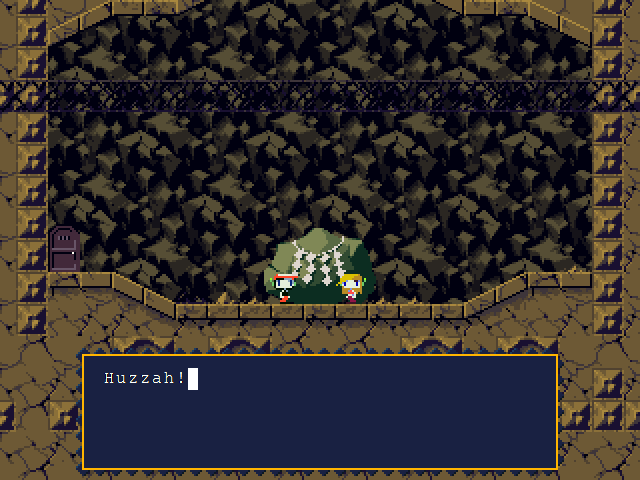 Oh good.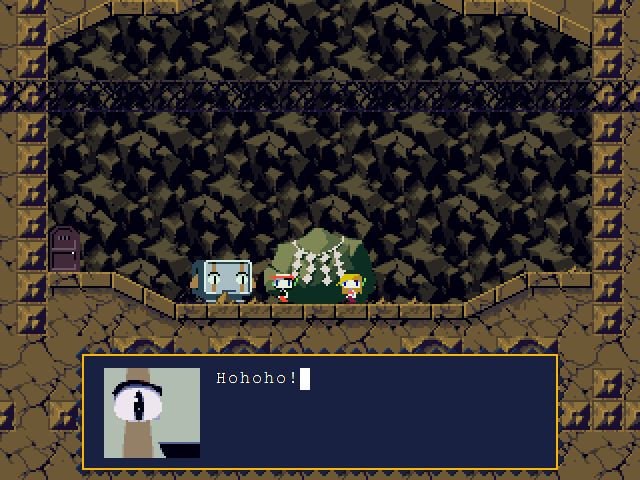 You're all alive, I see!
Not only that, you're trying to get out of the Labyrinth!
Shouldn't you be staying put like good little robots?
You can't stand up to my master any more than I can, you know.

Fine, then!
I'll just put a stop to this!
Hope you don't mind being iron scraps!

Just who we were looking for!
Take the middle, will you?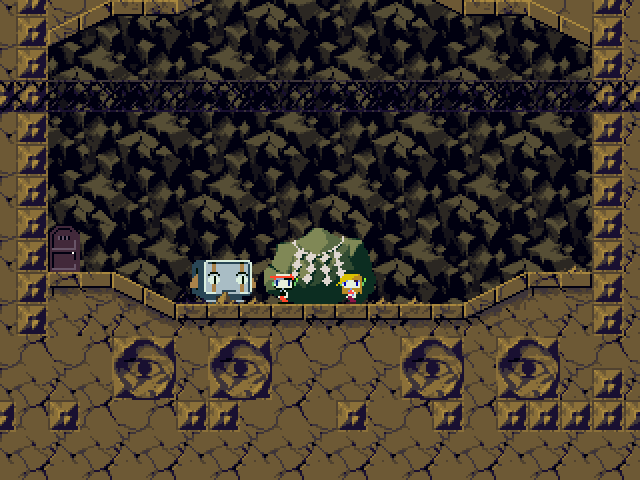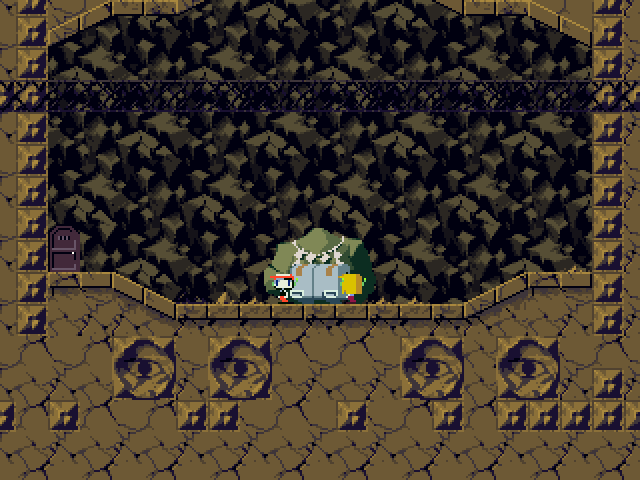 Ready?
One, two...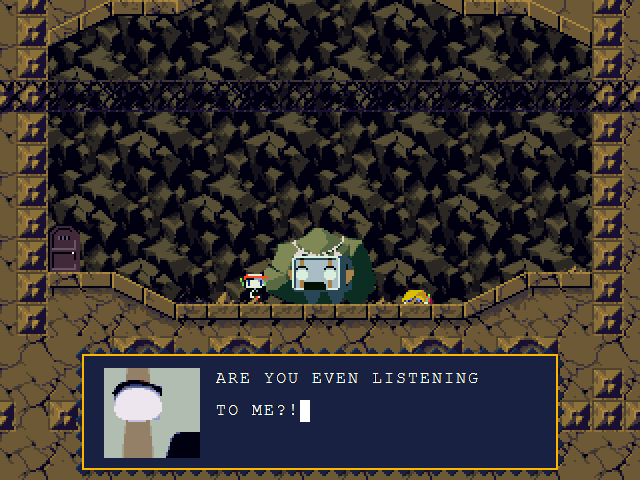 BOSS BATTLE
BALROG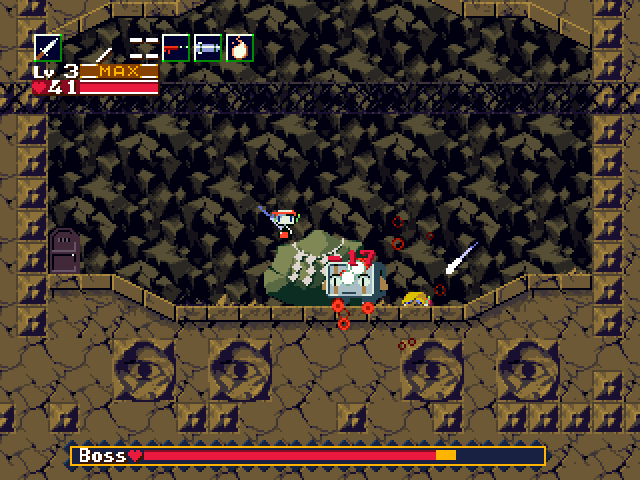 It's the final duel against Balrog!
He has one new trick up his sleeve...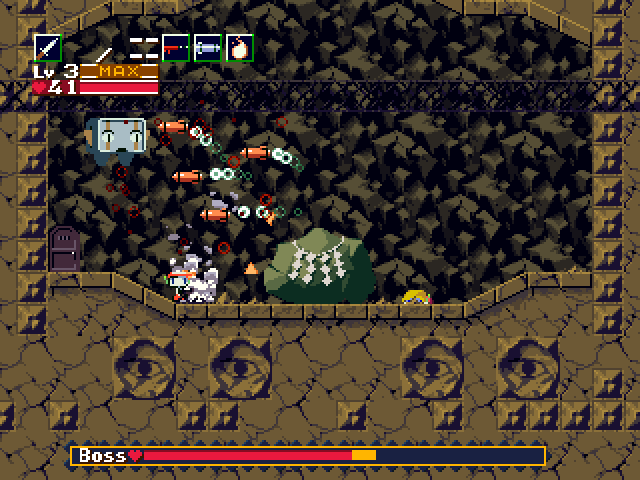 Super missiles!
Every time he jumps, he flings out a gaggle of high-powered missiles.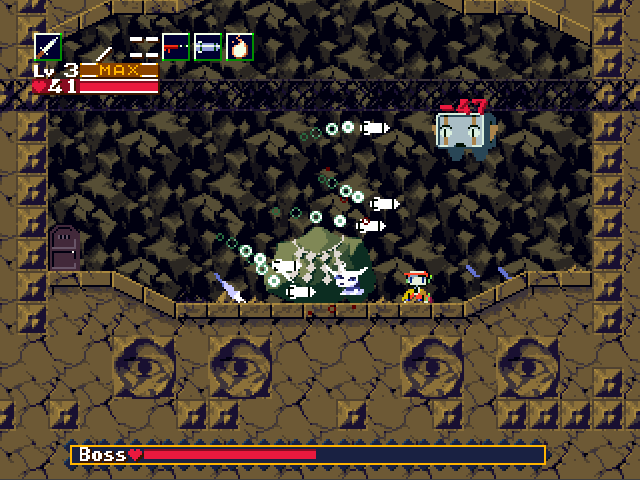 Fortunately, as long as I'm careful, the Blade should be able to cut them down before they hit me.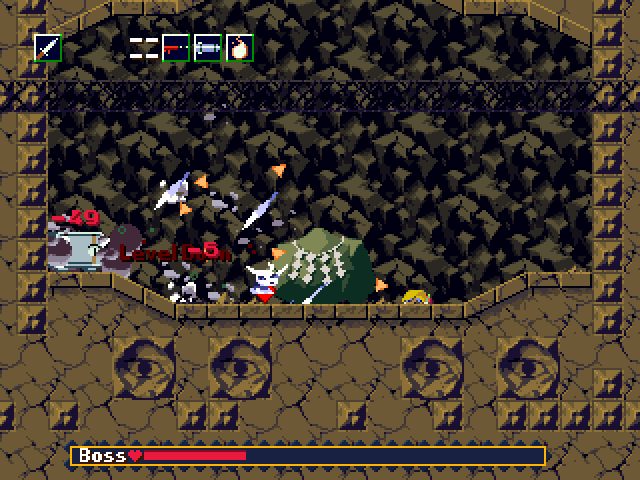 There's always this wrench in the plans, but it turns out that the level 2 Blade is also pretty good at taking out missiles.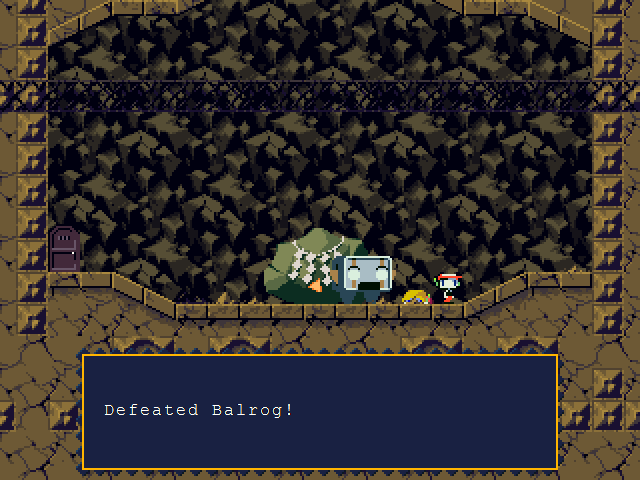 Also, I'm way cooler and more badass than Balrog.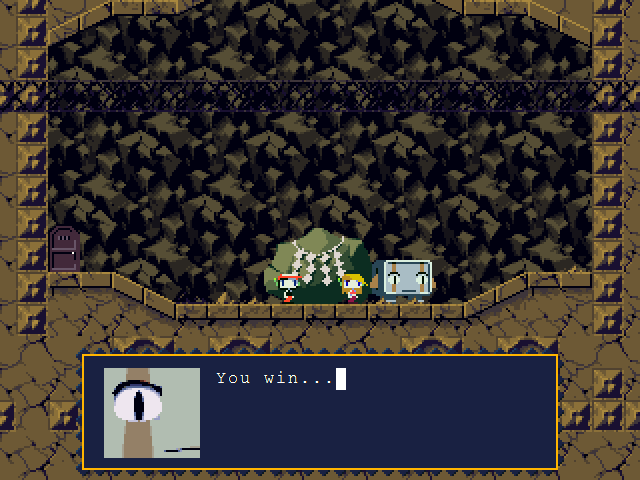 I'll move the rock for you.
But remember...
Don't tell ANYONE that I helped you.

Your secret's safe with us!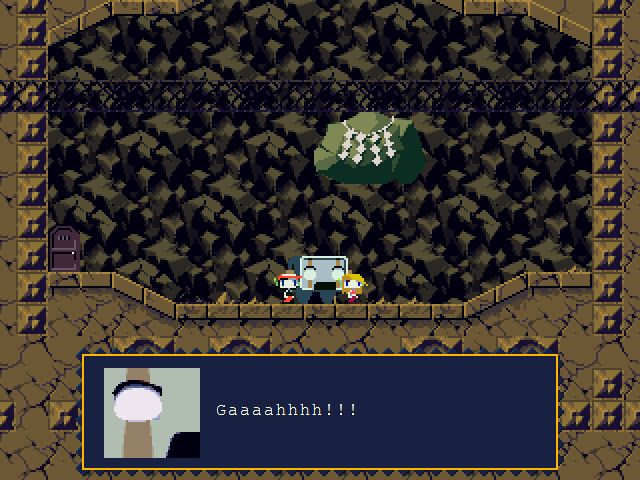 Now, remember.
Don't tell a soul that I helped you.

We won't!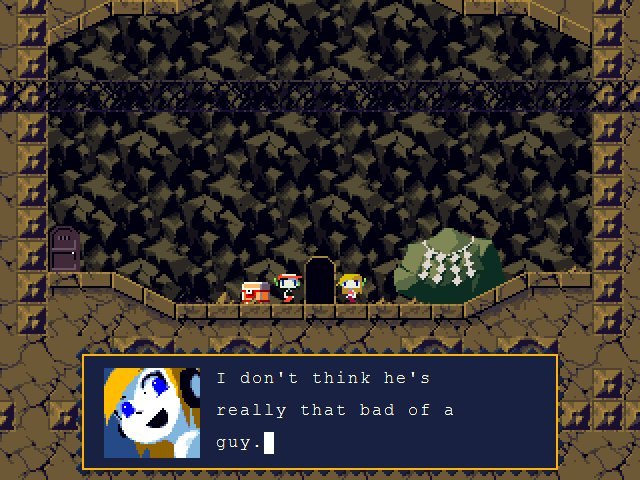 And treasure appeared, too!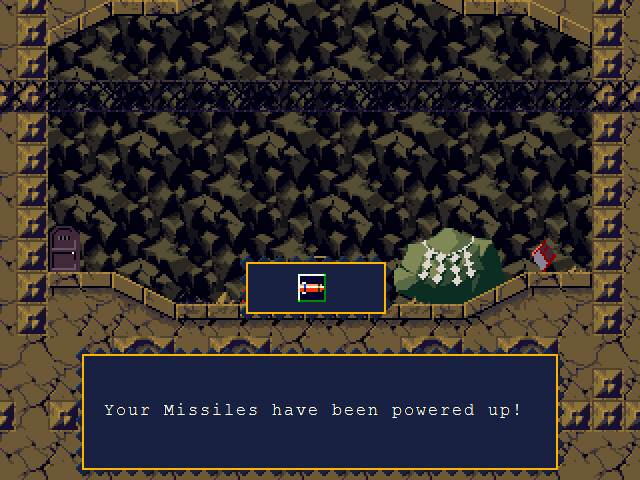 I now have, in terms of theoretical raw damage per second, the strongest weapon in the entire game!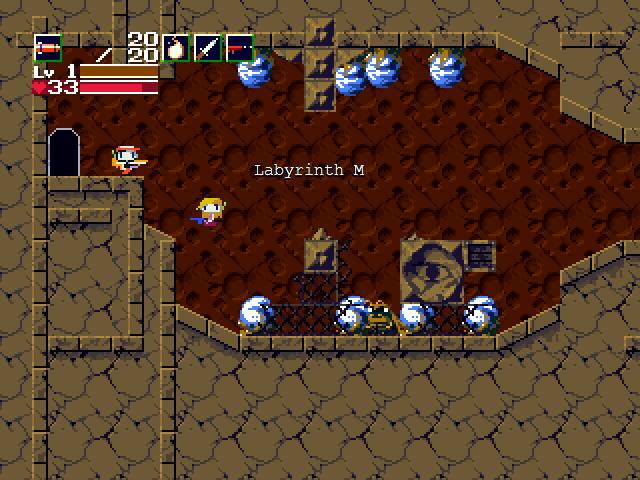 [ BGM - Labyrinth Fight ]
Curly's helping me now! She has my old Polar Star.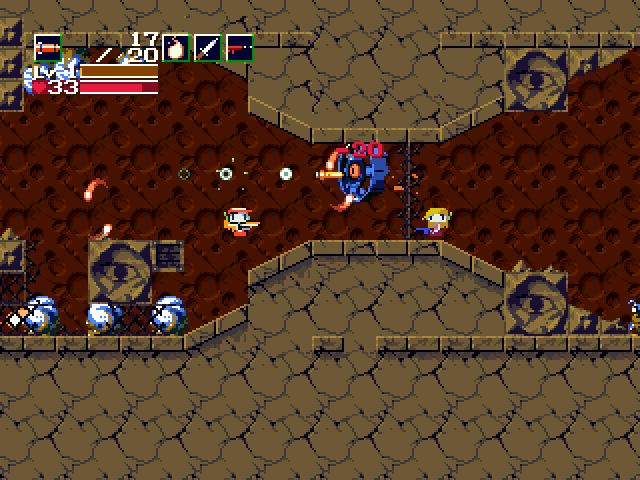 The Super Missiles fly about twice as fast as the normal missiles did!
Also, they do twice as much damage.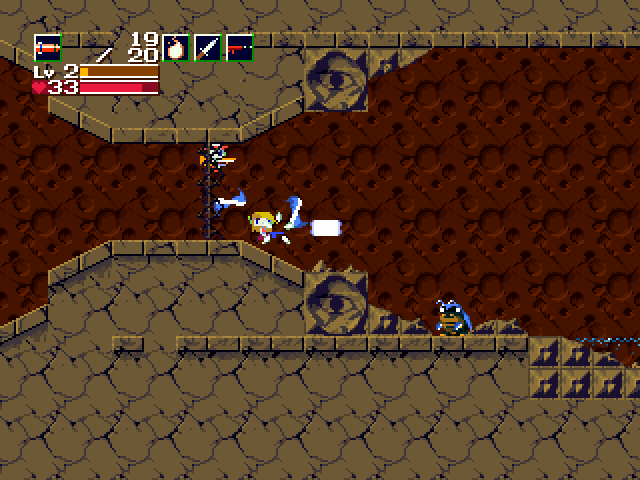 These new armored Gaudis have throwing knives that can block my attacks. Dangerous!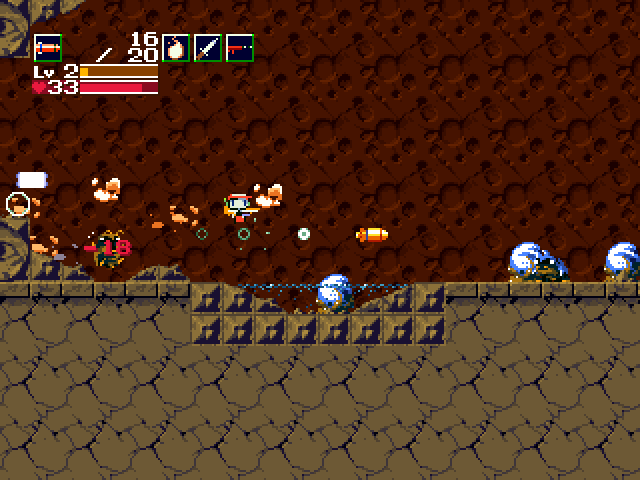 BUT NOT AS DANGEROUS AS ME.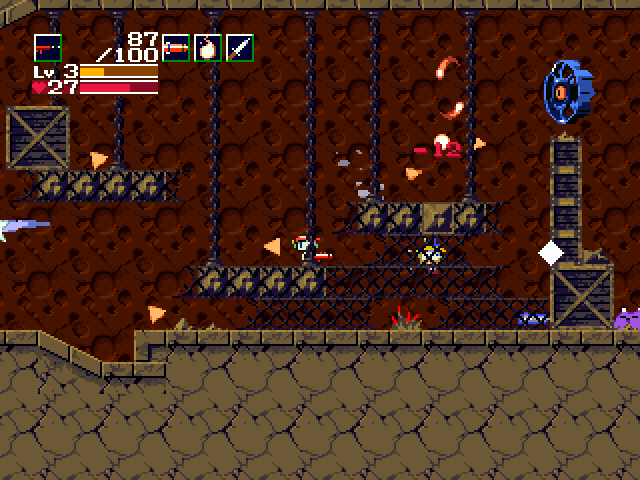 Curly, mercifully, is totally invincible.
Also, the Super Missile takes freaking forever to level up.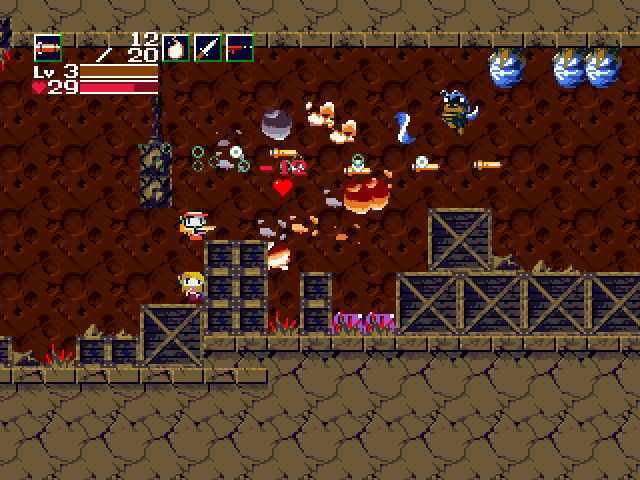 But it can be done!
Like with the old version, the level 3 Super Missile fires three at a time, for absolutely ludicrous amounts of damage. However, I'm going to really need them soon, so time to switch to my old weapons.
This area is pretty long! Just gotta keep working my way downwards.
New enemy! They constantly spawn smaller enemies that drift towards you, so you have to take out the base.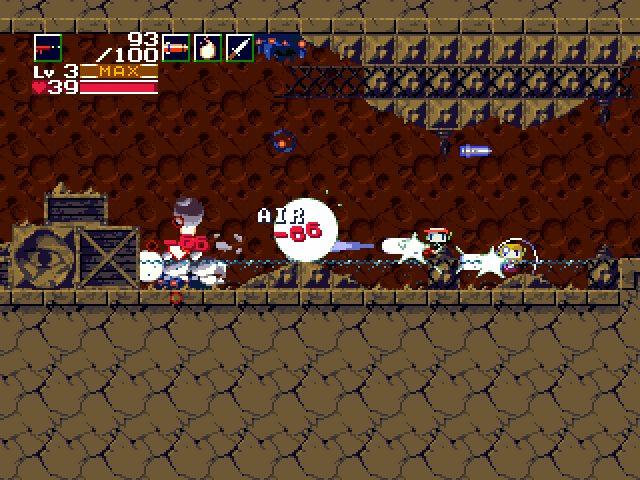 Thanks to her trusty bubble shield, Curly also can't die of drowning!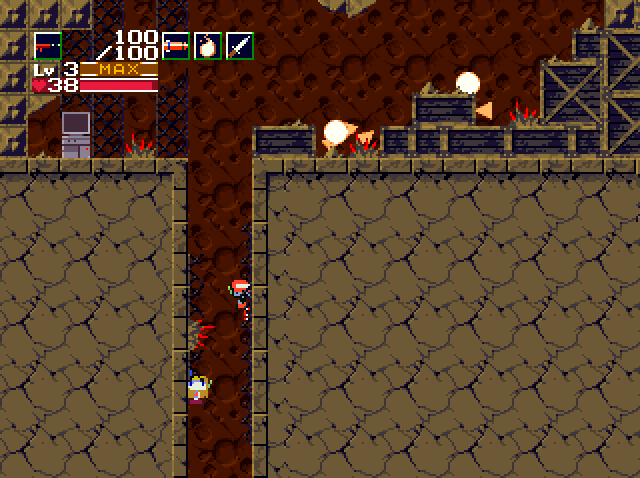 Last floor!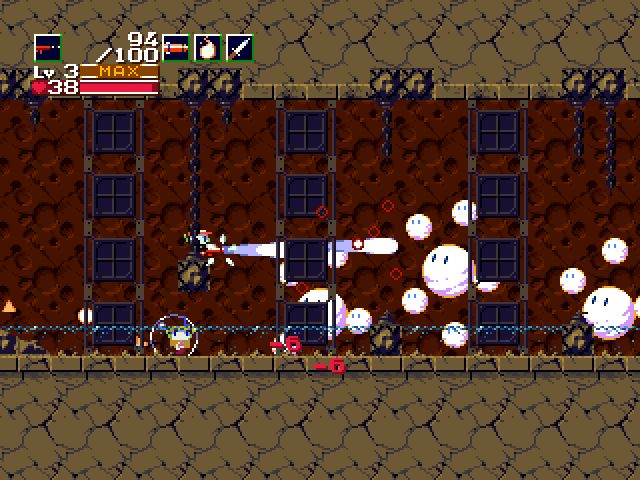 These guys take some finesse to fight - if you kill the core, all the smaller guys orbiting it go berserk and charge you, so it's best to take out the outer ones first if you can.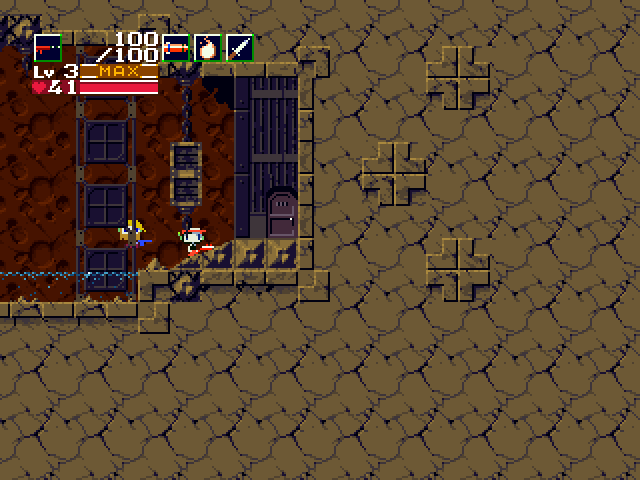 And through the monster nest!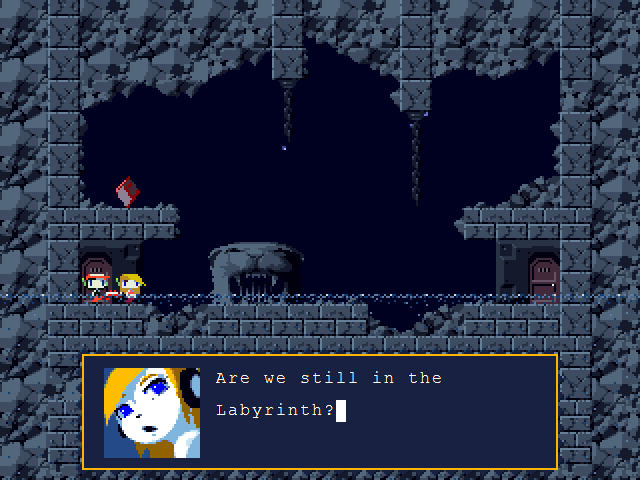 [ BGM - Geothermal ]

We can't get through here.
We'll have to keep moving ahead.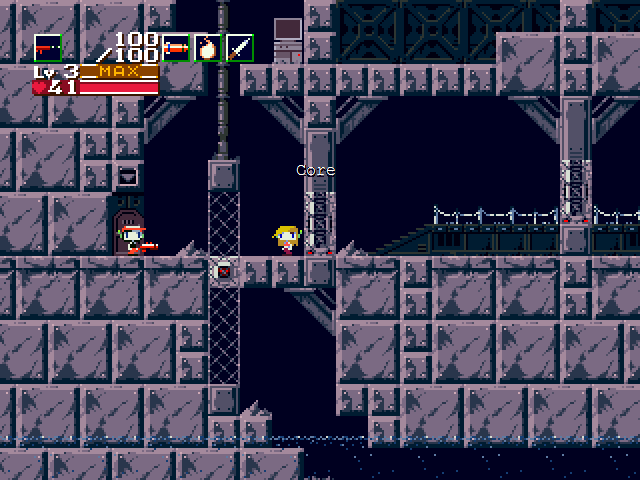 We're almost to the heart of the island!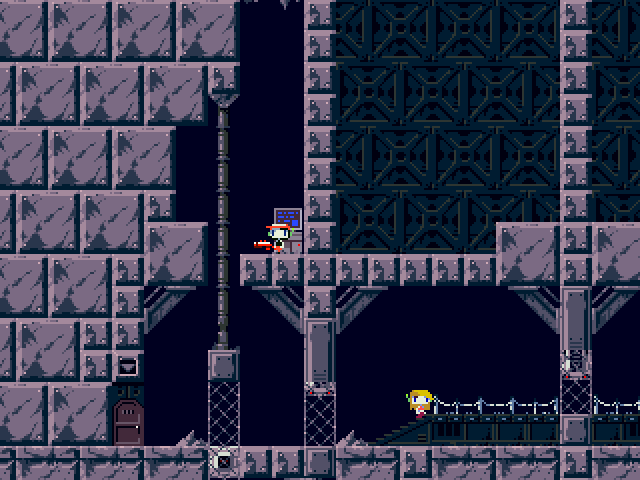 There is a long door-opening sequence involving elevators and stuck shutters that is kind of boring!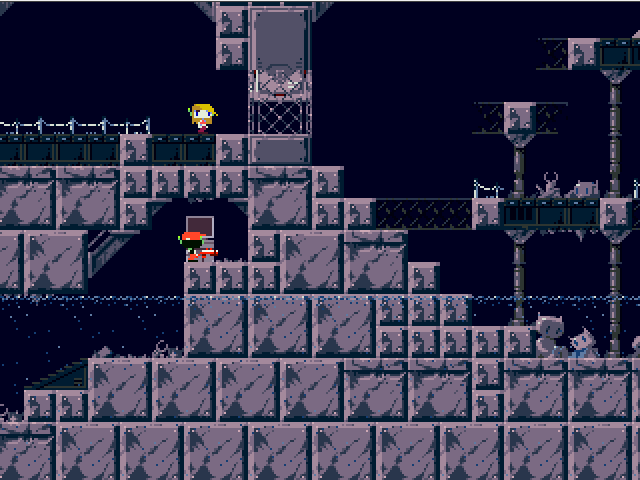 And that's the last door.
TO THE CORE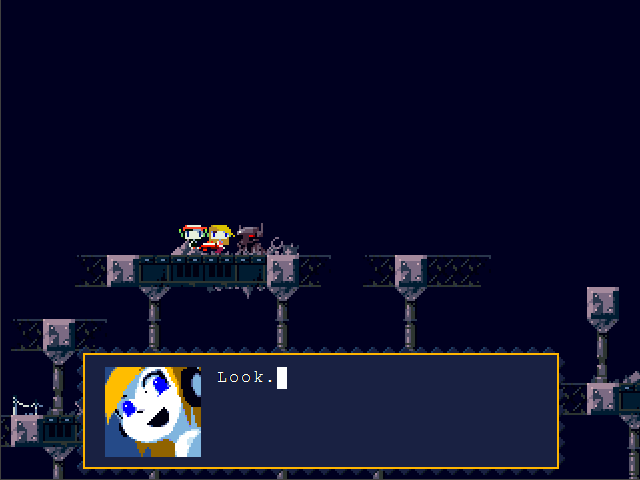 This is a soldier from the surface.
It's all banged up.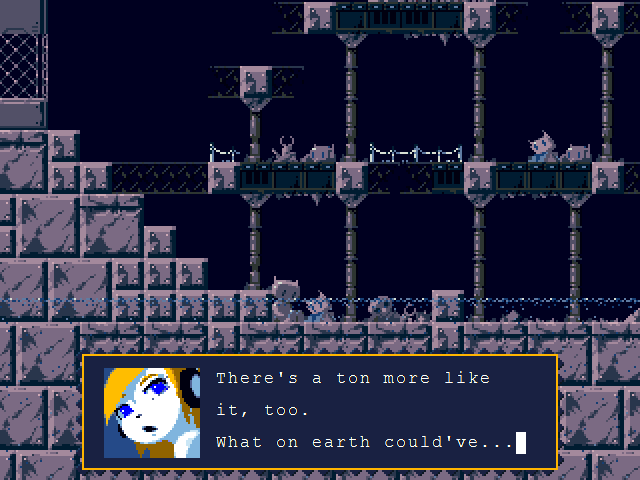 Not a Mimiga.
No, to do this much damage...

!!!

It's still alive!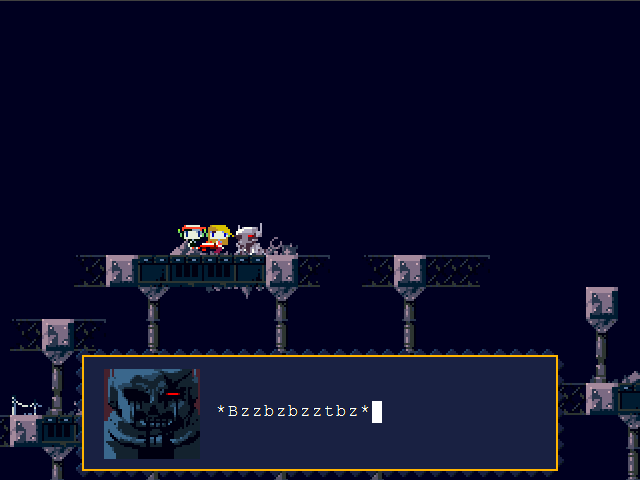 TEAM 9 ANNIHILATED
FAILED TO DESTROY TARGET
CURRENT FORCES
INSUFFICIENT
RETREAT
RETREAT!!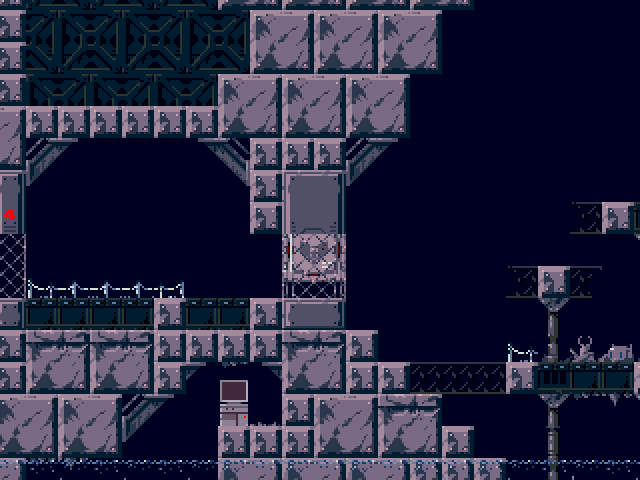 Uh oh.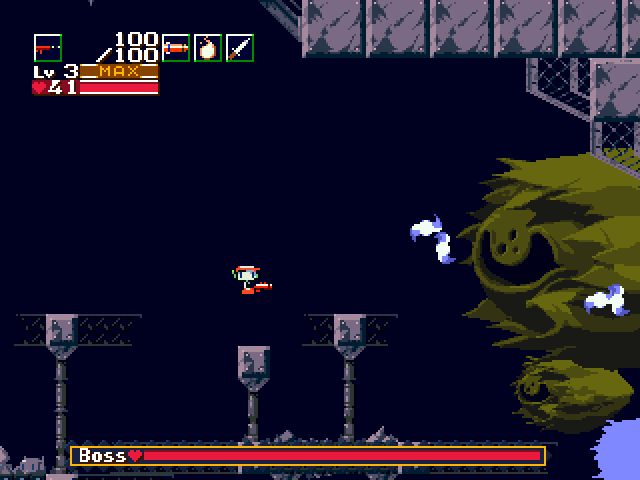 [ BGM - Oppression ]

BOSS BATTLE
THE CORE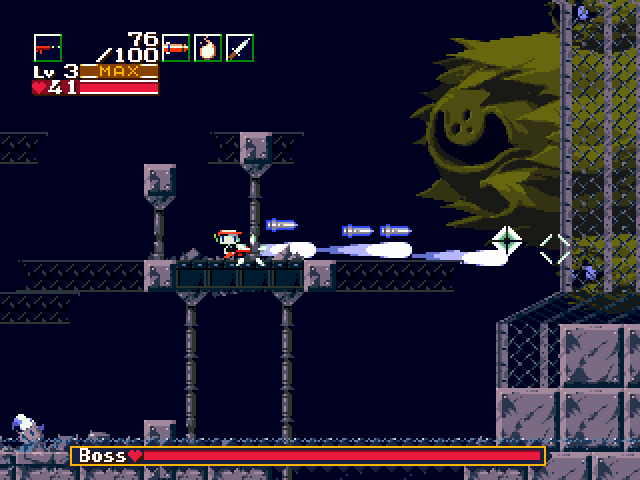 Initially, this beast of a boss is invincible and inactive - the only thing attacking is the bits floating around it.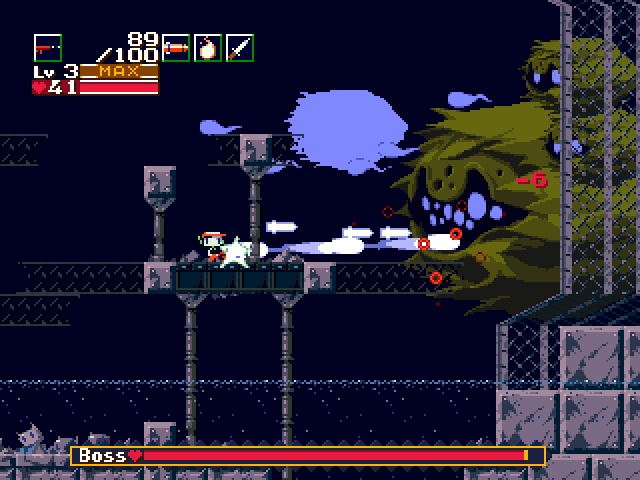 But as the bits go berserk, the core opens its eyes. Weakpoint detected!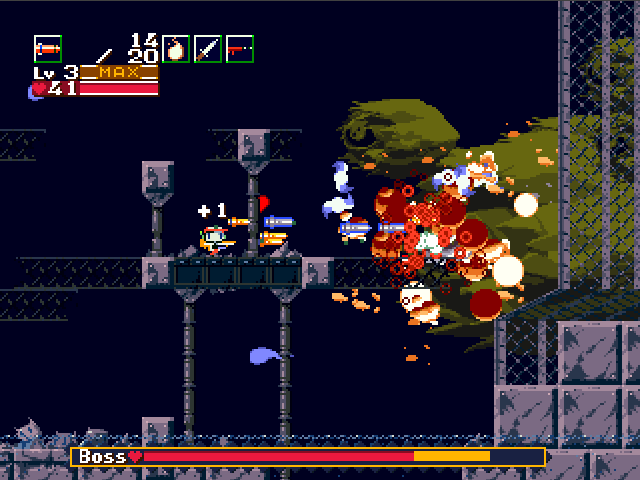 Time is short, so I HIT IT WITH THE LUDICROUS POWER OF THE SUPER MISSILE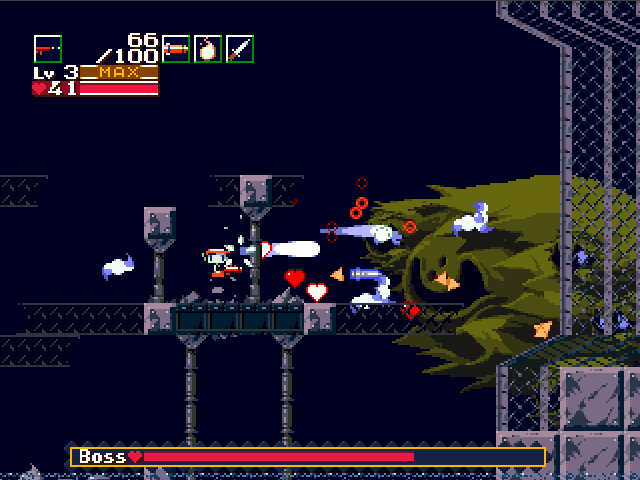 And then it's closed again.
Avoiding these shots can be tricky, because they pass through platforms, allowing them to hit you from underneath.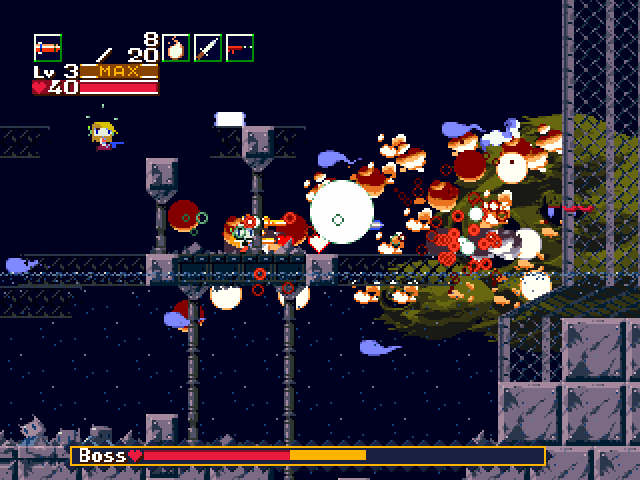 GRRAAAAAHHHH THIS ISN'T SO HARD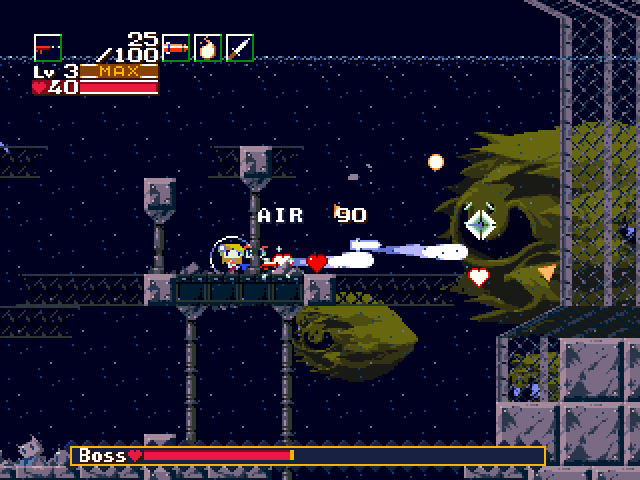 Oh, good.
The water level is fluctuating now, making evasion harder and making the lower level quite dangerous.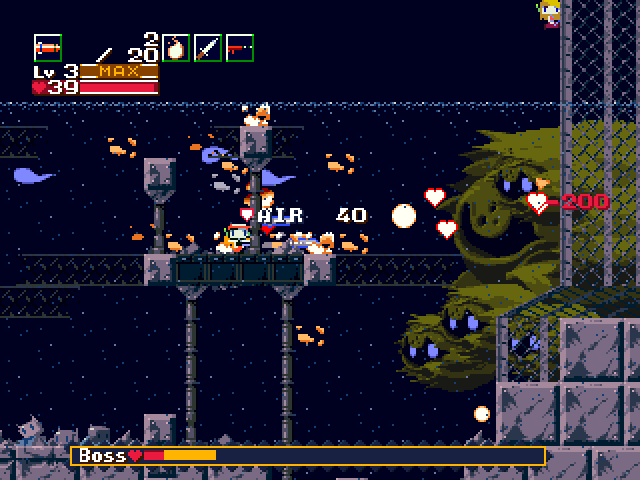 One more volley!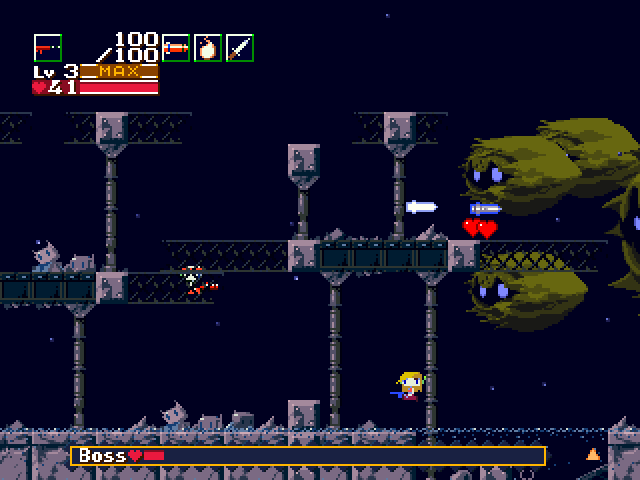 I'm being blown back!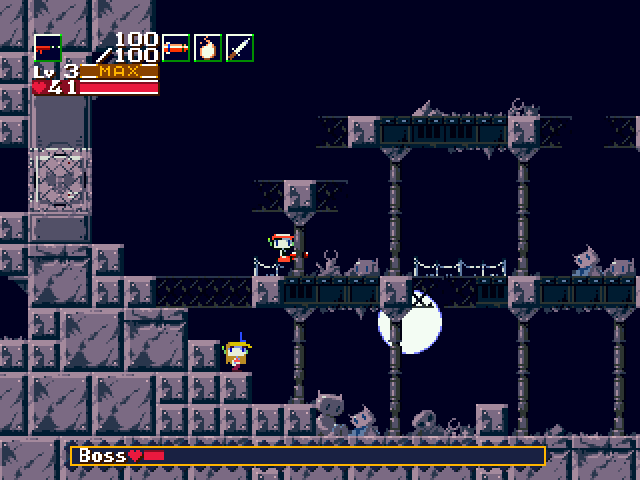 And I'm under attack from long-range artillery!
Seriously, those things do 20 damage per hit.
But once I get back to him...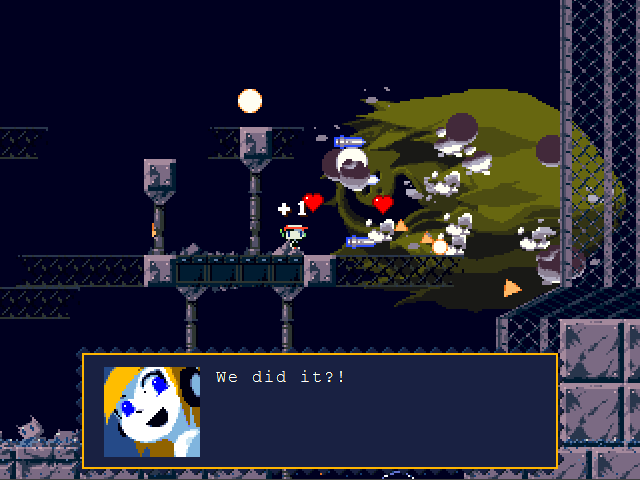 Bam!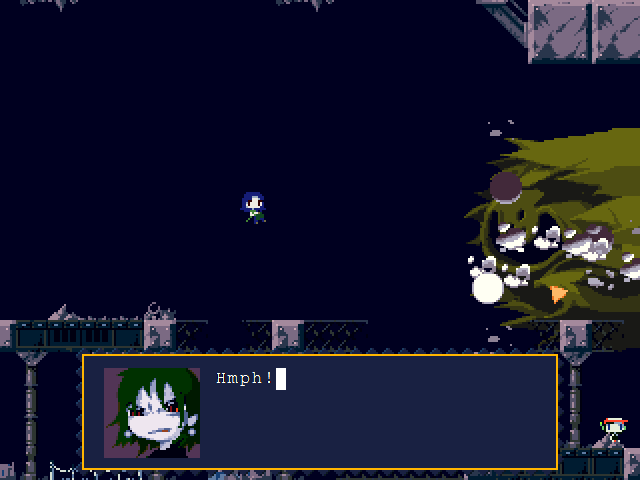 Pulled it off, I see!

You!
You're that witch who tossed me down here!
Those children had better be safe!

Ha! Be silent!
You're no mother!
Do you even know what this is?!

What?

Hmph. This is what I hate about robots.
This is the heart of the island!
If you stop it, the island will fall to the earth!

Is that your grand plan?
To take the island down with you in a blaze of glory?
Fools!!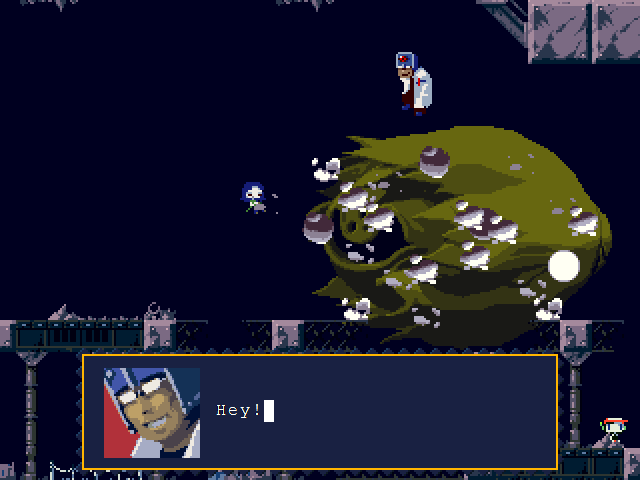 What are you doing? Bring the core to the laboratory at once!
There's still time!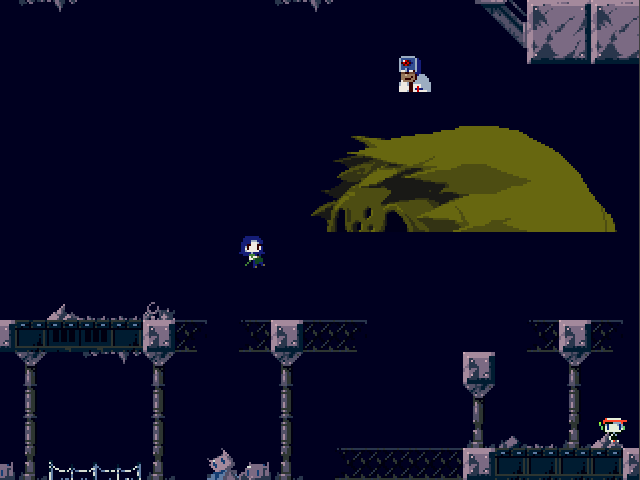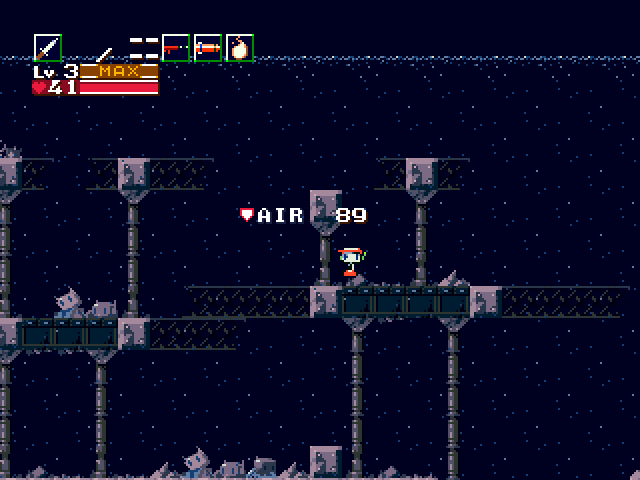 Oh hey look, water.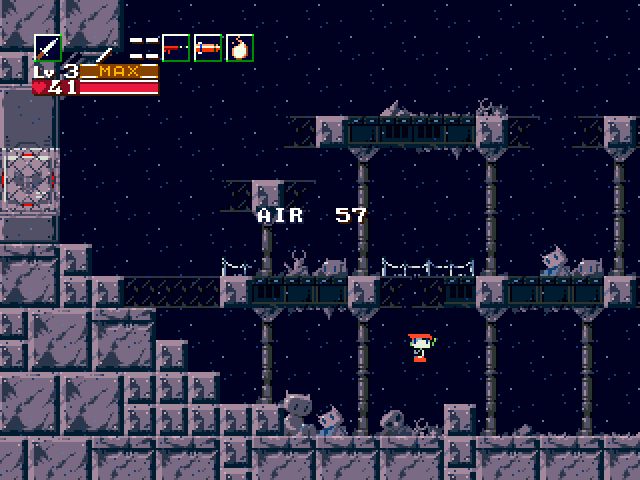 I just need to...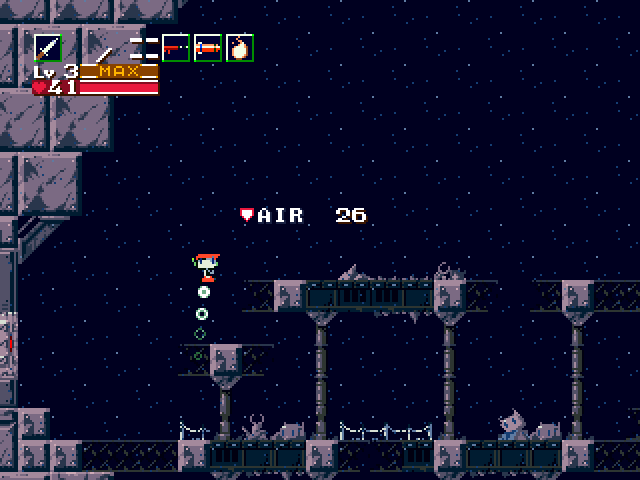 Reach the surface...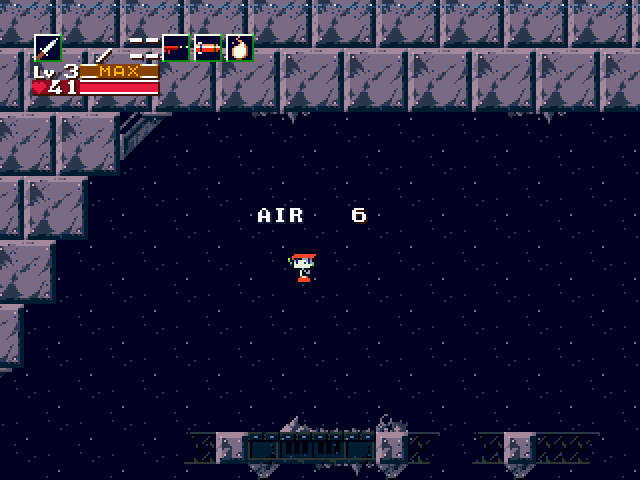 But...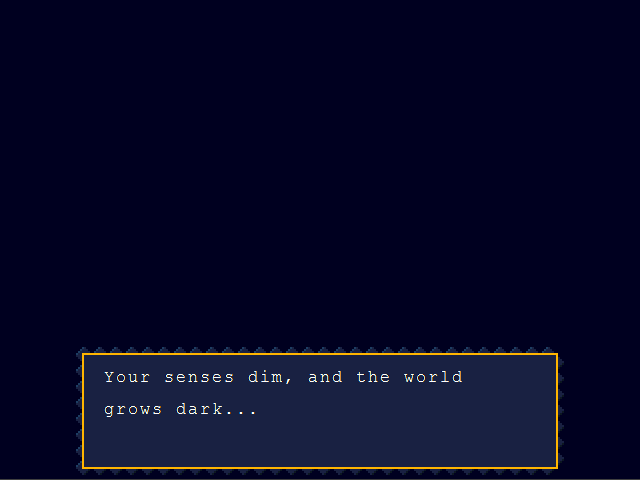 ...
......?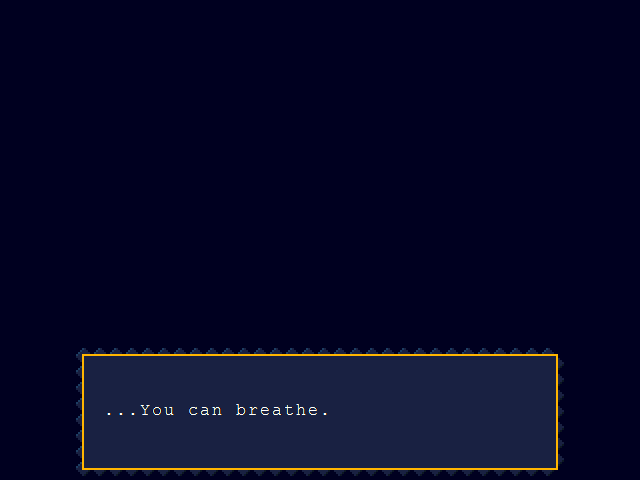 I'm alive?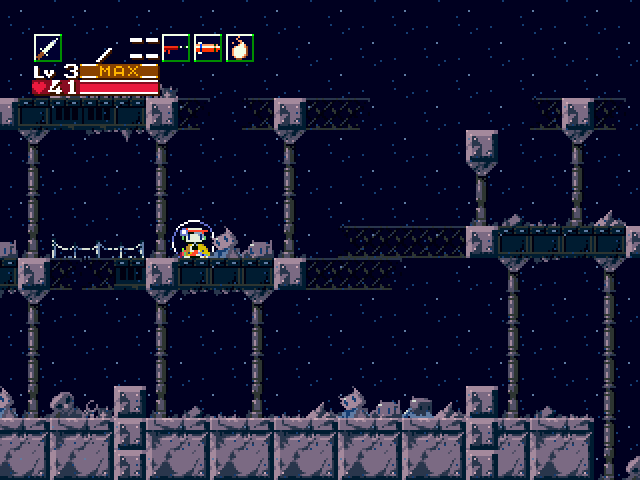 I have Curly's bubble shield!
...wait...
If I have this...
Then Curly...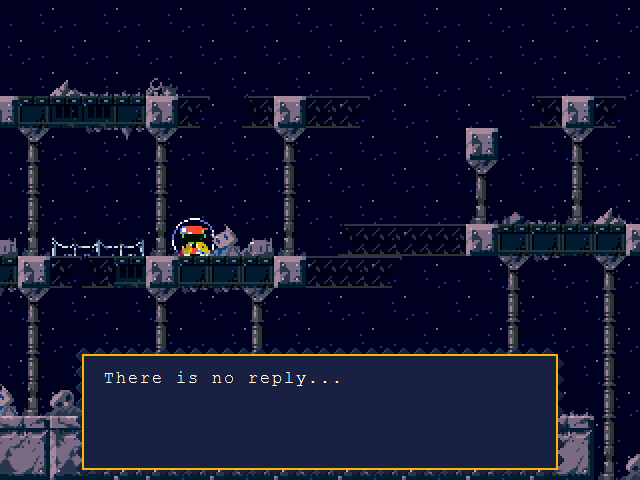 To be continued
<<
|
^^
|
>>